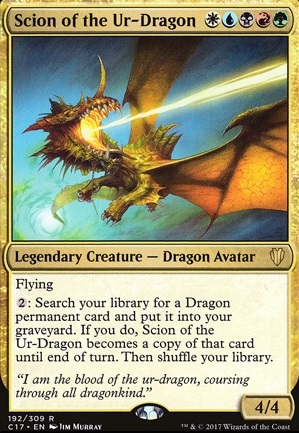 Legality
| | |
| --- | --- |
| Format | Legality |
| Tiny Leaders | Legal |
| Noble | Legal |
| Leviathan | Legal |
| Magic Duels | Legal |
| Canadian Highlander | Legal |
| Vintage | Legal |
| Modern | Legal |
| Penny Dreadful | Legal |
| Vanguard | Legal |
| Legacy | Legal |
| Archenemy | Legal |
| Planechase | Legal |
| 1v1 Commander | Legal |
| Duel Commander | Legal |
| Oathbreaker | Legal |
| Unformat | Legal |
| Casual | Legal |
| Commander / EDH | Legal |
Scion of the Ur-Dragon
Legendary Creature — Dragon Avatar
Flying
: Search your library for a Dragon permanent card and put it into your graveyard. If you do, Scion of the Ur-Dragon becomes a copy of that card until end of turn. Then shuffle your library.
Scion of the Ur-Dragon Discussion
1 day ago
So obviously this is not a legal card in any format, however it is a very real card nonetheless. It's created by Wizards and given to employees with exceptional performance.
Since it's not a real card, there are probably no rules in place for it. So, we can address this by inferring a few:
1.) Any creature can be your Commander. The Legendary Partner ability upgrades it to Legendary status.
2.) We can assume that because they have Partner, the creature in question may contain . If this is the case, your deck's identity would be .
3.) It doesn't say "Creature", but as of now there is no LEGAL precedent for anything other than Planeswalkers who can also be your Commander. So, we will only include Creatures and Planeswalkers. This means that any Planeswalker can also be partnered with Sol, Advocate Eternal.
There is however the issue of needing to ATTACK with the Planeswalker if that is your Partner if you'd like to get the "Teamwork" trigger. In order to do so, you'd need to either use Planeswalkers who can attack, such as Gideon and Sarkhan . However, you could also theoretically cobble together a Planeswalker who can attack by using Mycosynth Lattice and March of the Machines . You are in , so literally just tutor those cards out.
It would be very tempting to just go Atraxa, Praetors' Voice for that disgusting Support / Proliferate synergy. There's also Atarka, World Render if you want to swing for basically lethal Commander damage each turn. I mean, you'd be hitting with probably a 6/6 and an 8/4 (Assuming you Supported +2/+2 on Sol and +2/+2 on Atarka). That alone is 14 damage, but they are also going to gain doublestrike thanks to Atarka so it's actually 28 COMMANDER DAMAGE. And it puts you in WUBRG for The Ur-Dragon and Scion of the Ur-Dragon , so there's that.
I realize that each of the two Commanders have their own separate amount of damage they need to deal for it to be lethal. For example, if Sol deals 16 damage and Atarka deals 18 damage, this is not lethal "Commander Damage" as neither of them have individually dealt 21 combat damage in total. However, swinging for 28 damage on the first attack is nothing to scoff at, and they will only continue to grow. This puts all opponents on a 2-turn clock, or the game on a 6-turn clock. With cards that grant additional combat steps , you can knock a single opponent out of the game per turn. This reduces the entire game to a 3-turn clock. With access to and , I'd put in extra turn cards and basically win the game right there by virtue of brute, unrelenting force alone.
So Atarka, World Render is my go-to choice.
However, since we are Investigating and can upgrade any creature to Legendary, there is also Briarbridge Patrol who would be insanely powerful here.
There is also The Locust God . Since you are going to Investigate 4x, that's a TON of draw you are kicking out. Might as well throw down some creatures literally for free while stacking card advantage, right? For each card you draw, you create a 1/1 Insect token. Since you have 4x Clue tokens, you can use them all and create 4x 1/1s. Then when you attack with Sol and Locust, you can Support 4 and distribute them all onto the tokens, giving you 4x 2/2 flyers on top of your 4/4 Sol and your 4/4 Locust. That's a grand total of 16 flying in the air, you drew 4x cards, and now that they both attacked you get another 4x Clue tokens. An engine like that is very hard to pass up, so Locust would be a very close second for me. Probably the Commander with Atarka, World Render as a backup.
But those are just my ideas. What are your ideas? :)
1 month ago
+1 This is a great battlecruiser!
You already have the most important card, Chromatic Lantern . You might even run Trophy Mage just to tutor it.
You already have all the Tri Lands. That's great! I think those are super solid.
When I started, I had a 5-color, 60-card 4x Sliver Overlord deck from way-back-when that I converted to Commander. WUBRG was a struggle for Pauper! Instead of buying Fetch Lands, I first got all the Vivid Lands. Then I centered my Ramp package around Nature's Lore , Farseek , Skyshroud Claim , and Hunting Wilds ; I searched for Forest Battle Lands and Bicycle Lands before upgrading to Shock Lands. Murmuring Bosk is a hidden gem of a Forest Tri Land. Once I had a solid 12-14 Ramp like this, it became very consistent.
My favorite deck right now is my Karona/ Hugs/ Politics. It is mostly carried by Land Tax , but does very well with its janky mana base. Recently I won by exiling my library with Thought Lash and then casting Nexus of Fate over and over, and killing everyone with my 8/8 commander!
Fires of Invention is my favorite right now and it is worth considering in any 5-color and definitely goes in any Battlecruiser deck.
Buy a Smothering Tithe while the're still $8!!!
Run Sakura-Tribe Elder in almost every deck.
And how is Niv-Mizzet Reborn working for you? Another buddy of mine bought the Commander's Quarters Budget Version, but its a tricky deck. Niv seems best when you're dedicated to "color-pair tribal" because his "exactly those colors" clause is very restrictive. Have you considered Scion of the Ur-Dragon , The Ur-Dragon , Ramos, Dragon Engine , or Morophon, the Boundless ? Scion is the cheapest and the most fun, imo.
Besides that, it looks powerful! Maybe put Skithiryx, the Blight Dragon into The Mimeoplasm just because its more likely to 1-shot someone in that deck? Idk seems pretty sweet... Also, consider finding a card or a 2-card combo for all of your decks that can "win out of nowhere" so if someone locks down the board, you can work a miracle.
1 month ago
If you're looking at Harmonize , you might as well have a second look at Syphon Mind . It's the same CMC, less color restrictive, and has opponent discard stapled on. 99% of the time it is also a draw three spell.
I'm a bit down on Bring to Light as it has a fairly high floor and a relatively low ceiling, in that it's higher CMC/restrictive based on mana-color generation. But it might be worth a look/testing.
As to the reanimation plan, given how you can get hosed by graveyard hate w/ that strategy, I'd rather treat the yard as a backup wincon vs one of the primary gameplans. It's too tempting to go off-theme for just the best/biggest creatures and combos once you take those lines, and I think you'd have to re-work too much of the core deck for my tastes at least to support that package. Like, why not just dump and reanimate a Praetor or Eldrazi at that point? And it would push you closer to Faithless Looting builds, so rather than playing an 80% Scion of the Ur-Dragon deck, you're now playing an 80% reanimator deck under The Ur-Dragon ? If you're getting the casting cost reduction from the latter, I prefer building around that, and focusing on card draw is a bit more resilient to hate/interaction, generally speaking.
But that's just my take and I'd be interested to see someone build a list/alternate lists for this commander, for sure.
1 month ago
You might be right about switching to Scion of the Ur-Dragon for a more competitive build, however, I can't do that since I want The Ur-Dragon as a commander so I want to include as many on-theme powerful spells and interactions as possible. Sure it won't be as powerful but might be enough at 80-90%.
As for card draw I'd love to see more cards like Harmonize but with 2-3 CMC because I could just add Hunter's Insight or Rishkar's Expertise but they're reliant on you having a boardstate (or at least that 1 creature with power 4+) and this particular strategy needs mostly early card advantage to start.
And as our discussion went more towards the playstyle and core of the deck... Maybe we should become more graveyard-reliant to get huge amounts of Dragons into play? Like with Kokusho, the Evening Star + Sneak Attack or something like that? That still means we ramp and cast them "the fair way" but we are more prepared to shift gears into more powerful plays depending on the playgroup power level :)
1 month ago
I actually like Syphon Mind over Painful Truths . But if you're really looking to keep your overall CMC down, the latter is probably better. For my list I just want one big/bomby draw spell and don't mind sorcery speed or exactly one higher CMC draw spell.
I'm still OK with Teneb, the Harvester , as the ability to target a creature in any graveyard is relevant both to help put you ahead and for yard hate—or you can reanimate one of your own key pieces. If I were to go more all-in on a reanimation plan, I'd probably cut him for Animate Dead , though. The 6/6 body isn't irrelevant, as is the case with the overcosted Bladewing the Risen , which I feel you need to be able to reanimate and blink to make work (and even then . . . meh).
As my playgroups have powered down things a bit, I cut Vandalblast , mainly b/c I haven't been coming across as much fast rock ramp or hard Stax, and cut it in favor of another creature board wipe. Been seeing more dork/creature value engine packages lately. Another meta call.
I think the overall tension is that if you really want to keep optimizing slots w/ cEDH staples, you'd probably want to play a tutor/counter/removal/draw heavy Scion of the Ur-Dragon deck with cleaner win-con lines and, like, Worldgorger Dragon and Animate Dead combo lines. Otherwise I feel like it's easy to get caught in a trap of trying to lean into doing too many things and not doing any of them consistently well?
My gameplan is often to try to win via "fair magic" (going somewhat wide and swingin' with Dragons, 1994 Timmy style, while Jund'ing opponents out with value stapled on to them in the meantime/beforehand), with the combat combos or mass reanimation combos as backup wincons vs the primary line.
1 month ago
I'd actually look at Windfall as a direct swap for Wheel of Fortune , but again, that's only in my list in the first place b/c of 1. need to mull to fast mana hands that result in net negative card advantage and 2. it can play into reanimation plan.
I'm still pretty high on Greater Good , but if someone has graveyard hate/answers, it can cut off a splashy win and kneecap you pretty badly. It's not so great as a value/draw engine on its own due to the relatively high CMC and the discard 3 effect (vs a few relatively lower power main deck drag'o's). It's more a cute/splashy play/not sure I'd prioritize it unless you enjoy the card/game plan.
Speaking of which: In terms of replacements for Rishkar's Expertise , and/or in general, I'd rather look at Recurring Insight —that can be a superbomb splashy spell depending on the table. Not sure I care about Overrun-style effects at any CMC.
And I could see Living Death being a swap for Toxic Deluge , but given the tutors/recursion maybe one mass reanimation spell that's more one-sided is OK. I don't love also how Living Death resolves in re the stack (your reanimated creatures' ETBs resolve last); it can sometimes end up hosing you vs helping. Animate Dead might be a better add for added/cheap re-animation? Esp if it can fish a combo from a Scion of the Ur-Dragon dump-off?
1 month ago
Oh! And as to "how to use Worldly Tutor ": Depends on when you draw it/what you need at that moment: Early game it's often Set-up (ramp or token generator). Mid-game it's often Toolbox Dragon (card draw or removal). Late game it's often Payoff Dragon (double strike, Scourge of Valkas , Utvara Hellkite ). Or mid or late game you can snag Scion of the Ur-Dragon and use it as the start of a dragon-tutor chain, perhaps into the reanimation plan, or go for a combo piece like Birds of Paradise , Selvala, Heart of the Wilds , or Savage Ventmaw if you've drawn or can tutor into Aggravated Assault . It's always good/always flexible and helps, like the other tutors, smooth out a rather greedy game plan for the deck.
Early game, you're most likely getting Selvala, Heart of the Wilds , as she's the biggest potential payoff ramp creature, has incremental card draw attached, and can combo (so long as another rainbow dork is in play) with Aggravated Assault .
Load more
Scion of the Ur-Dragon occurrence in decks from the last year
Commander / EDH:
All decks: 0.01%