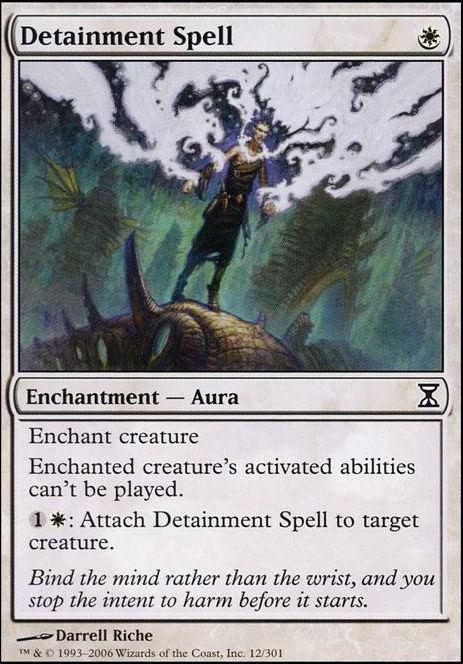 Legality
| | |
| --- | --- |
| Format | Legality |
| Pre-release | Legal |
| Noble | Legal |
| Leviathan | Legal |
| Tiny Leaders | Legal |
| Magic Duels | Legal |
| Vintage | Legal |
| Modern | Legal |
| Penny Dreadful | Legal |
| Casual | Legal |
| Vanguard | Legal |
| Legacy | Legal |
| Archenemy | Legal |
| Planechase | Legal |
| 1v1 Commander | Legal |
| Duel Commander | Legal |
| Unformat | Legal |
| Pauper | Legal |
| Commander / EDH | Legal |
Detainment Spell
Enchantment — Aura
Enchant creature
Enchanted creature's activated abilities can't be played.
(1)(White): Attach Detainment Spell to target creature.
Detainment Spell Discussion
1 year ago
Maybe stuff like Curse of Exhaustion, Arcane Laboratory, Eidolon of Rhetoric, or Rule of Law. Derevi's ability jumps around the global effects nicely. Erayo, Soratami Ascendant and Jace, Unraveler of Secrets might work as well. Should frustrate the Maelstrom player a little bit when they can't cast the spells off of the double cascade.
Assuming the Niv-Mizzet is built as a combo, give it shroud with stuff like Alexi's Cloak, Aspect of Mongoose, Diplomatic Immunity, Favorable Destiny, Mystic Veil, or Robe of Mirrors. (Hexproof might be better actually.) Alternatively, lock-out it's activated ability or give yourself hexproof with Abeyance,Aegis of the Gods, Arrest, Azorius Guildmage, Bind, Detainment Spell, Encrust, Faith's Fetters, Gelid Shackles, Ice Cage, Interdict, Ivory Mask, Katabatic Winds, Krasis Incubation, Leyline of Sanctity, Linvala, Keeper of Silence, Lost in Thought, Orbs of Warding, Peace Talks, Phyrexian Revoker, Pithing Needle, Serra Bestiary, Squelch, Stifle, Stupefying Touch, Suppression Bonds, Trickbind, Voidstone Gargoyle, or Volrath's Curse. I feel like throwing a Pemmin's Aura on it could lead to some interesting politics.
Obviously some of these cards are better than others, but that's everything I've got.
1 year ago
Ok, here is some replacements i can suggest: