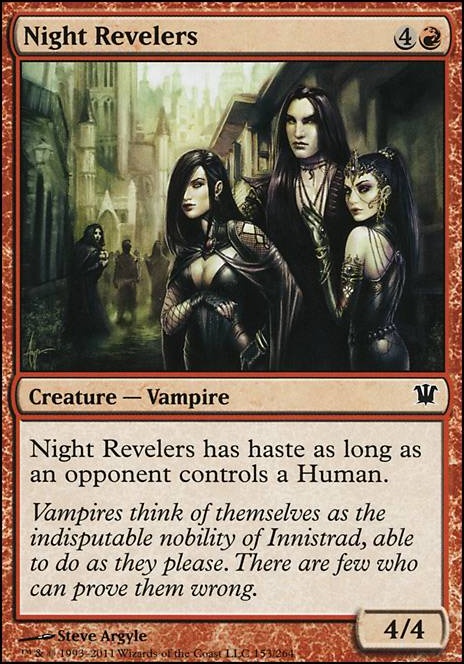 Night Revelers
Creature — Vampire
Night Revelers has haste as long as an opponent controls a Human.
Browse Alters
Legality
| | |
| --- | --- |
| Format | Legality |
| 1v1 Commander | Legal |
| Block Constructed | Legal |
| Canadian Highlander | Legal |
| Commander / EDH | Legal |
| Duel Commander | Legal |
| Highlander | Legal |
| Legacy | Legal |
| Leviathan | Legal |
| Limited | Legal |
| Modern | Legal |
| Oathbreaker | Legal |
| Pauper | Legal |
| Pauper EDH | Legal |
| Unformat | Legal |
| Vintage | Legal |
| Casual | Legal |
| Custom | Legal |
| Quest Magic | Legal |
Latest Decks as Commander
Night Revelers Discussion
2 months ago
I actually made an entire deck around this concept that works surprisingly well. Steve Argyle is a particularly great resource for this topic. In addition to Liliana of the Veil and Chosen of Markov  Flip, he's also done Deadly Allure , Guul Draz Vampire , Naya Battlemage , and Night Revelers . Other notable artists are Jason Chan ( Deathpact Angel , Fires of Undeath , Kiora, Master of the Depths , Mayael the Anima , Maul Splicer , Treasured Find ) and Volkan Baga ( Elspeth, Knight-Errant , Korozda Gorgon , Stoic Angel , Student of Warfare ). I ended up going with vampires + knights and some other cards I included are Hero of Bladehold , Knight Exemplar , Teysa, Envoy of Ghosts , Elenda, the Dusk Rose , and possibly the most ridiculous piece of Magic art ever created: Soul Collector . Some cards that came close to making the cut are Angel of Despair , Bloodflow Connoisseur , Drana, Kalastria Bloodchief , Knight of Dusk , Magister of Worth , Avacyn, Angel of Hope , Vampire Hexmage , and Veteran Cavalier .
Other cards that I like (sorted by type) include Exava, Rakdos Blood Witch , Lyzolda, the Blood Witch , Kemba, Kha Regent , Sunspear Shikari , Elvish Champion , Gaea's Herald , Quirion Dryad , Nimbus Naiad , Dreamborn Muse , Mistral Singer , Shipwreck Singer , Siren of the Fanged Coast , Akroma, Angel of Wrath , Archangel of Strife , Basandra, Battle Seraph , Razia, Boros Archangel , and Ire Shaman . Looking at this list now, it's clear I've spent far too much time researching this subject.
3 years ago
Upvoted, cool deck :D
For my suggestions, I'd run more of the lords/tribal effects (vampires have a ton), and cut some of the more vanilla vampires. I'd search gatherer for any card containing the rule text "vampire" (and limiting to your colors).
Also, EDH is all about huge effects, and Stensia Innkeeper or Night Revelers are going to have a tough time keeping up. I like to imagine the worst case scenario, and see how the creature would do. For instance, your opponent has a Followed Footsteps on a Grave Titan. Something like Bloodline Keeper might stall a bit, but Falkenrath Reaver is just going to get overrun.
My friend has a vampire deck, and some effective bombs that I'd suggest are Anowon, the Ruin Sage, Malakir Bloodwitch, and Patron of the Vein.You could also run more solid, supporty cards like Rakish Heir, Stensia Masquerade, Stromkirk Captain, and Aphetto Dredging. Also, Basilisk Collar, Lightning Greaves, and Swiftfoot Boots are nice for your commander.
Ixalan also gave you a couple more draining cards: Bishop of the Bloodstained, Sanctum Seeker
IMO, burn spells are generally not as good as the straight removal some of the other people suggested. My suggestions would be Sudden Death, Sudden Spoiling, and Urge to Feed, or, if you want a burn package to finish out opponents, Burn from Within, Fall of the Titans, Devil's Play, or Banefire (all of which have some sort of utility/reusability).
Finally, more draw spells make your deck much more consistent. Greed, Arguel's Blood Fast, Toil / Trouble, and Wretched Confluence. Again, the more utility/reusability the card has, the better.