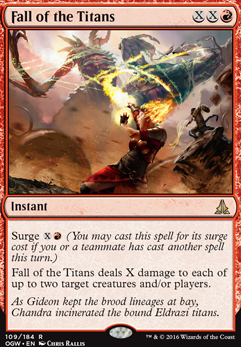 Fall of the Titans
Instant
Surge (You may cast this spell for its surge cost if you or a teammate has cast another spell this turn.)
Fall of the Titans deals X damage to each of up to two target creatures and/or players.
Browse Alters
Trade
Legality
| | |
| --- | --- |
| Format | Legality |
| 1v1 Commander | Legal |
| Block Constructed | Legal |
| Canadian Highlander | Legal |
| Commander / EDH | Legal |
| Duel Commander | Legal |
| Highlander | Legal |
| Legacy | Legal |
| Leviathan | Legal |
| Modern | Legal |
| Oathbreaker | Legal |
| Pioneer | Legal |
| Tiny Leaders | Legal |
| Unformat | Legal |
| Vintage | Legal |
| Casual | Legal |
| Custom | Legal |
| Quest Magic | Legal |
Latest Decks as Commander
Fall of the Titans Discussion
2 weeks ago
Impulse
OUT
Deflecting Swat
IN
Contentious Plan Sort of replaced Impulse as my two-mana card for early counters. The value of Deflecting Swat can hardly be overstated, as it provides early protection for Mizzix while being relevant all game long.
Aetherspouts OUT Introduction to Annihilation IN
Spouts is such a conditional card, and we have plenty of board wipes when we count or kill-the-table x-spells. Intro is great in that its free permanent removal for us much of the time.
Overwhelming Intellect OUT Dramatic Reversal IN
A counterspell that can only counter a creature spell is underwhelming, and we added swat. I can't believe Dramatic Reversal hadn't been added earlier. It plays into our combo with Reiterate , and allows us to fetch the whole combo with Firemind's Foresight . A true must include!
Fall of the Titans OUT Expropriate IN
Fall was always our worst x-spell, and we have more than enough in the deck. For a replacement win con its far better to just take another turn and steal everyone's best thing. The greatest thing about this card is that its so cheap to cast with Mizzix!
Spring / Mind OUT Archmage Emeritus IN
Spring is great but sorcery speed and a one-off. Archmage will draw us cards the whole game. We're up to three whole creatures in this deck now!
Howl of the Horde OUT Solve the Equation IN
I've got plenty of copy dorks here, so another tutor is great, especially one that will usually cost me just two blue mana!
4 months ago
I love seeing Apex of Power being played in commander, such a fun card. Have you considered adding Fall of the Titans or Bonus Round to the deck? Bonus Round can be a double edged sword but can also be game winning if played at the right time.
5 months ago
Hey Middelin,
EDHrec is also a good resource, it has an "expensive" filter now, but if you leave it unfiltered, can help to find some surprisingly good cards with a low $ value that people are playing. There is also a "cheap" filter.
EDH is really a fun format, I have 1 modern, 2 pioneer decks, 2 cEDH decks, 2 EDH decks, 4 $50 budget EDH, and 0 standard decks! I do play standard on Arena though (4 standard, 3 brawl).
In EDH, little damage like Guttersnipe puts out isn't usually that useful unless your adding into a combo, which it can a recursive Turnabout + Reiterate will kill, but it really lends itself to better payoffs like a Fall of the Titans, Comet Storm, Whispers of the Muse, Stroke of Genius type effects that also build your Experience. I run 8 creatures and 1 enchantment, which is also pretty high, If I wasn't running Dualcaster Mage + Twinflame I would also exclude Imperial Recruiter and Vedalken AEthermage reducing my count to 5. Probably 4/5 creatures / 1 planeswalker / 2/3 enchantments is probably the right mix though honestly if you can build within that framework.
I playtested your deck a bit Flux Channeler worked well, Inexorable Tide was a little to high CMC for me. The issue I had was that until Mizzix of the Izmagnus has generated an Experience I had nothing to propagate, so getting an early Experience will be important which means stuff like Desperate Ritual, High Tide, Pyretic Ritual, Seething Song mostly. Going to need some protection either 1 or 2 CMC counterspells (the 2 CMC ones are still reasonably priced, 0/1 are not). Lightning Greaves is an obvious one, that can be tutored with a Muddle the Mixture but it's getting expensive now too (wtf).
I also found with the propogate that I got up to 8 counters, which isn't really necessary, because honestly 3/4 counters allows you to go infinite with many things (like Reiterate). Niv-Mizzet, Parun looks to be a pain to cast, he's nice, but almost unplayable here.
This thing tested like molasses Empowered Autogenerator, I would avoid that, lots of cheap CMC2/3 mana accelrators, plus all the ones I listed above.
Once you decide on a payoff goal, i think you'll see the deck rounding out. Lots of easy cuts in the above list to get down to 120 cards, probably about 10 you need to add into the mix, so putting into a cut for 130 list.
5 months ago
Hey Middelin,
Fellow Mizzix of the Izmagnus player Mizzix, the Storm
Still a bit of a rough list, so difficult to make specific card recs but though I would share some experience. I bought the pre-built deck when it came out, and recently did an entire break-down and rebuilt.
Looks like you've got a focus around the proliferate synergies, so I would build around that as a start. The trouble I had was that there are so many (too many) possible combos you can use, and a few different strategies. I've never specifically seen proliferate (X, Wheel, Turns, Wizards) or what I play Storm (without really using storm cards).
Creatures don't build experience counters, so I would be strategic with the purpose of a creature. Ones with limited payoff like Thermo-Alchemist/Guttersnipe (what are you repeatedly casting to win with them, usually in Mizz is infinite mana which leverages a draw library or X spell payoff) or high cost Charmbreaker Devils/Melek, Izzet Paragon will hurt when drawn unless your utilizing for a specific purpose.
Aetherflux Reservoir is the right type of card, but it's tough to get in Izzet (). Whir of Invention/Intuition/Reshape/Etc. I found that if your building your storm count (it's usually drawing library or mana) so it's unnecessary. Similar finishers like Sphinx-Bone Wand have the same challenge, would prefer a Fall of the Titans or a Enter the Infinite in most cases. Ral, Storm Conduit has better payoff with similar function.
Your going to be quite slow with so many tapped lands, plus you have many turn 1 draw payoffs in blue (cantrips), so having T1/T2 mana up is key. Izzet Boilerworks can make infinite mana pretty easily, but outside of that see where you can trim. I'm not sure you need to many Cycling lands either, in Mizz, you generally want to play your lands, the tradeoff will be that early in the game your mana is coming in tapped, but later in the game you can cycle away bad land draws. If your going for mid-range over combo, you'll likely need much more removal/counter/sweepers, if your just want cast large spells, maybe Jeleva, Nephalia's Scourge would be a better commander selection for the added tutors. Lands really to break the budget though, I understand, Steam Vents will be critical though, and Fiery Islet is ok priced still.
Experience really lends itself to Reiterate, usually you see it as a primary piece in all the different variants, because it easily pairs with Turnabout and Reality Spasm.
I like the Flux Channeler I've considered him so many times, because he can build your Experience so Mizzix of the Izmagnus can stay protected in the command zone, and have immediate impact (when played unprotected).
You have Bonus Round, could build some interaction with it, like Seething Song + Reiterate or Frantic Search + Narset's Reversal or Dramatic Reversal + Narset's Reversal, etc. Not sure if you've ever used Commander Spellbook but just enter Bonus Round, and click the , , to filter the list.
Enter the Infinite is a single card win-con with Intuition I've been trying to pick one up, very expensive though :(.
Not sure what the Sideboard cards are, using as a intermediary cut list?
I also playtested the Curious Homunculus  Flip/Goblin Electromancer types, Baral, Chief of Compliance was good, I would avoid the others, most of the time, I would prefer them to be spells to build the Experience count while providing an ability as well (like draw).
I assume Trinket Mage/etc. are pulling in the mana rocks, but they are only useful if your at a mana/experience level to activate. Trophy Mage for Twinning Staff? Needs a Dramatic Reversal in that case.
Jace's Sanctum doesn't build experience count, it's high CMC for the same ability, I would avoid this type of ability at this cost.
Your 405 Avg CMC is pretty high, you'll have similar challenges that other mid-range has is some games your going to draw hands of cards you'll never be able to play, again depends on your playgroups, but you may find some games it feels like you "do nothing" before the game closes out. I would cut some high CMC cards, bring that down at least below CMC 3, utilize the high CMC cards for win, and try and make then instant/sorcery where you can to get the experience benefit.
I would pick a couple win cons like Bonus Round or Enter the Infinite or Beacon of Tomorrows of something more classic like a Fall of the Titans or Stroke of Genius and build a core around them, that will help you solidify a good 70 card core, then add your mana accelerators and cantrips around them, and bet your at 80 cards and might help make some cuts easy.
Feel free to comment me back, happy to look again once it's paired a bit, or assist with honing in if you have a clear Game-Winning vision that you want to go with?
Good start. +1.
11 months ago
Your selection is interesting. Some of my favorite big X spells are red. Jaya's Immolating Inferno and Fall of the Titans are some of my all time favorites, but you've skipped em and I don't think it's necessarily a wrong decision. Normally, my biggest problem with Atraxa or the newer Zaxara is the lack of red. I can generally do without white in my X spells, but Black and Red are at the heart of the fun X spells for me.
Personally I really like Riku of Two Reflections but as previously mentioned, then you're missing black. I solved this by splitting up all my favorite big X spells and sprinkling them across my various decks instead of focusing on a single Big-X spell deck like this.
With such a cool goal in mind, I don't think staying 5 colors is a bad idea but considering your selection you might really see some improvement by trimming red from the deck entirely.
That being said... Vial Smasher makes a compelling argument for keeping the red in or even shifting him to be one of a pair of partner commanders.
Last comment - Fumigate and Time Wipe seem off theme. Why bother with standard field wipes when you have so many great X-based field wipes available to you.
Load more