Auto-suggestions on decks are now available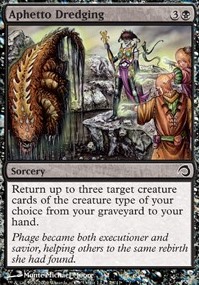 Legality
| | |
| --- | --- |
| Format | Legality |
| Tiny Leaders | Legal |
| Noble | Legal |
| Leviathan | Legal |
| Custom | Legal |
| Magic Duels | Legal |
| Canadian Highlander | Legal |
| Vintage | Legal |
| Penny Dreadful | Legal |
| Casual | Legal |
| Pauper EDH | Legal |
| Vanguard | Legal |
| Legacy | Legal |
| Archenemy | Legal |
| Planechase | Legal |
| 1v1 Commander | Legal |
| Duel Commander | Legal |
| Oathbreaker | Legal |
| Unformat | Legal |
| Pauper | Legal |
| Commander / EDH | Legal |
Aphetto Dredging
Sorcery
Return up to three target creature cards of the creature type of your choice from your graveyard to your hand.
Aphetto Dredging Discussion
3 weeks ago
Umm, well I can't offer my exact land selection to you as it involves revised duals I can say this:

Fetches are your friend, seriously. In a 5 color deck having fetches rarely make me sad, so I would run the full contingent:


Options:
There are Mirage fetches as well, a whole friendly color cycle of them, they are 'slow' but they can still grab shock lands, and cost no life:
Rocky Tar Pit
,
Bad River
,
Flood Plain
,
Grasslands
,
Mountain Valley
These also have the benefit of being absurdly cheap. That being said, if you do not have access to these, I'll offer some other suggestions.
Go up to 42-44 lands. Sure the curve hits 3/4, but I don't think the ideal is to hit 4 lands and be pleased with life, so I would suggest adding lands, and increasing consistency by removing some of the etb tapped lands:
Here are some 'simple' 1:1 conversions for cards I think would suit the deck better.
Honestly I hate the
Terminate
and some of the other choices but I am exhausted so I thought I would offer some help as opposed to trying to offer more and simply not posting.
5 months ago
Hey Wesjohn11,
Thanks for the nice words about my favorite deck. Glad you appreciate the build. After taking a look at your build, I have a number of questions, and comments.
Those are just some of my thoughts and suggestions. Hopefully you've found some of them useful. Good luck fellow hive mate.
1 year ago
Hmm...so this is a pet peeve of mine so take it worth a grain of salt but -always make your deck description as detailed as possible. As I'm looking at your deck and what you wrote here my only guess is that your game plan is to swing wide, and swing often. However, your deck doesn't seem to exactly have alot of focus to that end. You include some slivers with parasitic mechanics and/or (in my opinion) don't function well when there is only a "one of":
These Slivers are bad inclusions in an EDH deck because their abilities don't have much direct interaction with the other creatures in your deck. Additionally, when there is only one copy of them out on the battlefield their presence doesn't really make much of an impact - case in point Frenzy Sliver. With only one in play, your Slivers will only deal +1/+0 if they get through. That's it. If you had 4, that changes dramatically to +4/+0 - forcing the opponent to always block if possible. Can you honestly say that there is a situation where you would want to tutor for one of the previously mentioned creatures? Again, this is all my own opinion - but I would cut these Slivers for additional spells or permanents that could support you, but more on that later.
The inclusion of non-slivers is a bad choice given your commander. Overlord is designed to enable you to tutor for whatever answer you need. If that answer isn't a Sliver and is a creature - then what's the point of having Overlord as your commander? Speaking of lack of inclusions - why not have Amoeboid Changeling? It's a Sliver, and it interacts directly with Overlord's 2nd ability enabling you to steal enemy commanders. That's more of a control oriented play, but is a Overlord staple.
I'm starting to think that maybe you should swap out commanders for ether Sliver Hivelord or Sliver Legion. Your deck, as it is currently built seems to support a more aggro playstyle - which is completely viable within Slivers. Including the previously mentioned, I would cut the following cards:
Now, what cards do I think you could use?:
Sorry to write you a whole book lol, but those were my thoughts. Please let me know what you think and when your tournament is. I look forward to your response! Also, here's a +1 for you!
1 year ago
I'm going to suggest finding some good recursion--if you're going to be dumping cards every turn, you will almost certainly be tossing something you'll need later. Maybe Phyrexian Reclamation, or a couple of Aphetto Dredging to support the Undertakers that I strongly recommend. Or just rely on Squee, Goblin Nabob.
Outside of that, Spellshapers tend toward the small and control-y, but there are enough exceptions to work with. All of the legendary ones make good finishers, and there's one in every color ( has two).
Load more
Aphetto Dredging occurrence in decks from the last year
Commander / EDH:
All decks: 0.0%