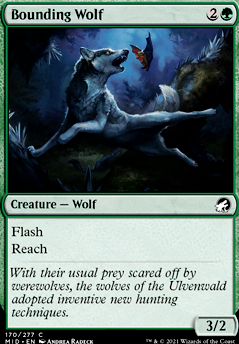 Bounding Wolf
Creature — Wolf
Flash (You may cast this spell at any time you could cast an instant.)
Reach (This creature can block creatures with flying.)
Latest Decks as Commander
Bounding Wolf Discussion
3 months ago
Hey, well done, nice version and foil Huntmaster. You're a better deck builder than you think, but you did forget Sol Ring ;)
There's some cards here that aren't as good as others. The only sorcery speed removal you should play are board wipes that can kill more than one thing. Single effect removal is always better as instant that way you can respond to something an opponent does. Rabid Bite is not good when Beast Within and Chaos Warp are options. Decimate is fine since it can target more than one thing among many players. Blasphemous Act is an example of a strong creature board wipe in muliplayer Commander where it can be consistently cast for only one mana. Vandalblast can destroy all your opponents artifacts.
Human Werewolves who are 5, 4, 3 CMC who only have one ability such as trample or reach and don't give you anything else when transformed or on the backside of the card are really subpar compared to all the other much better Werewolves here. Tavern Ruffian  Flip, Tireless Hauler  Flip, Harvesttide Infiltrator  Flip, Bird Admirer  Flip, Ulvenwald Mystics  Flip, Burly Breaker  Flip could all be cut. Some Human Werewolves who could replace these: Reckless Stormseeker  Flip, Realmwalker, Breakneck Rider  Flip, Village Messenger  Flip.
---
There's 5 sources of ramp here which is low amount with only 33 lands. With 33 lands then you really need more ramp, 10 or more sources. 0-2 CMC ramp is best because ideally you want to cast ramp in the early turns of the game when you don't have very many lands. 0-2 CMC ramp can replace lands since getting two lands is not as difficult as getting three or more. Sol Ring and Arcane Signet are staple budget ramp sources in Commander. Thought Vessel is helpful for more no max hand size and/or Crop Rotation to get Reliquary Tower.
Some colors have problems with having enough ramp options, but when playing green that's not a problem and you can take advantage of land ramp spells that can get a dual land Stomping Ground or Cinder Glade: Nature's Lore, Three Visits, Farseek and Harrow is nice basic land ramp. These ramp sources could replace: Bounding Wolf, Howl of the Hunt, Unnatural Moonrise, Mage Slayer.
---
Some changes to consider:
Good luck with your deck.
3 months ago
Hey, interesting high budget version of Tovolar with less Werewolves.
Human Werewolves that don't have day/night still count towards and transform when Tovolar upkeep triggers. The better Werewolves not having day/night is not really a drawback with Tovolar. Because Tovolar can repeatedly change from day to night then you have more chances to transform nonday/night Werewolves. If you play a nonday/night Werewolf after Tovolar transforms that's fine because more than likely Tovolar will flip back daybound giving you another chance to transform all Human Werewolves you control at your upkeep.
If you want to play a small amount of Werewolves then the ones you play really should give you more than just being a Werewolf.
With such a high budget you can do better than the vanilla Werewolves who don't give you anything when they're Humans as well as when they nightbound transform? Many of the Wolves are also subpar compared to all other cards here. If you're playing the Wolves just to be able to upkeep trigger Tovolar faster any Human Werewolf will do the same thing and give you more than any of these Wolves.
Wolves and Werewolves to consider cutting:
---
Really nice Fetch lands, but consider playing a Forest/Mountain dual land to fetch: Stomping Ground, Cinder Glade, Sheltered Thicket? Adding these lands will also give Farseek a dual land to search for instead of only being able to search for a basic Mountain. Also by adding some Forest/Mountain dual lands then you could improve the land ramp spells with Nature's Lore and Three Visits.
Some changes to consider:
Some other lands that would improve the manabase by cutting some basic lands especially Mountains:
Arcane Signet could replace Herald's Horn since Horn doesn't do much if you're not tribal. With so few Werewolves or Humans as well as many different creature types then a mana rock would make more ramp.
Door of Destinies is another tribal only card and it's very slow with so few Werewolves or Humans to cast. Could cut Door for Beastmaster Ascension since it's an anthem for all creatures you control.
Good luck with your deck.