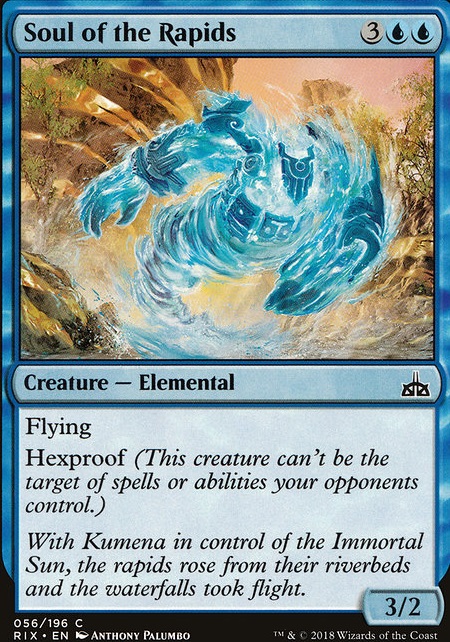 Legality
| | |
| --- | --- |
| Format | Legality |
| Pre-release | Legal |
| Tiny Leaders | Legal |
| Custom | Legal |
| Magic Duels | Legal |
| Canadian Highlander | Legal |
| Vintage | Legal |
| Oathbreaker | Legal |
| Modern | Legal |
| Arena | Legal |
| Standard | Legal |
| Pauper EDH | Legal |
| Leviathan | Legal |
| Legacy | Legal |
| Brawl | Legal |
| Frontier | Legal |
| 1v1 Commander | Legal |
| Duel Commander | Legal |
| Casual | Legal |
| Unformat | Legal |
| Pauper | Legal |
| Commander / EDH | Legal |
Related Questions
Soul of the Rapids
Creature — Elemental
Flying
Hexproof (This creature can't be the target of spells or abilities your opponents control.)
Soul of the Rapids Discussion
4 months ago
These suggestions are made with my previous suggestions in mind, that I assume you liked via your comment upvote.
These are my considerations for your removal... I don't do it often but most of them just dont do much other than offer you the hexproof ability.
Troll Ascetic : problem with regeneration is you gotta hold mana for it. Easy to forget.
Soul of the Rapids : doesn't do much for it's cost.
Sagu Mauler : I mean it's ok... but just doesn't do alot other than have abilities.
Prognostic Sphinx : I see no reason to want to discard cards for optional hexproof. Scry's nice but there are better options for card advantage.
Ascended Lawmage : Again, cost vs stats... it's just not there. One mana less would have changed my mind...
These are just what I can think of... again, with my previous changes in mind.
Heroic Intervention : and similar cards can protect you from board wipes and other spells that don't target.
Steel of the Godhead & Shield of the Oversoul : mostly for the evasion, but the other options are nice too.
Wild Growth and similar cards could be useful if moving towards more of an 'enchantress voltron' style deck.
Curiosity for extra cards, coupled with an evasive creature.
Rancor & Spirit Link keep returning to use again.
Octopus Umbra : great for the evasive creatures. Also for anything that has accrued counters, then it becomes 8/8 + counters and hopefully unblockable... maybe even Ishai.
These are the iffy ones... they could stay, or go. Up to you
Multani, Maro-Sorcerer : other players can control the stats my discarding/casting etc. Sure it could get big but its subjective. Also if we follow a voltron strategy you cant target t either.
Witchstalker : on curve, but unless it's a meta call because U/B is common... but idk.
That's all I got for now, perhaps look into some bant enchantress decks to get some more ideas for enchantment support. I think the hexproof theme is a great idea, it just needs the support of the enchantments to make it shine. Hope it helps some at least.
8 months ago
Unfortunately no, that won't work. Tears of Valakut 's ability only protects it from effects that specifically say "counter target spell" or something similar. The hexproof ability on Soul of the Rapids means you're not allowed to target it with spells and abilities. In this example you won't be able to cast Tears of Valakut targeting Soul of the Rapids in the first place.
8 months ago
Under normal circumstances would Tears of Valakut destroy Soul of the Rapids ? They directly counterdict each other with soul of the rapids being Hexproof and tears of Valakut saying it can't be countered by spells or abilities. Any input would be appreciated. Mtg can be so frustrating sometimes for a newbie. Lol
1 year ago
Very interesting approach!
I ran some simulated games with it last night and verified that it can work (though the particular decks I ran it against are hopeless before sideboarding in River's Rebuke and Sweltering Suns). After the first couple trials I subbed out Evolving Wilds and Highland Lake for the Izzet duals, since I personally already have them for my main Standard deck. As you might expect, it helps a lot.
Did you go creatureless just because it's awesome, or did you not think there was room? I tried throwing in a one-of Squee, the Immortal for infinite chump blocks and as an alternate wincon once the board is under control. I also wondered how Cold-Water Snapper or Soul of the Rapids might do as a one-of for late game. If you know you can resolve it, then you don't have to worry about using the 4th Fight with Fire as a board wipe and ending up decking out without a way to finish the opponent off. I haven't tried it out yet. Maybe The Mirari Conjecture to land a 5th copy for 20??
Maybe I'm not doing it right, but Syncopate never seemed to work before or after turn 2. With no blockers, every threat has to be answered quickly, and if opponent has more lands than us (or is on the play) there's no way to answer low-mana threats. Late-game, you need to exile lands with Precognition Field to draw into more spells, and opponent naturally pulls ahead on land count. I'm used to playing Condescend in U Tron, so I thought I'd understand the play pattern, but it definitely could be user error on my part.
The biggest problem I ran into was indestructible threats. The best I could do was bounce them, but since this is not a quick-finish deck (and I wasn't successfully countering them on the replay) that didn't work. I guess Essence Scatter could be a solution, but you'll get 2-for-1'ed a lot. Maybe Deep Freeze could be a good budget removal piece for those threats?
Load more
No data for this card yet.