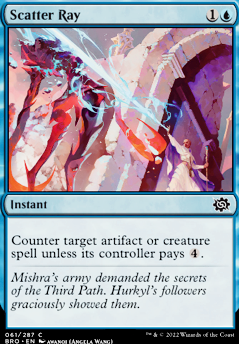 Legality
6 months ago
Remember that you are an aggro deck. As such, you want to lower your mana curve. You don't want to give up on card advantage, but you are willing to ignore life gain and pay some life instead.
10 months ago
Hey, good start on a budget with what you have so far. Command Tower is a budget staple land for multicolored Commander decks and Arcane Signet is a budget staple mana rock.
Ramos, Dragon Engine can only be played in a five color deck using it as Commander or another five color Commander. It's activated ability has all five mana symbols and those symbols count toward it's color identity. Urza's color identity is only three colors Esper (black, white, blue). Because Urza doesn't have red and green that's why Ramos can't be played with Urza as Commander.
If you want aggro with Urza lets look at the beginning of the mana curve first, cards spots of 0-3 CMC only then we can look at the higher end of the mana curve. The first changes to consider is to remove all the nonartifact creatures and then later determine if they are worth a spot in your deck because they have abilities that help artifacts or Urza. I think you'll find that you don't need any of these creatures because artifact creatures can take their places. If you want to be aggro with Urza then you want to utilize Urza's artifact creature affinity to cast Urza quicker. To do this consistently Urza wants 0-2 CMC artifact creatures and some 3 CMC artifact creatures more than the rest.
Some of these creatures may be added back in later, most likely not, but for now lets build the creature base with only artifact creatures. For making upgrades lets look at best cards here with Urza and build around them? Arcbound Ravager and Portal to Phyrexia are the two best cards here with Urza because they're artifacts and they're abilities are more powerful compared to most other cards here. Ravager brings the aggro, but if aggro doesn't do it and you need more reach to win the game then Portal can do that. Lets start with Ravager and what makes it better with Urza? Modular and you have some here, more one drops can help toward Urza's artifact creature affinity and Ravager.
Steel Overseer adds to the +1/+1 counter strategy, it's powerful but only for artifact creatures and if trying to be aggro it's a good reason to play very few nonartifact creatures. Silas Renn, Seeker Adept goes well with Arcbound Ravager since with Ravager you want to sac artifacts and Silas lets you cast an artifact from your graveyard. It's deathtouch combined with Urza's menace makes it a creature who opponent is not going to block and lose two or more creatures blocking it. Baleful Strix, Triarch Praetorian, Malcator's Watcher are two drop artifact creatures who fly and who draw when enter the battlefield (ETB) or dies.
---
Some artifacts here are worse than others.
Think about limiting the amount of nonartifact spells to just the better ones you have here?
Equipment that increases the equipped creature's power equal to the amount of artifacts you control really ups the aggro since then any little artifact creature can become huge which combined with menace can make it a great attacker. I see Silver Myr and it's good here since counts twice for Urza, artifact creature affinity and ramp. Consider adding more artifact creature mana dorks who can make colored mana?
The budget Signets can help for ramp as well as color fixing which is really needed because the manabase here is pretty much all basic lands. Arcane Signet is a staple budget mana rock for ramp in Commander. Chromatic Lantern is fine for color fixing, but you're going to want more than that.
Some nonartifact creatures at the beginning of the mana curve can really help aggro and Urza.
Losheel, Clockwork Scholar is powerful with artifact creatures when attacking is what you want to be doing especially Constructs. Your artifact creatures don't take damage in combat meaning that opponents will have a difficult time choosing to block since their blockers might die, but your creatures will be fine. Losheel is also repeatable draw, once on each players turn when an artifact creature ETB you draw this includes when a Construct is created by Urza if you didn't have an artifact creature ETB before your end step.
Sai, Master Thopterist can be a repeatable source of artifact creatures, Thopters, to be attackers or sac fodder. Emry, Lurker of the Loch is like Silas Renn, Seeker Adept more ways to cast artifacts from your graveyard is good with Arcbound Ravager and other sac outlets.
That's it for this comment, but if you're still interested I'll give advice about the high end of the mana curve here to take more advantage of aggro into mid game and Portal to Phyrexia late game as well as some budget land options for the manabase. Would you like more advice?
Good luck with your deck.