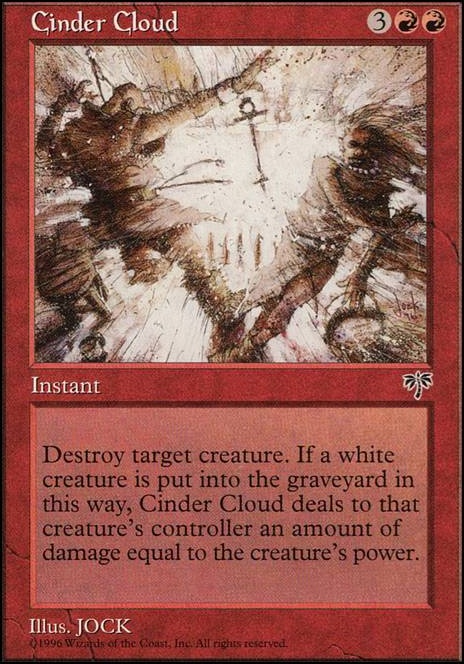 Cinder Cloud
Instant
Destroy target creature. If a white creature is put into a graveyard this way, Cinder Cloud deals damage to that creature's controller equal to the creature's power.
Latest Decks as Commander
Cinder Cloud Discussion
1 year ago
Another couple cards! Backlash, Cinder Cloud, Choking Vines, Wheel of Fortune, Sylvan Library, Dazzling Beauty, Delirium, Disempower, Erratic Mutation, Essence Vortex, Feint, Fire Covenant, Glyph of Reincarnation, Hail Storm, Harmonic Convergence, Imps' Taunt, Lammastide Weave, Lava Storm, Long-Term Plans, Mages' Contest, Mask of the Mimic, Misinformation, Natural Selection, Outmaneuver, Psychic Barrier, Sandstorm, Scout's Warning, Seedtime, Shaman's Trance, Silhouette, Simulacrum, Siren's Call, Spore Cloud, Squall Line, Suffocation, Surge of Strength, Telim'Tor's Edict, Three Wishes, Thunderheads, Tidal Wave, Trailblazer, Transmutation, Vapor Snag, Venarian Glimmer, Warpath (and probably every other red card that cares about attacking and blocking creatures, some research needs to be done); Winter's Chill, Word of Command (maybe?) Augury Adept (more like a bend and a "small" one since it's actually white too. Still, being a possible monoblue card that gains life, might still be considered for the list). Same for Balefire Liege and Selkie Hedge-Mage. Collapsing Borders, Delusions of Mediocrity, Illusions of Grandeur, Game of Chaos, Merchant Ship, Relic Bind
4 years ago
@ticked-off-squirrel: Ah, you're right. As you said, in your example it's not dealing damage, but there are some examples (some of which I played myself very enthusiastically, such as Agonizing Demise).
Whether it's lethal damage or a destroy effect destroying the creature actually makes a difference, which is something I initially overlooked and koylucumert therefore might be interested in: For example, if you're at 2 life, control an Exquisite Archangel and your opponent casts Cinder Cloud, your Angel will be destroyed (as in put in the graveyard by the effect, not by SBAs), then deal 5 damage to you. There is no Angel on the battlefield anymore at the time the damage is dealt, so it's replacement effect won't work and you will end up at -3 life.
6 years ago
Quick list of potential cards off the top of my head that I didn't see in your list. More specific advice can be given if you clarify where you want to go with the deck. Seems like you kind of want to go the "turn lots of stuff sideways" route?
Mana Denial and Punishment: Shivan Harvest, Blood Moon, Mercadia's Downfall, Price of Progress
Anthem Effects: Goblin Soothsayer, Tears of Rage, In the Web of War, Rabble-Rouser, Marton Stromgald, Orcish Oriflamme, Konda's Banner, Caterwauling Boggart, Ogre Battledriver, Moonveil Dragon, Goblin War Drums, Rage Reflection
Card Advantage: Moggcatcher, Sensation Gorger, Wheel of Fortune, Reforge the Soul, Skullclamp, Skirk Drill Sergeant, Warren Instigator
Utility: Goblin Vandal, Stingscourger, Goblin Tinkerer, Shattering Pulse, Mogg Raider, Frenzied Goblin, War Cadence, Relentless Assault
Burn: Spikeshot Elder, Ember Hauler, Goblin Arsonist, Mogg Fanatic, Furystoke Giant, Roar of the Crowd, Massive Raid, Vicious Shadows, Banefire, Sparksmith (only creatures)
Removal: Chaos Warp, Cinder Cloud, Fissure, Goblin Assassin
Synergy and Combo: Umbral Mantle, Zealous Conscripts
Aggro: Goblin Guide, Raging Goblin, Mogg Alarm