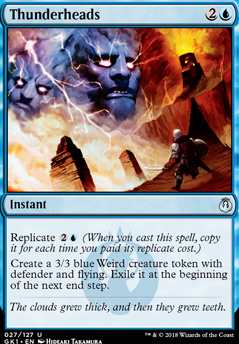 Thunderheads
Instant
Replicate (When you cast this spell, copy it for each time you paid its replicate cost.)
Create a 3/3 blue Weird creature token with defender and flying. Exile it at the beginning of the next end step.
Browse Alters
Tokens
Legality
| | |
| --- | --- |
| Format | Legality |
| 1v1 Commander | Legal |
| Block Constructed | Legal |
| Canadian Highlander | Legal |
| Commander / EDH | Legal |
| Duel Commander | Legal |
| Highlander | Legal |
| Legacy | Legal |
| Leviathan | Legal |
| Limited | Legal |
| Modern | Legal |
| Oathbreaker | Legal |
| Tiny Leaders | Legal |
| Unformat | Legal |
| Vintage | Legal |
| Casual | Legal |
| Custom | Legal |
| Quest Magic | Legal |
Latest Decks as Commander
Thunderheads Discussion
1 year ago
Another couple cards! Backlash, Cinder Cloud, Choking Vines, Wheel of Fortune, Sylvan Library, Dazzling Beauty, Delirium, Disempower, Erratic Mutation, Essence Vortex, Feint, Fire Covenant, Glyph of Reincarnation, Hail Storm, Harmonic Convergence, Imps' Taunt, Lammastide Weave, Lava Storm, Long-Term Plans, Mages' Contest, Mask of the Mimic, Misinformation, Natural Selection, Outmaneuver, Psychic Barrier, Sandstorm, Scout's Warning, Seedtime, Shaman's Trance, Silhouette, Simulacrum, Siren's Call, Spore Cloud, Squall Line, Suffocation, Surge of Strength, Telim'Tor's Edict, Three Wishes, Thunderheads, Tidal Wave, Trailblazer, Transmutation, Vapor Snag, Venarian Glimmer, Warpath (and probably every other red card that cares about attacking and blocking creatures, some research needs to be done); Winter's Chill, Word of Command (maybe?) Augury Adept (more like a bend and a "small" one since it's actually white too. Still, being a possible monoblue card that gains life, might still be considered for the list). Same for Balefire Liege and Selkie Hedge-Mage. Collapsing Borders, Delusions of Mediocrity, Illusions of Grandeur, Game of Chaos, Merchant Ship, Relic Bind
3 years ago
lagotripha Thanks for your comment, I have considered Mass Polymorph and Proteus Staff, proteus staff being the better of the 2. Mass polymorph is unnessecary and expensive so I would want to play this as I usually only have 1 hit in my deck and proteus staff is very good but costs extra mana (3 to cast, 3 to polymorph), with the staff also being an artifact, it would stop me playing Indomitable Creativity as this will reveal an artifact or creature and could hit the staff and not emrakul instead.
As for Hordeling Outburst, I wasnt the biggest fan of a sorcery speed 3 mana spell, however you can steal games by beating down with these 1/1's and for the value you cant find anything better as this deck prefers lots of targets for our polymorph's, and I use 2x Spawning Breath for the instant speed token creator if required.
The other options you mentioned all have a downside, Warping Wail could be uncastable if i dont hit 1 of the 2 colourless sources. Thunderheads exiles at beginning of the next end step, which would make the combo all-in and wouldnt allow consectutive Polymorph attempts. SwanSong would require me to target my own spells which isnt very productive. Final Depths of Desire is a consideration of mine, but feels slightly weaker and I have gone for the Enchantment of Trail of Evidence for token generators instead.
If you have any other idea's I'll be happy to listen.