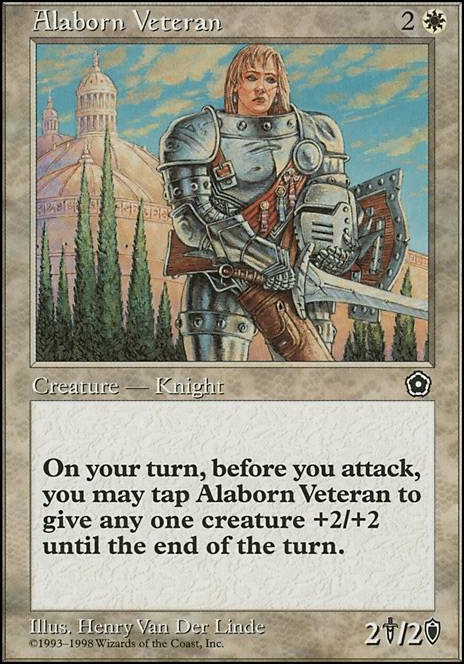 Alaborn Veteran
Creature — Human Knight
Tap: Target creature gets +2/+2 until end of turn. Play this ability only during your turn, before the combat phase.
Browse Alters
View at Gatherer
Legality
| | |
| --- | --- |
| Format | Legality |
| Leviathan | Legal |
| Legacy | Legal |
| Casual | Legal |
| Commander / EDH | Legal |
| Vintage | Legal |
| Limited | Legal |
| Canadian Highlander | Legal |
| Oathbreaker | Legal |
| Duel Commander | Legal |
| 1v1 Commander | Legal |
| Unformat | Legal |
| 2019-10-04 | Legal |
| Tiny Leaders | Legal |
| Highlander | Legal |
Latest Decks as Commander
Alaborn Veteran Discussion
3 years ago
Cards I would take out: Acolyte of the Inferno, Akrasan Squire, Akroan Sergeant, Alaborn Grenadier, Alaborn Veteran, Altac Bloodseeker, Alaborn Zealot, Fire Diamond, Pristine Talisman, Bandage, and Armistice. I will suggest more later on.
Then add some of the following: Bruna, the Fading Light, Sword of Feast and Famine, Enlightened Tutor, Sublime Archangel, Aggravated Assault, Loxodon Warhammer, Iroas, God of Victory, Bruse Tarl, Boorish Herder, Sun Titan, Master Warcraft, Assemble the Legion, Return to Dust, Aurelia's Fury, Frontline Medic, Solemn Simulacrum, World at War, Thran Dynamo, Darksteel Ingot, Akroma, Angel of Wrath, Legion's Initiative, Angel of Glory's Rise, Mother of Runes, Legion Loyalist, Steelshaper's Gift, Commander's Sphere, Emeria, The Sky Ruin, Emeria Shepherd, Knight of the White Orchid, Balefire Liege, Mirran Crusader, Thalia, Heretic Cathar, Grand Abolisher, Angel of Serenity, Angel of the Dire Hour, Angelic Arbiter, Hanweir Garrison along with Hanweir Battlements, Angelic Overseer, Exquisite Archangel, Requiem Angel, Resolute Archangel, Hammer of Nazahn, Sword of the Animist,Sunforger, Swiftfoot Boots and or Lightning Greaves, and Boros Signet.
I realize this is a pretty hefty list, and so let me know if you need help finding a place for any of these in the deck and I will try my best later on when I have time.