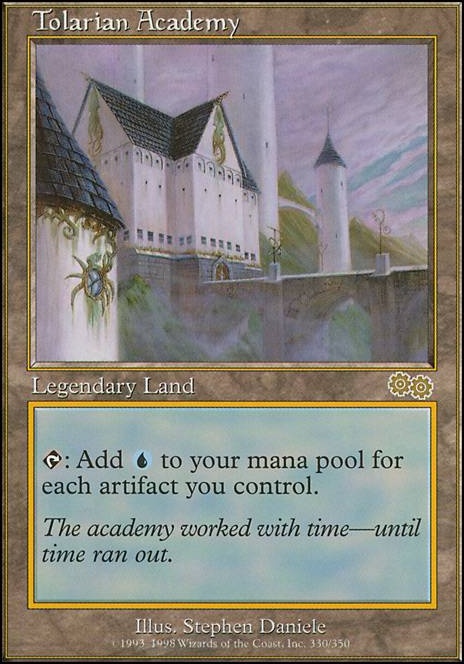 Legality
| | |
| --- | --- |
| Format | Legality |
| Tiny Leaders | Legal |
| Magic Duels | Legal |
| Canadian Highlander | Legal |
| Vintage | Legal |
| MTGO | Legal |
| Vanguard | Legal |
| Leviathan | Legal |
| Archenemy | Legal |
| Planechase | Legal |
| Unformat | Legal |
| Casual | Legal |
| Oathbreaker | Legal |
Tolarian Academy
Legendary Land
Tap: Add (Blue) to your mana pool for each artifact you control.
Tolarian Academy Discussion
1 week ago
I'm less of a "combo" player and more of a "synergy" player.
My problem with combos is that, while they can generate infinite and unbreakable locks on the game, if just one piece if removed the entire thing falls apart.
With synergy, even if half of your boardstate is gone, the half that remains can still function.
I recently "discovered" a combo / synergy between Myr Matrix and Mana Echoes that I want to experiment with in my next deck. I'm thinking Izzet, running Brudiclad, Telchor Engineer in semi-Myr tribal.
Basically the combo doesn't work unless you have at least 4 Myr on the field. If you have Mana Echoes already on the field with Myr Matrix sitting there and have literally nothing else, you can drop a Myr Battlesphere and immediately generate , pay into Matrix and get right back out of it.
I'm not entirely sure what to do with the deck or which direction to go, but I'm thinking spell-slinger / storm. The potential is there for an immense amount of mana. There is also Saheeli, the Gifted , Urza, Lord High Artificer , Tolarian Academy .
And I'd be remiss if I didn't shoe-horn in Day of the Dragons and Descent of the Dragons .
So yeah, it's not exactly a "game-winning" combo, and it does take a few cards to set up, but the possibility of generating BOTH infinite mana AND infinite tokens is just too good to not build.
---
Also, my Oathbreaker deck that runs Kiora, Master of the Depths with Karn's Temporal Sundering as the Signature Spell. In a ramp deck, you can literally go infinite turns.
Also in that deck I have Argothian Elder with Wirewood Lodge . If you have one other land that can add at least two mana, such as Nykthos, Shrine to Nyx , Gaea's Cradle , Simic Growth Chamber , Itlimoc, Cradle of the Sun , or even just a basic Forest with Vorinclex, Voice of Hunger on the field then you can also generate infinite mana.
Yes, I can generate both infinite turns and infinite mana in the same deck.
Shameless self plug. Sorry, I rambled on. I'll hide in an accordion as to not be rude with a dissertation on my hobby, lol.
1 month ago
Sevilex, Spirits Lament
Legendary Land - Swamp
Sevilex, Spirits Lament enters the battlefeild tapped
: add for each soul counter on Sevilex, Spirits Lament
Soul Harvest - When Sevilex, Spirits Lament enters the battlefield, exile X creature cards from your graveyard. When you do, put X Soul counters onto Sevilex, Spirits Lament.
---
Create a non black, mono coloured legendary land that taps for an amount of mana depending on a certain thing like Tolarian Academy or Gaea's Cradle
2 months ago
Alright, let's get back in the field.
'Crow Support
Lords and Anthems
A longtime staple for tribes, dating all the way back to Zombie Master , and almost every tribe wants them. Since you're looking to put a lot of 'Crows on board, Lords of course buff them, and enables your ability to close a game without depending on commander damage. Some come with bells and whistles, and depending on what build you want, not all of these will make the cut. Anthems help with this as well, but vanilla Anthems won't give you the same mileage as a Lord. Nevertheless, it's worth considering everything at your disposal.
Adaptive Automaton - A standard Lord that mixes with any tribe, and maybe not ideal for Reaper, Lords are just good in general
Brass Herald - A little costly, but a recruiter and Lord in one is a nice option; I would only be comfortable recommending this if your creature count is high
Metallic Mimic - A de facto Lord, and is prime for ETB abuse
Etchings of the Chosen - Making your general hard to deal with should always be welcome
Radiant Destiny - I think Vigilance is a little too vanilla to make the cut in EDH, but it's worth considering
Shared Triumph - As far as Anthems go, this one is sold mostly by its appealing mana cost
Door of Destinies - Given that you will cast a lot of Scarecrows, Door will put in work
Icon of Ancestry , Vanquisher's Banner - An Anthem that can also access more advantage will serve you well
Other Support
Cover of Darkness - I think Cover is a little too Voltron-ish for King, but it's an option
Kindred Boon - Mostly just protection for King and at least is worth considering
Steely Resolve - Tribe-wide Shroud seems very good for any tribe that can use it
That Which Was Taken - Protection for anything, plus synergizes with Artifact support
Advantage Generation
Draw
Drawing is strange in EDH. Not everything good is usable here since you still want to find synergy, but there are plenty of options, and most of them will serve you well on a budget.
Deep Analysis - Its initial cost can be rough, but Flashback is great,
Dig Through Time - Given how long EDH games can go, Dig usually has plenty of Delve fodder to be affordable
Distant Melody - A decent choice for any EDH tribal
Thoughtcast - Solid in anything Artifacts
Greed - It's an option
Mind Stone - Doubles over as a mana rock, but its draw ability is mainly what you want for late game
Slate of Ancestry - It's " Distant Melody " on an Artifact
Thopter Spy Network - Generates fodder and enables draws, and while maybe not great, is nice nonetheless
Tutors and the Like
Consistency in function is crucial to your deck, and depending on who all you play with, the tempo of games could afford you time for otherwise less ideal options.
Scheming Symmetry - Better with more people at the table, but is an option
Planar Portal - Maybe a little costly, but it tutors anything and is a personal favorite
Planar Bridge - Even more costly than Portal, but can just churn a permanent out of the deck
Whir of Invention - Since Tinker will never be legal, this is what you got
Saheeli's Directive - Costly, but powerful, plus it gives a little extra utility to Artifacts that you don't immediately have use for or don't tap
Lands
I'm no expert in juggling lands for multicolor EDH, but there are some solid good stuff lands for such a format. This is probably where most of your attention is going to go because Shocks, Fetches, and the like are outside your budget, leaving you working with more strict cards. I'm including transforming cards because the Land forms are mostly what will concern you, although keep in mind their original forms should provide some utility as well.
Arch of Orazca - A colorless land can suck, but one that can keep cards in hand is worth noting
Command Tower - Don't question it
Glimmervoid - Staple for Artifact EDH
Growing Rites of Itlimoc Flip - Can grab a creature, easily transforms, and if you manage that, it can be a nice mana source
Journey to Eternity Flip - Production of any mana and reanimation is nice, and in a format where everything dies, transforming it shouldn't be hard
Mirrodin's Core - Super budget and requires some planning, but is flexible
Opal Palace - Decent fixing, plus it softens the pain of casting your general for the sixth time in a game
Path of Ancestry Color fixing with perks for casting your general
Storm the Vault Flip - In Artifact EDH, it transforms for almost nothing into Tolarian Academy , and I guess it can also produce any mana
What to Ditch
This is where I start to fall off, since I've only ever built Voltron and Superfriends EDH decks. But I do have solid overall advice for deck building, period: consider what cards bring to the table. If you find that a card doesn't quite work well, look for something to better get this machine working. Try to get as much synergy out of your cards as possible, so things with linear and okay-ish function may not be worth keeping. Always test and see what happens. A lot of things that are good on paper don't iron out in practice, and likewise things that don't iron out on paper are great in practice.
Hopefully this all helps you find your way with the deck. Of course, since I'm no expert in this field, feel free to do further research for tips and cards. There are plenty of other King EDH decks on TappedOut, and people love to build things differently, so there likely are going to be things I've missed that someone else considers a no-brainer inclusion. Additionally, utilize Google and MTGSalvation for more ideas. Lastly, deckcycling puts it on the front page for people to see, and possibly give you a hand. There's a lot of room to build here, and there are likewise a lot of people who can advise you.
2 months ago
SynergyBuild, out of 12 unique responders, 3 have mentioned some of the "big sorceries" to be unbanned. That is a low rate among a low rate of responses. This is not a method to get "uncontroversial" opinions, you will just get people venting about the worst offenders in their local meta.
Same with the unbans - people will not consider why these big sorceries are currently banned, just that they seem to be tame given their cost. The reason they are banned is that they unfairly punish players (biorhytm and Coalition Victory ) or prolong the game unnecesarily ( Worldfire and Sway of the Stars ), but these reasons are not considered or the eternal "it can be answered" is spewed out, the commander equivalent of "dies to removal".
For plantiful examples of this, lets look excerpts for dbpunk's post:
"Emrakul can be Nevermore 'd" - unban a card, because you can answer it by playing a card that bans it from the game?
" Tolarian Academy is only good if someone doesn't wipe out your artifacts. Just like Serra's Sanctuary only works if you have an abundance of enchantments or Gaea's Cradle is only horrifying if you have a ton of creatures. " - that literal Read-the-card right here that does not account for any of differences between the three cards or even attempt to explore why only one of the three is banned.
"Erayo's a vanilla 1/1 until someone casts the fourth spell of a turn and balance can be countered." - every spell can be countered, so lets unban everything.
"Prophets good, but also extremely killable and manipulatable. Same with Griselbrand. " - the literal dies to removal.
"Do these cards make gameplay difficult? Yes. But so do any number of cards when combined correctly. These just don't make you jump through as many hoops." - and then finally, a justification for why cards currently on the list are banned, just for good measure.
I do not mean to single anybody out (sorry dbpunk, but yours are just too succinct illustrations, many more answers like this are present in this thread), I just want to show that these threads cannot provide much to an actual discussion.
I would advise to take some input from here and create a separate thread for just a few of the cards - it can lead to some actual deeper discussion.
2 months ago
Yes they're all crazy good. But frankly they're not as hard to deal with as they used to be when they were initially banned.
Emrakul can be Nevermore 'd destroyed by a field wipe, which we have an abundance of now.
Tolarian Academy is only good if someone doesn't wipe out your artifacts. Just like Serra's Sanctuary only works if you have an abundance of enchantments or Gaea's Cradle is only horrifying if you have a ton of creatures.
Erayo's a vanilla 1/1 until someone casts the fourth spell of a turn and balance can be countered. Not to mention we have a ton of safe guards against opponents forcing us to sacrifice now and way more land recursion/noncreature permanent recursion.
Prophets good, but also extremely killable and manipulatable. Same with Griselbrand.
Do these cards make gameplay difficult? Yes. But so do any number of cards when combined correctly. These just don't make you jump through as many hoops.
2 months ago
dbpunk you... are joking, right?
Ancestral Recall , Emrakul, the Aeons Torn , Griselbrand , and Tolarian Academy are all absolutely bat-shit crazy cards, and can totally destroy a game.
Balance and Erayo, Soratami Ascendant lead to insanely unpleasant gameplay.
Prophet of Kruphix , as much as my Roon deck would love it, is a busted card. It's good enough to immediately go into any blue/green deck, and that's what got Paradox Engine banned.
3 months ago
Here's some thoughts on it:
Unban: Ancestral Recall , Balance the Moxes, Biorhythm , Braids, Cabal Minion , Coalition Victory , Primeval Titan , Sway of the Stars , Erayo, Soratami Ascendant , Library of Alexandria , Recurring Nightmare , Emrakul, the Aeons Torn , Griselbrand , Prophet of Kruphix and Tolarian Academy
All of these cards are strong, but there's so many answers to them now that they can all easily be beaten. Also if someone successfully casts any of the big stuff on there without someone countering it or somehow stopping whatever degenerate thing they're doing with that card, they deserve to win probably. All of them have answers outside of removal as well, such as methods to slow them down or steal their draws.
Ban: all other cards on the banlist, Stasis
All the other cards ruin games pretty much, or at least are just completely annoying. Stasis doesn't really have an answer past enchantment destruction currently, unlike the cards I said above.
3 months ago
Fenryr Not sure what the whip would do to help since its mostly storm but I enjoyed your comments!
ewok2000 Yep, he was the one who cause the Tolarian Academy to get attacked forcing Urza to send back Karn in time to fix the mistake but the device over loaded and caused the time bubbles. He then got trapped in that fast time bubble for centuries before finding a way out represented in the card No Mercy but still lost the fight and was killed off. Really neat character.
Load more
No data for this card yet.