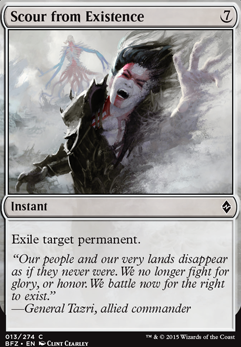 Scour from Existence
Instant
Exile target permanent.
Browse Alters
View at Gatherer
Trade
Legality
| | |
| --- | --- |
| Format | Legality |
| 1v1 Commander | Legal |
| Block Constructed | Legal |
| Canadian Highlander | Legal |
| Casual | Legal |
| Commander / EDH | Legal |
| Custom | Legal |
| Duel Commander | Legal |
| Highlander | Legal |
| Legacy | Legal |
| Leviathan | Legal |
| Limited | Legal |
| Modern | Legal |
| Oathbreaker | Legal |
| Pauper | Legal |
| Pauper EDH | Legal |
| Pioneer | Legal |
| Tiny Leaders | Legal |
| Unformat | Legal |
| Vintage | Legal |
Scour from Existence occurrence in decks from the last year
Latest Decks as Commander
Scour from Existence Discussion
5 days ago
This is definitely going to be an opinion-filled thread, but I'll throw my hat in.
I disagree wholeheartedly. In fact I'd go so far as to say Strixhaven is the only set I've been actually excited for in what feels like ages. Eldraine was somewhat exciting but before that... Dominaria? Again this is entirely subjective and I'm not here to tell anyone they're wrong about their opinion on a product. But I'm looking forward to Strixhaven.
Introduction to Annihilation is the worst example I could possibly think of to argue blurring the line between colors. Scour from Existence , Universal Solvent , Meteor Golem , Unstable Obelisk , Spine of Ish Sah , Colorless permanent removal is far from new or color warping. Most of the lessons, like Introduction to Prophecy , will mostly be inconsequential imo because, to be frank, they're bad. 3 for a Serum Visions ? Even mono-white isn't THAT desperate for draw.
WOTC is trying to force us into playing golgari lifegain
I'm stoked to finally get golgari lifegain support. If that's not your style, I get it, but I'm happy for it personally.
Galazeth Prismari feels like a case of catering to EDH. Adding red to your deck options and tapping artifacts for any color instead of blue feels like more of a sidegrade than a downgrade. We'll have to see how it does imo.
As for Beledros Witherbloom , a wise man once said of Prophet of Kruphix : If you think this card costs mana, you've been fooled. As for "This card may not be used in any infinite mana combo", actually it says "Flicker me". It's not in good colors for that, but I could see a BUG deck getting infinite mana out of this if they can find a way to supply the life. Deadeye Navigator says hi.
Release, experience, and hindsight will probably affect everyone's opinions on Strixhaven, as it has every set before it. So I generally try to take a "wait and see" approach, even if MTG doesn't have a great record for what I've waited for and seen recently imo.
2 weeks ago
Though Introduction to Annihilation costs 5, rather than 7... it also gives the opponent a card. That's generally going to be far more dangerous than paying an additional . Add in the fact that it's a sorcery, whereas Scour from Existence is an instant, and I think using it as an example of power creep is a huge stress.
I'll also point out that Introduction to Prophecy costs more than its mono-colored equivalent (going by Wizards' general design rule that is roughly equivalent to one colored mana).
1 month ago
You might like these: Sanctum of Eternity , Inspiring Statuary , Erratic Portal , Blood Clock , Umbilicus , Bag of Holding , Empowered Autogenerator , Conqueror's Galleon  Flip, Mirrorworks , Trading Post , Scour from Existence , Null Brooch , Mimic Vat , Metalworker , Oblivion Stone
1 month ago
Oh for sure, red doesn't have the best removal options in commander for creatures like it does in other formats... Scour from Existence is probably the only other real option for mono-red decks. I like Dark Temper as well, but for that you have to have access to a black permanent.
2 months ago
Hello again FenIsABasicSwamp. Not sure if you remember me, but I was the one that was building a Haakon deck around the same time you were (a little after). I also had a GoT theme but went more discard. I've been out of the magic scene for a bit but I was coming back to check out your deck because I am trying to revamp my version. I am still amazed at this deck as it truly does everything that I love in Magic. If I could upvote this twice I definitely would. I have some questions for you if that's alright.
1) Why Wasteland over Strip Mine? Why not both?
2) How relevant has Emergence Zone been?
3) Why fetches in a mono-colored deck? I understand filtering, but you only play two and it seems you have a lot of draw.
4) Has K'rrik, Son of Yawgmoth earned his place? Also, how do you supplement the lifeloss? I see some lifelink (and he has it as well) but have you ever needed to worry about the life lost from using him? Do you try to win before this is a problem?
5) Is Abhorrent Overlord's ETB make him more attractive than something like Endrek Sahr, Master Breeder or Ghoulcaller Gisa? How badly do you need tokens for fodder?
6) Is Bitterblossom not worthwhile for the Contamination combo? If not, how come? I see Winter Orb in the sideboard so it seems like you may want to lockdown in some cases to ensure the deck gets to the mid-to-late game.
7) I know that Sidisi, Undead Vizier can be a repeatable tutor, but how come you don't play more tutors like Vampiric Tutor, Imperial Seal or even Increasing Ambition? (Unless money is a factor)? Also, why no Razaketh, the Foulblooded? Especially with the token generation factor.
8) Has Ghirapur Orrery ever backfired and helped an opponent(s) more than it has helped you? Same question for Lifeline and Tombstone Stairwell.
9) Null Profusion is a card I've always meant to try, but the limit of two cards has always deterred me. How has it played for you? Staple? Needed? Just okay?
10) I'm SURE I'm missing something with Yawgmoth, Thran Physician, but he seems "off" to me in your list. You have enough draw to not worry about losing life and sacking a creature that can be sacked to other things. What does he bring to this kind of build?
11) Is the dredge from Stinkweed Imp needed? Do you constantly dredge whenever you can or is there a time and place?
12) What are the cards you mainly go for when you transmute Fleshwrither? Is it not easier to replace this with Grim Tutor? Does the fact that he's a creature make him more appealing?
13) Have you ever named zombies with Conspiracy for Cryptbreaker? Do you just use his ability to get you zombies? Is his draw worthwhile even if it seems slow for a non-zombie dedicated deck?
14) Has Ulamog, the Ceaseless Hunger's cast trigger been enough non-creature removal? I saw the comment about Feed the Swarm so I won't suggest it, but what about Oblivion Stone, All Is Dust, and even Scour from Existence? If they're not needed, how come?
I read your Bio. I understand that your specifically chose not to use some of the cards and combos I've listed here. I hope that my questions come across as curiosity, not "you should do this and do that."
I know I've asked a lot of questions in this on comment, but if you could do me one more thing. Since you like underrated themes and/or commanders would you be willing to take a look at my Rakdos the Defiler deck? He is one I built early in my Magic career, purely for a theme, and without a template. He has become a powerful deck since and I'd love to hear your thoughts!
2 months ago
X-Factor11105 I've actually been seriously considering Kolaghan's Command lately, but I dunno if I'd remove Bedevil for it (Bedevil is just so so good). Dragonspeaker Shaman was in here for a while a long time ago, but I swapped him out for Dragonlord's Servant for the easier mana cost, then swapped the servant out for Nightscape Familiar because familiar applies to more of my cards. Cost reducers are only really worth it if you get their benefit multiple times in a turn, and I cast multiple red cards way more often than I cast multiple dragons.
Ugin, the Ineffable isn't quite as important as he used to be, but he's still good. Prior to Feed the Swarm being printed he was arguably the best targeted enchantment removal Rakdos had to offer (compared to stuff like Spine of Ish Sah and Scour from Existence). I wish he was at least one mana cheaper, but the removal+card advantage package he offers is still really nice
Load more