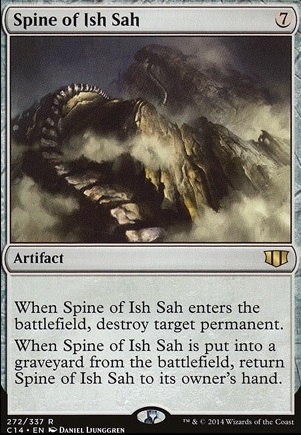 Spine of Ish Sah
Artifact
When Spine of Ish Sah enters the battlefield, destroy target permanent.
When Spine of Ish Sah is put into a graveyard from the battlefield, return Spine of Ish Sah to its owner's hand.
Browse Alters
View at Gatherer
Trade
Legality
| | |
| --- | --- |
| Format | Legality |
| 1v1 Commander | Legal |
| Block Constructed | Legal |
| Canadian Highlander | Legal |
| Casual | Legal |
| Commander / EDH | Legal |
| Custom | Legal |
| Duel Commander | Legal |
| Highlander | Legal |
| Legacy | Legal |
| Leviathan | Legal |
| Limited | Legal |
| Modern | Legal |
| Oathbreaker | Legal |
| Tiny Leaders | Legal |
| Unformat | Legal |
| Vintage | Legal |
Spine of Ish Sah occurrence in decks from the last year
Spine of Ish Sah Discussion
5 days ago
This is definitely going to be an opinion-filled thread, but I'll throw my hat in.
I disagree wholeheartedly. In fact I'd go so far as to say Strixhaven is the only set I've been actually excited for in what feels like ages. Eldraine was somewhat exciting but before that... Dominaria? Again this is entirely subjective and I'm not here to tell anyone they're wrong about their opinion on a product. But I'm looking forward to Strixhaven.
Introduction to Annihilation is the worst example I could possibly think of to argue blurring the line between colors. Scour from Existence , Universal Solvent , Meteor Golem , Unstable Obelisk , Spine of Ish Sah , Colorless permanent removal is far from new or color warping. Most of the lessons, like Introduction to Prophecy , will mostly be inconsequential imo because, to be frank, they're bad. 3 for a Serum Visions ? Even mono-white isn't THAT desperate for draw.
WOTC is trying to force us into playing golgari lifegain
I'm stoked to finally get golgari lifegain support. If that's not your style, I get it, but I'm happy for it personally.
Galazeth Prismari feels like a case of catering to EDH. Adding red to your deck options and tapping artifacts for any color instead of blue feels like more of a sidegrade than a downgrade. We'll have to see how it does imo.
As for Beledros Witherbloom , a wise man once said of Prophet of Kruphix : If you think this card costs mana, you've been fooled. As for "This card may not be used in any infinite mana combo", actually it says "Flicker me". It's not in good colors for that, but I could see a BUG deck getting infinite mana out of this if they can find a way to supply the life. Deadeye Navigator says hi.
Release, experience, and hindsight will probably affect everyone's opinions on Strixhaven, as it has every set before it. So I generally try to take a "wait and see" approach, even if MTG doesn't have a great record for what I've waited for and seen recently imo.
1 week ago
Hey, good start on a low budget. The deck name gave me a laugh :)
Some cards $1-$2 or less each to consider adding:
Having ways to tap Dwarves without attacking especially Magada is helpful to create treasures. Springleaf Drum , Survivors' Encampment , Holdout Settlement are ways to tap Magada to make mana. Dwarven Warriors and Dwarven Nomad can make Magada unblockable as long as she has only 2 power. Key to the City can make any creature unblockable such as Fearless Liberator .
Aethersphere Harvester is a Vehicle and Vehicles have an ability called crew which lets you tap any number of creatures you control with power equal to or more than the crew number. You can crew any number of times even if the Vehicle is already a creature with as many creatures as you want. Aethersphere with crew 1 means any creature can crew; each Dwarf you control can create a treasure.
Good luck with your deck.
2 weeks ago
For the longest time, Commander players have bemoaned the state of White's card draw abilities. And for the same amount of time, they have said that just making a colorshifted Divination wouldn't be enough.
In Strixhaven (link here), we see a card that is very similar to Divination. and it's colorless. This same idea is repeated with a removal spell--for as long as the Earth has spun, 7 mana is the amount colorless cards must cost to remove any permanent (see Spine of Ish Sah )... but apparently that doesn't matter anymore.
1 month ago
Mortarpod That's actually super funny, considering that I've really only seen Worldgorger Dragon played in high powered games alongside Animate Dead . In terms of removal, Spine of Ish Sah is the first thing that comes to mind as direct removal. Mirage Mirror can become a protection piece depending on what is on the battlefield. Hoarding Dragon can provide an interesting interaction where you get a big flying blocker for whatever is coming at you, and provided it dies in combat, get to tutor an artifact to your hand. My favorite card is Colfenor's Urn . If you have three or more of your big dragons/artifact creatures, you can instantly recover from a boardwipe and will have a massive advantage.
2 months ago
Spine of Ish Sah seems like a perfect fit here, as Bosh can throw 7 damage at your opponent's face turn after turn while it blows up a permanent every time. Mishra's Self-Replicator also seems like it could provide some solid reliability: every time you play an artifact, it's just to get another 5-mana artifact to chuck at your foe.
If you really want some big-league damage, though, I think Metalwork Colossus could fit the bill. Thank to all of your artifacts you should be able to play him for a considerable discount, but he still hits for 11 points when you fling him at your foe. Best of all? You can even ditch a couple of tiny trinkets to bring him back for another round!
2 months ago
X-Factor11105 I've actually been seriously considering Kolaghan's Command lately, but I dunno if I'd remove Bedevil for it (Bedevil is just so so good). Dragonspeaker Shaman was in here for a while a long time ago, but I swapped him out for Dragonlord's Servant for the easier mana cost, then swapped the servant out for Nightscape Familiar because familiar applies to more of my cards. Cost reducers are only really worth it if you get their benefit multiple times in a turn, and I cast multiple red cards way more often than I cast multiple dragons.
Ugin, the Ineffable isn't quite as important as he used to be, but he's still good. Prior to Feed the Swarm being printed he was arguably the best targeted enchantment removal Rakdos had to offer (compared to stuff like Spine of Ish Sah and Scour from Existence). I wish he was at least one mana cheaper, but the removal+card advantage package he offers is still really nice
3 months ago
fantastic feedback MapPsycho thank you! You'll notice what I did this morning -- I removed Spine of Ish Sah and Armillary Sphere and returned Crashing Drawbridge and inserted Beast Within. You are so right -- I like the Spire card, but damn, it's 7 mana to cost. Like, as in one more than six! Not quite right when I have monsters chomping at the bit, waiting to be summoned.
I am going to enjoy looking at your builds later today. You seem to be an incredibly wise player.
Cheers,
~ SW
3 months ago
Greetings snackelwolf! I think you've done a great job narrowing down your options. As for the combo, I think you have the right idea by removing it. It's a smart and solid combo, but like you said, those slots might be better served adding to your land gain and creatures. Dropping Crashing Drawbridge IS a bit of a bummer, but it makes sense overall. My suggestions on what to remove would be Armillary Sphere for Yavimaya Elder as it accomplishes pretty much the same goal but with potential card draw. Even under the worst circumstance you still get your lands without having to tap for extra mana. Second, Ram Through is very useful because it's essentially creature spot-removal if you've got a heavy-hitter out plus a permanent power boost and potential direct damage for just 2 mana. I would consider dropping either Wild Growth or Spine of Ish Sah. Both are excellent choices, with Wild Growth always being a solid turn 1 card. And Spine of Ish Sah being a powerful late game weapon. My arguments against them would be that one is useful in the early game, and not so much mid to late game. You're running a healthy amount of lands for Azusa(which is great)but you've got a ton of ramp as well which may minimize the effect of it's absence. And the second being great mid to late game, but unplayable in early game due to the higher cmc. With Azusa, you don't have to worry about waiting until turn seven to cast it, but you're going to be spending a lot of mana to use and reuse it. Depending on the circumstances, Running something like Beast Within would be a solid play early, mid, and late game due to it's lower cost. These are just my thoughts and opinions, the deck looks great as-is. Your opinions may differ, especially with you having experience actually playing it.
All the best!
Load more