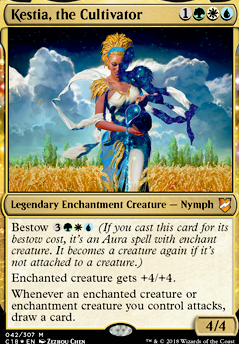 Legality
| | |
| --- | --- |
| Format | Legality |
| Tiny Leaders | Legal |
| 1v1 Commander | Legal |
| Magic Duels | Legal |
| Leviathan | Legal |
| Duel Commander | Legal |
| Commander / EDH | Legal |
Kestia, the Cultivator
Legendary Enchantment Creature — Nymph
Bestow (If you cast this card for its bestow cost, it's an Aura with enchant creature. It becomes a creature again when it's not attached to a creature.)
Enchanted creature gets +4/+4.
Whenever an enchanted creature or enchantment creature you control attacks, draw a card.
Kestia, the Cultivator Discussion
2 weeks ago
Hexaflexagon, Kestia, the Cultivator works well in a deck that focuses on auras and bestow as a way to enchant creatures. In here there are little, so she doesn't seem very viable to me.
2 weeks ago
Apart from lands (39), you have 9 ramp cards. Don't you think that's a lot (as the general rule I'm pretty sure is for every 2 ramp cards, you take a land out)? Maybe you should get more creatures to pile enchantments on. Also, have you tried Kestia, the Cultivator?
2 weeks ago
Not sure what you mean by Starfield of Nyx being counter-intuitive. It's a solid card at any point in the game and provides a large number of blockers or a backup win condition should you need a little extra firepower.
For cuts:
Armadillo Cloak is strictly better than Unflinching Courage. Not only can you put it on your own lifelink creatures for double health, you can also put it on an enemy creature to gain health when it attacks--healing off any damage it deals to you should you be the target.
Latest Commander