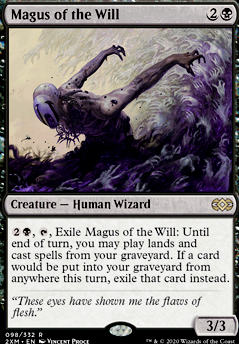 Magus of the Will
Creature — Human Wizard
, , Exile Magus of the Will: Until end of turn, you may play cards from your graveyard. If a card would be put into your graveyard from anywhere this turn, exile that card instead.
Browse Alters
Trade
Legality
| | |
| --- | --- |
| Format | Legality |
| Tiny Leaders | Legal |
| Legacy | Legal |
| Duel Commander | Legal |
| Highlander | Legal |
| Canadian Highlander | Legal |
| 1v1 Commander | Legal |
| Casual | Legal |
| Magic Duels | Legal |
| Vintage | Legal |
| Commander / EDH | Legal |
| Oathbreaker | Legal |
| 2019-10-04 | Legal |
| Leviathan | Legal |
Magus of the Will occurrence in decks from the last year
Commander / EDH:
All decks: 0.0%
Magus of the Will Discussion
6 months ago
My suggestions using only cards in your maybeboard.
If Ob Nixilis Reignited's only purpose is card draw, out for Guardian Project
That's 1 more out than in so you should be down to 99.
Ugrades using cards not in maybeboard.
8 months ago
enpc, Yawgmoth's Will is far too expensive for me to purchase a copy of it for my decks (although I would consider Magus of the Will , if I could find a card to remove in its stead), and Mission Briefing relies on having a large amount of instants and sorceries in a deck, which only some of my decks have, so that card is too unrelaible for my decks.
9 months ago
Adding some higher-impact (though more expensive) draw, ramp and protection in the form of taxing and recursion and pulling out some more life-intensive spells.
Removed:
Added:
1 year ago
HOW LONG HAS IT BEEN SINCE I BUMPED THIS CRAP?
@austintayshus & Yesterday: After completing a couple of decks, I still have one thing in mind: the Turn 1 Doomsday Package.
Rules Reminder: No Lion's Eye Diamond , no Yawgmoth's Will , no Magus of the Will , no Sensei's Divining Top , no (Some other Major Piece.) & no bull about it.
The graveyard is counted as does not existing; w/ the Exile Zone in its place only.
Last time, this is what I got so far:
Any other ideas for the 2 other cards, & the Cracker to start this? & emember to keep the rules in mind. I'm restricting myself for a reason; if there is no such way to do a Turn 1 Doomsday of such regulations, then my previous idea for the Package will be used. I'll have to make cuts for the overall deck from there though. I hope this helps...
1 year ago
@austintayshus: Well, before I can do anything else, I'll up the ante one more time, just to see if it's possible or not.
If I wanted a Quasi-Turn 1 Win, the rules still stand:
1: No Yawgmoth's Will , Magus of the Will , Lion's Eye Diamond , those kinds of things.
2: I dunno how Sensei's Divining Top can crack a package wide open; so I'm not going to risk this.
3: This means we're stuck w/ the following:
Laboratory Maniac (Unless there's another way to win...)
Which means we're 3 cards short (Including the cracker.), & 1 of 6 required package with good draw power. Question: Is it possible to win on occasion w/ a Turn 1 Doomsday Package WITHOUT Yawgmoth's Will , Magus of the Will , Lion's Eye Diamond , etc? I personally wonder if that Return to Ravnica Quiz is still up... I'd really like to know my Guild for REAL; Grixis doesn't seem like a confirmed Identity. Maybe I'll bring up some things in the Lore Section... For now; is this possible?
1 year ago
@Yesterday & austintayshus: If we're talking Doomsday ; this is what I got so far:
Package Cracker: Preordain
Package in no particular order:
Laboratory Maniac (Core Piece)
Gitaxian Probe (Immediate Deckout-Win)
Pact of Negation (Spot Removal)
???
???
This leaves us w/ 2 slots remaining. Gush is out of the picture though; not enough Island to save my butt. & don't get me started on Lion's Eye Diamond ; I have both Yawgmoth's Will & Magus of the Will , & I'm not running either.
But if there are any dream combos Boros could ever have, I'd love to mention them; but not today. One of them IS a Doomsday Package; though for the sake of cEDH, I've yet to find a Hulk Combo; Protean Hulk isn't in colors...
...Any other Hulk combos out there that didn't even need to run ?
But at least I've 4/6 pieces. But the Card Draw Strict Minimum in a good pile is 6; ...I got 2. Not going to add the two Wills for multipliers, but I still need some kind of Mana Ramp (Optional.), & something cheap that can run 4 draw; which, is just an impossibility. But you know the rulings now; so what last 2 to add... BTW 5/6 Draw Rating won't work in anyway, there is an actual Primer for this BTW.
1 year ago
I'm afraid there's nothing that causes only your opponents' ETBs not to trigger. At least that I know of. If you wanted, you could use some effects like Roon or Eerie Interlude that exile your Hushwing Gryff until end of turn. There are somewhat fewer of these effects for non-creatures though.
Recurring from exile isn't super common. I'm not sure I have much to help you with there, sorry. I can suggest a few cards that otherwise fit the theme and are decent value.
The new Apostle of Purifying Light is kinda basically a better Withered Wretch.
Myr Welder plays with exile a bit and can help recur some abilities from your graveyard while exiling them. It can also grab pieces that help it combo from opponents' graveyards if the stars align. There's also Mairsil, the Pretender .
It's not exile-related, but Phyrexian Dreadnought is one of the best classic examples of amazing value except for ETB.
I don't... know exacty what you're planning on doing with Mirror of Fate, but you might want to consider Doomsday too.
A few other cards that do things with exile include Mana Severance for thinning out your deck, and Yawgmoth's Will and Magus of the Will because I am seeing a decent bit of graveyard recursion in here too. You probably already know Necropotence exists. Bag of Holding just loots and plays with exile... sort of, but you can put the cards you discard under it even if Necropotence is on the battlefield. Worldgorger Dragon is... a card. But I'm probably just delving into territory you already know about from searches now.
Also, it doesn't really do anything especially for the deck, and it's silver-bordered but I feel obliged to mention AWOL .
I love the idea for the deck. How has it been performing for you?
Load more