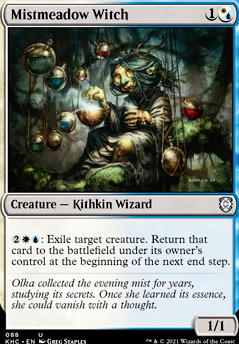 Mistmeadow Witch
Creature — Kithkin Wizard
: Exile target creature. Return that card to the battlefield under its owner's control at the beginning of the next end step.
Browse Alters
View at Gatherer
Legality
| | |
| --- | --- |
| Format | Legality |
| 1v1 Commander | Legal |
| Block Constructed | Legal |
| Canadian Highlander | Legal |
| Casual | Legal |
| Commander / EDH | Legal |
| Custom | Legal |
| Duel Commander | Legal |
| Highlander | Legal |
| Legacy | Legal |
| Leviathan | Legal |
| Limited | Legal |
| Modern | Legal |
| Oathbreaker | Legal |
| Tiny Leaders | Legal |
| Unformat | Legal |
| Vintage | Legal |
Mistmeadow Witch occurrence in decks from the last year
Mistmeadow Witch Discussion
1 month ago
Yay for Goats +1!

I wanted to suggest a couple of cards in case they have not crossed your radar for the deck. First, Mistmeadow Witch . This card is a great way to blink your Springjack Shepherd and Kithkin Harbinger . It also can provide defense by exiling attackers away from you until end of turn. It's a nice option depending on your meta and fondness for Goats. The other suggestion is Emeria, The Sky Ruin . This one is great for a plains-heavy deck but your particular landbase may not support it very well.

Nice deck!
11 months ago
No. Mistmeadow Witch's ability says "Return that card to the battlefield under its owner's control at the beginning of the next end step." If you activate it during an end step, the card will return on the next turn's end step.
11 months ago
I was wondering whether i could use Mistmeadow Witch to flicker Peregrine Drake and use the mana generated when he returns to activate her again, generating infinite mana to use at instant speed at the end of turn.
1 year ago
Hi. I always like budget list because I tend to have a lot of decks.
Some suggestions for cost reduction:
I know that some of the cards are really a good deal worse. In how far this is still bearable for the deck you have to decide ;-)
1 year ago
So it really depends on what direction you want the deck to go. Mistmeadow Witch, Brago, King Eternal, Eldrazi Displacer, Roon of the Hidden Realm, Thassa, Deep-Dwelling, and Soulherder are good enablers to get more ETBs. Yarok, the Desecrated is just another Panharmonicon so another great choice. If you want to lean more on Kiki-Jiki, Mirror Breaker, Zealous Conscripts, Restoration Angel, and Felidar Guardian go infinite with Kiki and are also good on their own. Some solid ramp/utility creatures are Agent of Treachery, Coiling Oracle, Peregrine Drake, Dockside Extortionist, Lavinia of the Tenth Golos, Tireless Pilgrim, Gonti, Lord of Luxury, Sepulchral Primordial, Pramikon, Sky Rampart
, and Stonehorn Dignitary, Dockside and Peregrine being able to go infinite with Deadeye Navigator. Some good removal are Hostage Taker, Knight of Autumn, Meteor Golem, Reclamation Sage, Reflector Mage, and Venser, Shaper Savant. And that's just scratching the surface. What are you looking to do in particular?
1 year ago
In-> Out Nephalia Smuggler- Mistmeadow Witch
Biomancer's Familiar-Flickerwisp
Nimble Obstructionist-Mystic Snake
Overwhelmed Apprentice-Avacyn's Pilgrim
Hallowed Moonlight OR Containment Priest-Divine Deflection (For this one, keep in mind it will apply to YOU as well, so if you use the instant, it only lasts for one turn).
REMOVE: Hurricane, Squall Line, Felidar Guardian, Destiny Spinner, Cloudshift, Turn to Mist. PROBABLY REMOVE Midnight Guard and Presence of Gond, Thousand-Year Elixir.
I get why you put the Green X spells in there, but they'll kill you the same time they kill your opponents, which I don't think you want. Midnight Gond is an easy combo but they're dead cards on their own.
The elixir is barely useful, since you barely have any tap abilities to start with. For that reason, consider changing the mana dorks to mana rocks. Flickering a dork only slows them down, while Brago can flicker rocks, meaning they can be used again.
The counterspells I suggested are better for you because you want to make sure your opponents ETB abilities don't trigger when you flicker them. Once a creature is actually on the field, Roon can handle them.
1 year ago
You might like these: Conjurer's Closet (flickering Pramikon allows you to reset his left-right mode, making it possible to never get attacked), Thassa, Deep-Dwelling, Venser, the Sojourner, Mistmeadow Witch, Nephalia Smuggler, Flickerform, God-Pharaoh's Statue, Alms Collector, Aven Mindcensor, Kinjalli's Sunwing, Blind Obedience
1 year ago
Hey Rasaru, thanks for reaching out! If possible you should come join the PDH Discord server (here is the invite link https://discord.gg/AUUBCku). This can make for much quicker communication!
To see which commanders are the most powerful I'd point you to the Tier List. At the moment only Tier 1 is accurate. You can find good deck examples for them in the Compendium.
Obviously fun is subjective so all I can do is list some of the decks I've enjoyed playing. You can find my lists for these here.
Load more