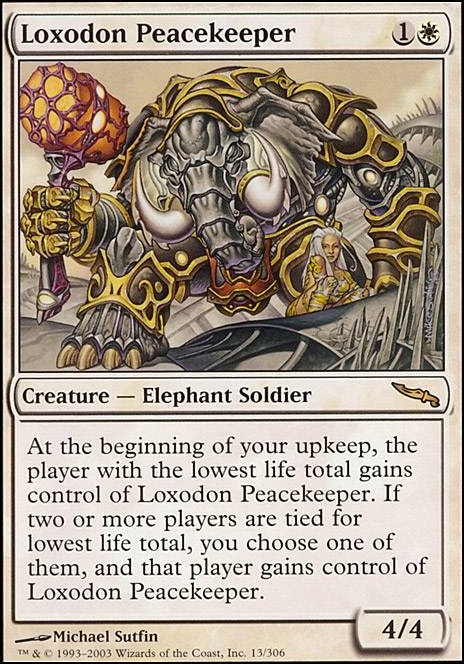 Legality
| | |
| --- | --- |
| Format | Legality |
| Pre-release | Legal |
| Noble | Legal |
| Leviathan | Legal |
| Magic Duels | Legal |
| Vintage | Legal |
| Modern | Legal |
| Penny Dreadful | Legal |
| Vanguard | Legal |
| Legacy | Legal |
| Archenemy | Legal |
| Planechase | Legal |
| Duel Commander | Legal |
| Unformat | Legal |
| Casual | Legal |
| Commander / EDH | Legal |
Loxodon Peacekeeper
Creature — Elephant Soldier
At the beginning of your upkeep, the player with the lowest life total gains control of Loxodon Peacekeeper. If two or more players are tied for lowest life total, you choose one of them, and that player gains control of Loxodon Peacekeeper.
Loxodon Peacekeeper Discussion
4 months ago
If you're looking for cards to add, my first recommendation is to add more lands. Personally, unless I'm running a lower curve, I like to run 35-38 lands, but if you find 32 lands works then here's some other suggestions.
If you want some redundancy with your Propaganda effects you could include Ghostly Prison, Windborn Muse, and/or Norn's Annex. Maze of Ith, Mystifying Maze, and Glacial Chasm are also great ways to protect yourself (and, in the case of Maze of Ith, play a little game of politics).
If you want another "help an opponent" card, try Wall of Shards, and Loxodon Peacekeeper will trade around to the player with the lowest life.
I don't see any board wipes, so I have to recommend including 1 or 2, some of which include Wrath of God, Merciless Eviction, Cyclonic Rift, Evacuation, and Damnation or Toxic Deluge if your budget permits.
Rainbow Vale taps for, well, rainbow, and passes to the player you chose at end of turn. Spectral Searchlight lets you give mana to other players.
Some removal that's a little "on theme" would include Swords to Plowshares, Path to Exile, and Arcane Denial. Also Pongify, Rapid Hybridization, and Beast Within (although I'd imagine players would be less than excited to replace their creatures with worse ones.)
2 years ago
Speaking of Suicide Zoo, what do you guys think of Loxodon Peacekeeper in the deck? A 4/4 for 2 sounds tempting... and it's not like anyone's gonna take it from you anyway.