This set badly needs a Viscera Seer reprint. Or any other way to sac creatures with no additional costs.
DarkLaw: Harsh Mentor's text says "whenever an opponent activates an ability", so triggered abilities don't count.
April 12, 2017 7:17 a.m.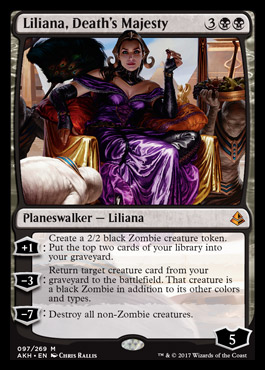 +1 creates a 2/2 body and fills your graveyard-3 is Unburial Rites-7 is a potential one-sided boardwipe
She's... good? Costs the same as most permanent reanimation spells, can protect herself while digging for targets to her -3... at the very least, she's much better than the other 5-mana Lilianas (not that it's saying much). I like the fact the zombie tokens don't ETB tapped.
April 9, 2017 11:53 a.m.
Decks

Modern square711
SCORE: 10 | 3 COMMENTS | 1717 VIEWS | IN 5 FOLDERS
| | |
| --- | --- |
| Finished Decks | 16 |
| Prototype Decks | 13 |
| Drafts | 0 |
| Avg. deck rating | 9.58 |
| T/O Rank | 1724 |
| Helper Rank | None yet |
| Last activity | 1 week |
| Joined | 2 years |