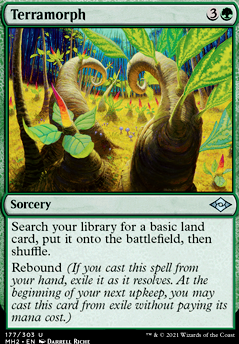 Terramorph
Sorcery
Search your library for a basic land card, put it onto the battlefield, then shuffle.
Rebound (If you cast this spell from your hand, exile it as it resolves. At the beginning of your next upkeep, you may cast this card from exile without paying its mana cost.)
Latest Decks as Commander
Terramorph Discussion
2 months ago
Hey, one drop green mana Elves are really good, a big reason to play Elves. They aren't just ramp with Lathril they're also fuel for her activated ability when you don't need them for ramp and lets you get more Elves onto the battlefield quicker.
---
Staff of Domination does everything as a mana sink for Elves and can be an enabler for Lathril to be a win condition. With Staff you first make infinite green mana by tapping and untapping one of Archdruid, Marwyn(with 5 or more power), Priest of Titania, Circle or Wirewood Channeler. When you have infinite green mana then Staff is the mana sink to draw and cast enough Elves to control 10 or more. When you have 10 or more Elves then Staff can be the mana sink to repeatedly untap Lathril and each one the 10 Elves as the win condition.
Quest for Renewal is another enabler for Lathril and 10 Elves to be win condition. When Quest has four counters which is not difficult especially with more mana Elves, you can untap all creatures you control during each opponents turn. With Lathril each opponent loses 10 life on each player's turn, resulting in all opponents losing 40 life in one cycle of all player's turns if you have three opponents.
Chord of Calling is a helpful instant creature tutor since can tap Elves to help to pay for it's convoke, with enough Elves it's a free spell to cast and it puts the creature you search for onto the battlefield. It has nice interaction with Elf tokens since can tap them to convoke the turn they're created. With Chord get Ezuri or Miara, Thorn of the Glade in response to removal, get Archdruid so you can tap him on your turn, get Magistrate so you can tap her on your next turn, get Varragoth so you can attack with him on your next turn, etc.
Patriarch's Bidding is among the most powerful tribal spells for quick recovery. For five mana it reanimates all Elves in your graveyard. Play a Regrowth just to have another potential Chord or Bidding or recur any other card.
---
An area to consider improving to help with competitiveness is the manabase by upgrading to Golgari dual lands that ETB untapped.
Cabal Stronghold only works with basic Swamps and there's only 9 here which is not enough to really get much if any ramp making it consistently only a colorless source of mana.
---
Some cards to consider cutting: Blightbeetle, Mana Bloom, Terramorph, Serpent's Soul-Jar, Return Upon the Tide, Masked Admirers, Wild Pair, Golgari Guildmage, Korozda Guildmage, Rhys the Exiled, Blanchwood Armor, Dowsing Dagger  Flip, Harvest Season
If Blightbeetle is tech in your playgroup than nice, but if it's not then it looks out of place. Most if not all mana ramp sources can come from actual Elves instead of other sources like Mana Bloom or land ramp like Terramorph. I would even play one drop mana Elf or Farhaven Elf over Cultivate or Harvest Season.
Serpent's Soul-Jar is not a good card, exiling an Elf when it dies is not a may you have to do it and hoping to be able to cast many Elves later, one at a time with Jar is not going to consistently happen. Instead most if not all your exiled Elves will be stuck in exile for the rest of the game because Jar will be destroyed or removed another way.
Good luck with your deck.