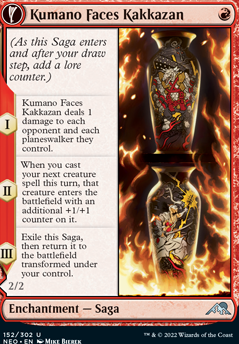 Back:
Etchings of Kumano
Flip
Legality
Kumano Faces Kakkazan
Enchantment — Saga
(As this Saga enters the battlefield and after your draw step, put a lore counter on this and activate and/or enable the ability of the saga tied to the required number of counters.)
— This deals 1 damage to each opponent and each planeswalker they control.
— When you cast your next creature spell this turn, that creature enters the battlefield with an additional +1/+1 counter on it.
— Exile this Saga, then return this to the battlefield transformed under your control.