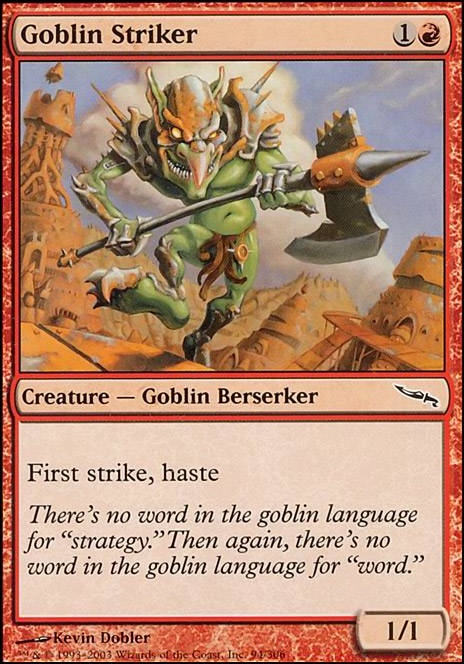 Legality
| | |
| --- | --- |
| Format | Legality |
| Noble | Legal |
| Leviathan | Legal |
| Magic Duels | Legal |
| Canadian Highlander | Legal |
| Vintage | Legal |
| Modern | Legal |
| Penny Dreadful | Legal |
| Casual | Legal |
| Pauper EDH | Legal |
| Vanguard | Legal |
| Legacy | Legal |
| Archenemy | Legal |
| Planechase | Legal |
| Duel Commander | Legal |
| Unformat | Legal |
| Pauper | Legal |
| Commander / EDH | Legal |
Goblin Striker
Creature — Goblin Berserker
First strike, haste
Goblin Striker Discussion
1 year ago
In Jhoira's deck, I would like to see Suffocating Blast reprinted, since it never has been, thus far. Also, Counterflux, Double Negative, Electrolyze, and Prophetic Bolt would all be nice, because they are all very awesome cards that woudl work well with her.
I imagine that Lovisa's deck shall contain plenty of warriors, barbarians, and berserkers, so Berserkers of Blood Ridge would make perfect sense, as would Raging Goblin and Goblin Striker. It also would be nice to see Lightning Bolt or Stone Rain reprinted, since they have not been reprinted in some time, as well.
1 year ago
Siege-Gang Commander, Goblin Recruiter, Grenzo, Havoc Raiser, Festering Goblin

, Goblin Striker

, Battle Squadron

, Goblin War Strike, Goblin Piledriver, Wort, Boggart Auntie

, Goblin Rabblemaster, Mogg War Marshal

, Skirk Prospector, Stingscourger

, Goblin Assassin, Goblin Chirurgeon, Goblin Ringleader, Foundry Street Denizen

, Beetleback Chief, Brightstone Ritual, Goblin Warchief, Ib Halfheart, Goblin Tactician are all of the goblins that I have.
1 year ago
Just chiming back in to say Blade of Selves and Whispersilk Cloak should be a MUST. Guaranteed Grenzo triggers.
Also I think you are lacking in the goblin power department. Alot of 1/1 for 1 that just dont have EDH staying power. Turn 5+ you are not going to be happy to draw and play: Goblin Glory Chaser, Goblin Mountaineer, Mogg Fanatic, Mogg Sentry, Foundry Street Denizen or Mudbrawler Cohort and Goblin Striker.
I would recommend replacements like: Goblin Matron, Goblin Recruiter, Goblin Sharpshooter, Goblin Welder, Kiki-Jiki, Mirror Breaker, Mogg War Marshal, Rabble-Rouser, Reckless Bushwhacker, Spikeshot Elder, Taurean Mauler, Caterwauling Boggart, Goblin Assassin, Goblin Heelcutter, Beetleback Chief, Sensation Gorger, and maybe Moggcatcher.
I know there are alot of choices there, but there are muuuuuch better goblins than the ones on your list right now, and with EDH you want long term power, not turn 3 kills.
P.S. If you decide to add Goblin Sharpshooter, also make room for Basilisk Collar to kill all target-able creatures.