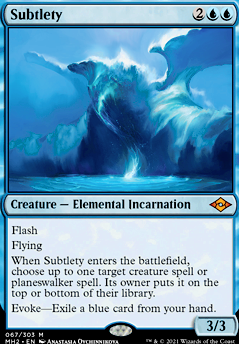 Subtlety
Creature — Elemental Incarnation
Flash
Flying
When this enters the battlefield, choose up to one target creature spell or planeswalker spell. Its owner puts it on the top or bottom of their library.
Evoke—Exile a blue card from your hand. (You may cast this for its Evoke cost. If you do, this is sacrificed when this enters the battlefield.)
Browse Alters
Trade
Legality
| | |
| --- | --- |
| Format | Legality |
| 1v1 Commander | Legal |
| Block Constructed | Legal |
| Canadian Highlander | Legal |
| Commander / EDH | Legal |
| Duel Commander | Legal |
| Highlander | Legal |
| Legacy | Legal |
| Leviathan | Legal |
| Limited | Legal |
| Modern | Legal |
| Oathbreaker | Legal |
| Unformat | Legal |
| Vintage | Legal |
| Casual | Legal |
| Custom | Legal |
| Quest Magic | Legal |
Latest Decks as Commander
Subtlety Discussion
1 month ago
I checked back here and I found this in the comments box, I guess I forgot to send it.
Where's Lonis, Cryptozoologist ? I also suggest cutting Counterspell and adding the Shardless Agent package with Ancestral Vision (which would allow you to cut Serum Visions. You could possibly replace Counterspell with Spell Queller and/or Force of Negation + Subtlety to prevent cascading into a counterspell.
I think you could also consider going Bant colors for Thraben Inspector and the Stoneforge Mystic package (You already got 4 swords...). This would also let you run Path to Exile as actual removal instead of Brazen Borrower since UG is notorious for having no removal. Also gives you access to a bunch of really good sideboard cards.
1 month ago
Damn I really be seeing this everywhere now.
I built a similar type deck around this that ended up turning into Blokes. After playtesting it a few times, one thing stood out, which is that the combo is ridiculously inconsistent. I like how you have some other bouncable creatures for a plan B, but a lot of the cards just aren't great with cloudshift/ephemerate. I tested Silverquill Silencer and I was really disappointed, so I'd probably cut that. I had high hopes for Tidehollow Sculler , and it's a solid card by itself, plus it can combo with cloudshift/ephemerate right when it enters but after that its a pretty terrible flicker target.
I would probably go more towards an evoke flicker direction, since evoke cards combo really well with cloud/eph. I suggest cutting Skyclave Apparition for Shriekmaw , since Shriek+eph costs the same as a skyclave and kills 3 creatures without giving the opponent any creature tokens. I also suggest going into esper colors just because Mulldrifter is really great card advantage ( Subtlety sucks here though obviously).
Honestly, I doubt this kind of deck can ever be competitive, but for now its some fun jank. Happy brewing, I'm looking forward to what you can do with this :)
1 month ago
Gluttony
Creature - Elemental Incarnation
Whenever you draw a card, create a food token and put a +1/+1 counter on Gluttony.
, Sacrifice a food token: Target player sacrifices a creature and draws a card.
When ~ is put into the graveyard from anywhere, shuffle it into its owner's library.
4/7
---
Make the red card missing from the cycle Endurance, Grief , Solitude , Subtlety