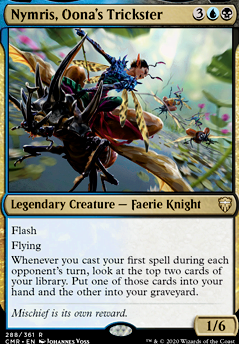 Nymris, Oona's Trickster
Legendary Creature — Faerie Knight
Flash
Flying
Whenever you cast your first spell during each opponent's turn, look at the top two cards of your library. Put one of those cards into your hand and the other into your graveyard.
Browse Alters
Trade
Legality
| | |
| --- | --- |
| Format | Legality |
| 1v1 Commander | Legal |
| Canadian Highlander | Legal |
| Commander / EDH | Legal |
| Duel Commander | Legal |
| Highlander | Legal |
| Legacy | Legal |
| Leviathan | Legal |
| Limited | Legal |
| Oathbreaker | Legal |
| Vintage | Legal |
| Casual | Legal |
| Custom | Legal |
| Quest Magic | Legal |
Latest Decks as Commander
Nymris, Oona's Trickster Discussion
4 weeks ago
I'm planning on putting my list together on Saturday. I actually have a Nymris, Oona's Trickster with my combo in it that I never posted to the site, but I'm pretty sure its WAY over budget. Basically, I need to build an entirely different deck for this.
2 months ago
I think this deck is really well-positioned to become a "draw-go" style control deck that plays instants and flash creatures on others' turns. Pteramander , Augur of Bolas , Brineborn Cutthroat , Threnody Singer , Vodalian Arcanist , Naiad of Hidden Coves , Wavebreak Hippocamp , Murmuring Mystic , and all of your instants (save for the likely too slow 4 mana ones) already fit in such an archetype to at least some extent. The horse fish is particularly insane as a card draw engine, and I'd try to get a playset of it if you can. Stacking them to draw even more cards with Nymris, Oona's Trickster , Baral, Chief of Compliance , Slitherwisp , etc. would also make Ominous Seas more viable, possibly even supplemented by draw payoffs like Chasm Skulker and Nadir Kraken .
Some other options that care about flash might be Cunning Nightbonder , Teferi, Mage of Zhalfir , Leyline of Anticipation , Torrential Gearhulk , and Mystical Teachings .
For more generally good instants, Counterspell , Mana Leak , Countersquall , Frantic Search , AEtherize , Vapor Snag , Rewind , Cryptic Command , Opt , and Brainstorm (if you're playing with the legacy banned list) are options of varying budgets and power levels for a control deck.
The first cards I'd cut would be anything with suspend or that applies keyword ability counters. I think some amount of counter manipulation would be needed to maximize the value from such cards (with Clockspinning , Jhoira's Timebug , Paradox Haze , and Nikara, Lair Scavenger being a few things that come to mind). Then, I'd cull any sorceries or creatures that would take up all your mana on your own turn for minimal impact. Dead Revels , Frost Lynx , Alirios, Enraptured , and so on.
Sorry it took me a while to submit this after seeing the deck get posted earlier this week. Let me know if you have any questions and good luck with your build!
3 months ago
Mcat1999 - No, please. I welcome any commentary, and I am more than fain to describe my deck building. I stopped using the description for strategy analysis in favour of my turgid writing style some while agone.
So, I enjoy building older commanders, but synergizing can be a little difficult. This is especially prominent in the set Legends. From merely perusing all of them, they are not too powerful and lack much in their colour identity. (As examples, Dakkon cares about lands in Esper and Xira Arien forcing card draw in Jund.) With Halfdane , I had to build an Esper deck that abuses power and toughness.
Due to the general not having Red or Green, I am forced to be creative. The thing I went to immediately were creatures that acquired different stat-lines regarding board states, such as Consuming Aberration . A fair number uses the number of cards I have in hand to tell (around sixteen total in the colour combination), thus I have a deck built around drawing cards.
That brought me the goal of having a large hand size; I then needed to get there somehow. I chose for a control deck with a Flash subtheme, using Nymris and Hippocamp as draw engines. If not, I have a lot of card draw, along with tutors to find the card draw.
Flashing things in on the end step before my turn also allows Halfdane to gain their power and toughness immediately. That is the reason for the giant speedy idiots.
Unfortunately, non-Green decks need time to draw cards, so I have wraths and defence to stay my opponents' aggression.
This left me with a controlling, card draw deck with giant Flash creatures . It mainly wins by never relenting on any front and slowing my foes to a point of non-progression, all whilst I assail them with 7/7s. Entreat the Angels is honestly just a backup plan if I draw a Mystical Tutor .
In summation: control the board, ramp into big idiots , fulminate thy who art inimical.
This was overlong, but I hope it explained your query.