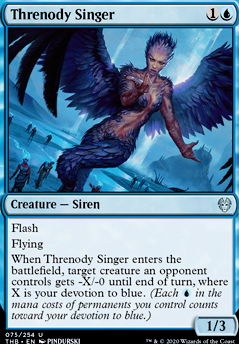 Threnody Singer
Creature — Siren
Flash
Flying
When Threnody Singer enters the battlefield, target creature an opponent controls gets -X/-0 until end of turn, where X is your devotion to blue. (Each in the mana costs of permanents you control counts toward your devotion to blue.)
Browse Alters
Legality
| | |
| --- | --- |
| Format | Legality |
| 1v1 Commander | Legal |
| Arena | Legal |
| Block Constructed | Legal |
| Brawl | Legal |
| Canadian Highlander | Legal |
| Commander / EDH | Legal |
| Duel Commander | Legal |
| Gladiator | Legal |
| Highlander | Legal |
| Historic | Legal |
| Legacy | Legal |
| Leviathan | Legal |
| Limited | Legal |
| Modern | Legal |
| Oathbreaker | Legal |
| Pioneer | Legal |
| Pre-release | Legal |
| Standard | Legal |
| Tiny Leaders | Legal |
| Unformat | Legal |
| Vintage | Legal |
| Casual | Legal |
| Custom | Legal |
| Quest Magic | Legal |
Latest Decks as Commander
Threnody Singer Discussion
2 months ago
I think this deck is really well-positioned to become a "draw-go" style control deck that plays instants and flash creatures on others' turns. Pteramander , Augur of Bolas , Brineborn Cutthroat , Threnody Singer , Vodalian Arcanist , Naiad of Hidden Coves , Wavebreak Hippocamp , Murmuring Mystic , and all of your instants (save for the likely too slow 4 mana ones) already fit in such an archetype to at least some extent. The horse fish is particularly insane as a card draw engine, and I'd try to get a playset of it if you can. Stacking them to draw even more cards with Nymris, Oona's Trickster , Baral, Chief of Compliance , Slitherwisp , etc. would also make Ominous Seas more viable, possibly even supplemented by draw payoffs like Chasm Skulker and Nadir Kraken .
Some other options that care about flash might be Cunning Nightbonder , Teferi, Mage of Zhalfir , Leyline of Anticipation , Torrential Gearhulk , and Mystical Teachings .
For more generally good instants, Counterspell , Mana Leak , Countersquall , Frantic Search , AEtherize , Vapor Snag , Rewind , Cryptic Command , Opt , and Brainstorm (if you're playing with the legacy banned list) are options of varying budgets and power levels for a control deck.
The first cards I'd cut would be anything with suspend or that applies keyword ability counters. I think some amount of counter manipulation would be needed to maximize the value from such cards (with Clockspinning , Jhoira's Timebug , Paradox Haze , and Nikara, Lair Scavenger being a few things that come to mind). Then, I'd cull any sorceries or creatures that would take up all your mana on your own turn for minimal impact. Dead Revels , Frost Lynx , Alirios, Enraptured , and so on.
Sorry it took me a while to submit this after seeing the deck get posted earlier this week. Let me know if you have any questions and good luck with your build!
1 year ago
Deck Upgrade:
Creature Upgrade
To remove: Callaphe, Beloved of the Sea, Crashing Drawbridge, Empyrean Eagle, Expedition Raptor, Expedition Raptor, Peace Strider, Sephara, Sky's Blade, Serra Angel, Threnody Singer, Tome Raider, Victory's Herald
To add: Solemn Simulacrum, Silas Renn, Seeker Adept

, Myr Propagator, Trinket Mage, Trophy Mage, Tribute Mage, Daxos of Meletis, Clever Impersonator, Burnished Hart, Magister Sphinx, Divinity of Pride, Hanna, Ship's Navigator
Enchantment Upgrade
To Remove: Angelic Exaltation, Kiora Bests the Sea God, Mammoth Umbra, Omen of the Dead, On Serra's Wings, Waterknot
To Add: Mirrodin Besieged, Mirrormade, Phyrexian Reclamation, Greed, Aqueous Form, Leyline of Anticipation
Artefact Upgrade:
To Remove: Ancestral Blade, Bloodsoaked Altar, Jousting Lance, Mana Geode, Pendulum of Patterns, Scrabbling Claws, Untethered Express
To Add: Mirage Mirror, Sculpting Steel, Spellbinder, Isochron Scepter, Wayfarer's Bauble, Sol Ring, Traveler's Amulet, Prying Blade, Explorer's Scope, Dimir Signet, Orzhov Signet, Swiftfoot Boots, Lightning Greaves
Sorcery Upgrade
To Remove: Covetous Urge, Dance of the Manse, Epic Downfall
To Add: Time Wipe, Kaya's Wrath, Diabolic Tutor, Narset's Reversal, Supreme Verdict,
Instant Upgrade:
To Remove: Banish into Fable, Invoke the Divine, Karametra's Blessing, Riot Control, Shieldmate's Blessing, Skywhaler's Shot, Syncopate, Unlikely Aid
To Add: Twincast, Mystical Tutor, Dovin's Veto, Swords to Plowshares, Anguished Unmaking