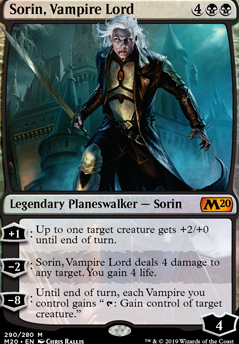 Legality
| | |
| --- | --- |
| Format | Legality |
| Pre-release | Legal |
| Tiny Leaders | Legal |
| Custom | Legal |
| Magic Duels | Legal |
| Canadian Highlander | Legal |
| Vintage | Legal |
| Modern | Legal |
| Arena | Legal |
| Standard | Legal |
| Leviathan | Legal |
| Brawl | Legal |
| 1v1 Commander | Legal |
| Duel Commander | Legal |
| Oathbreaker | Legal |
| Casual | Legal |
| Commander / EDH | Legal |
Sorin, Vampire Lord
Legendary Planeswalker — Sorin
+1: Up to one target creature gets +2/+0 until end of turn.
-2: Sorin, Vampire Lord deals 4 damage to target creature, player or planeswalker. You gain 4 life.
-8: Until end of turn, each Vampire you control gains ": Gain control of target creature."
Sorin, Vampire Lord Discussion
3 weeks ago
I like the direction you are taking the deck a lot. I agree with danielisaias about the Sorin, Imperious Bloodlord and Knight of the Ebon Legion . When I comes to "how many copies should I put in?" My go-to rule of thumb is:
1 copy if you plan on tutoring for it, or only need to see it maybe at some point during the game, (alternate win cards, specific answer cards, etc)
2 copies if you definitely want to see it every game, but don't need it early. (A big late game bomb)
3 copies if you want to guarentee to see it every game, sooner than later (core combo cards)
4 copies if you need the card As soon as possible, preferrably in your opening hand (ground work cards, like mana rocks, early creatures, or land ramp)
I would recommend removing Sorin's Guide , because it only works for specifically Sorin, Vampire Lord .
To give the deck an extra boost of mana a single copy of Cabal Coffers could be a massive addition. Obviously it is a bit pricey, so it may be a card to look at later.
No data for this card yet.