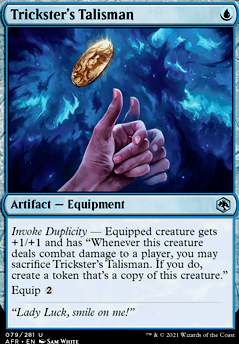 Trickster's Talisman
Artifact — Equipment
Invoke Duplicity — Equipped creature gets +1/+1 and has "Whenever this creature deals combat damage to a player, you may sacrifice this. If you do, create a token that's a copy of this creature."
Equip (: Attach to target creature you control. Equip only as a sorcery.)
Latest Decks as Commander
Trickster's Talisman Discussion
2 months ago
Nightmare Shepherd is one of the best as it adds a lot of functionality with no upfront cost and allows you to exploit sacrifice mechanics like evoke. Creating token clones with etb/ltb can easily become overpowered, especially when combined with populate. In fact I built a great ETB Roon EDH deck around it using cards like Yosei, the Morning Star, Protean Hulk and Wayfaring Temples that clone themselves. Token clone generation is amazing because it's essentially ETB blinking as a side effect. You have some cards that do it already listed under abuse but I think the mechanic is good enough and has enough viable cards that it might be worth making a new category for it.
Token clone makers
Stolen Identity Blade of Selves Mirror Mockery Zndrsplt's Judgment Repudiate / Replicate Hour of Eternity Supplant Form Dance of Many Minion Reflector Bramble Sovereign Progenitor Mimic Anointed Procession Quasiduplicate Rhys the Redeemed Back from the Brink Dual Nature Mimic Vat Rite of Replication Song of the Worldsoul Helm of the Host Doubling Season Parallel Lives Battle for Bretagard Mechanized Production Orvar, the All-Form Prototype Portal Saheeli, the Gifted Saheeli's Artistry Seance Second Harvest Soul Foundry Spitting Image Splinter Twin Replication Technique Saheeli Rai Mirror March Mirrorworks Molten Echoes Mythos of Illuna Sublime Epiphany Flamerush Rider Felhide Spiritbinder Littjara Mirrorlake God-Pharaoh's Gift Hofri Ghostforge Kiki-Jiki, Mirror Breaker Followed Footsteps Nightmare Shepherd Osgir, the Reconstructor Echo Storm Cackling Counterpart Esika's Chariot Feldon of the Third Path Flameshadow Conjuring Trickster's Talisman & of course anything with populate.
Also some other blink type cards:
Blink-Yorion, Sky Nomad Conditional bounce- Cunning Evasion ETB clone- Wall of Stolen Identity Graveyard blink- Cauldron of Souls, Twilight Shepherd, Adarkar Valkyrie ETB Abuse- Jalira, Master Polymorphist, Proteus Staff, Master Transmuter. Listing the ones that specifically clone or blink artifacts in their own group might be helpful too.