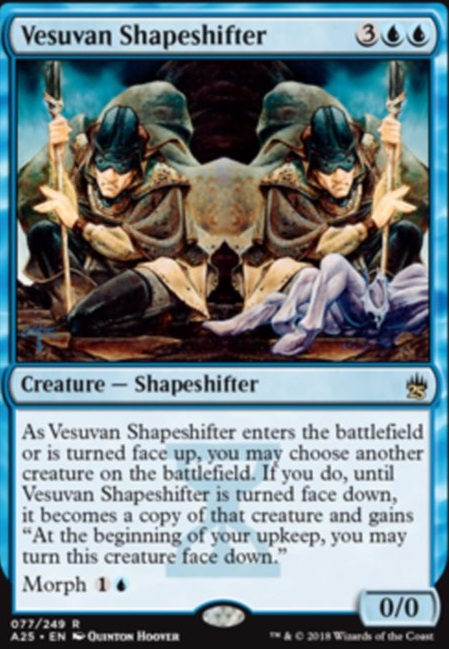 Legality
| | |
| --- | --- |
| Format | Legality |
| Noble | Legal |
| Leviathan | Legal |
| Magic Duels | Legal |
| Canadian Highlander | Legal |
| Vintage | Legal |
| Modern | Legal |
| Penny Dreadful | Legal |
| Vanguard | Legal |
| Legacy | Legal |
| Archenemy | Legal |
| Planechase | Legal |
| Duel Commander | Legal |
| Unformat | Legal |
| Casual | Legal |
| Commander / EDH | Legal |
Tokens
Vesuvan Shapeshifter
Creature — Shapeshifter
As Vesuvan Shapeshifter enters the battlefield or is turned face up, you may choose another creature in play. If you do, until Vesuvan Shapeshifter is turned face down, it becomes a copy of that creature and gains "At the beginning of your upkeep, you may turn this creature face down."
Morph (1)(Blue)
Have (18)
Supremespeed , DrLitebur , gildan_bladeborn , angesoir ,

s

o

n

n

e

t

6

6

6

, damo_rox , Shiromakuro ,

W

o

l

f

e

b

l

a

d

e

e

l

i

t

e

,

S

k

e

t

c

h

y

S

c

r

i

b

b

l

e

r

, Fairseas , Unlife , mziter501 ,

i

t

h

e

o

r

y

z

,

g

o

l

g

a

r

i

g

i

r

l

,

D

i

m

a

r

x

, bpiser95 ,

P

T

s

m

i

t

t

y

, Pumpkinking913
Want (9)
notsaying , pezztalent , whatswithgravity , MementoMuffin ,

B

e

z

t

e

r

, jeffcox , Rathe ,

g

o

l

g

a

r

i

i

z

z

e

t

,

X

x

C

a

t

a

c

l

y

s

m

i

C

x

X
Vesuvan Shapeshifter Discussion
1 week ago
Biggest issue I see here is a lack of focus and not enough creatures for a creatures only matter deck.
Animar, Soul of Elements wants two main things: Cast creatures and get +1/+1 counters to cast larger creatures. Everything in the deck should be focused on those two goals.
Setting up the deck to achieve this purpose will make it efficient and powerful. All cards should therefore do one of the following:
Ramp up to Animar.
Protect Animar.
Place counters on Animar.
Cast game ending creatures for cheap or free.
Draw cards to allow us to do 1 through 4.
Priority should be given to cards that does something now > does something before your next turn > does something on your next turn > does something eventually.
Because Animar offers a discount based on creatures played, the deck shouldn't be filled with only high cmc game enders, but creatures from low to high cmc, preferably with as little colored mana symbols as possible, to give the deck a natural progression to casting free or cheap high cmc game ending creatures.
Let's split the deck into 3 parts. Pre-Animar setup, Post-Animar setup, Finale.
Note that $: (0 to 0.99), $$: (1.00 to 4.99), $$$: (5.00 to 9.99), $$$$: (10.00 to 19.99), !$!: (20.00+)
Unnecessary on a computer, very helpful on a phone.
This section will be all ramp, and protection to get Animar out quickly and make sure he is secure.
- The land base should be arranged to where there is more emphasis on , then , then since can color fix and can offer protection.
- Exotic Orchard is pretty good and cheap and can usually offer every color in multiplayer, especially if an opponent has a Command Tower out or even a Vivid Grove without even needing charge counters. - Kazoo lands such as Simic Growth Chamber, Izzet Boilerworks, and Gruul Turf are good in casual EDH where there is lack of land destruction and they artifically increase your deck ammount by posing as two lands in one. Though overall you do not want too many tap lands as you'll constantly be a entire turn behind.
This section will be about setting up our board state to win. All cards from this point onwards will be casted after Animar has been casted.
This section will be about ending the game with giant behemoths.
2 months ago
Here's a list of what I could find.
3 months ago
Hahahahah :D never even thought about it, I might include it, when I update my deck soon... because as much as I love big spells, I often find myself playing one spell per turn, need to reduce some CMC.
And recently I discover another clone Vesuvan Shapeshifter, love him already :D
3 months ago
Thanks! Those are actually pretty much all of my pet cards in this list.
Vesuvan Shapeshifter looks really sweet, I just love repeated clone effects, and how it interacts with Den Protector is awesome. It definitely seems like a great thing to add, especially since it lets me use counters from one Ezuri activation to do different things from turn to turn, so I'll definitely be finding a slot for it in the near future.
I haven't actually drawn Tempting Licid in any of the games I've played so far (not that I can remember at least). I really like the idea of it, but it's entirely possible that in practice it won't perform all that well.
4 months ago
Good thoughts. I understand.
How is Restore working for you? Are there enough fetches in your meta to make it usable?
I personally dislike the cards that also give opponents mana. Unless group hug is a theme it seems dangerous to give, I dunno, the Mono red or Boros players so much mana, shoring up their weaknesses. I'm a Boros/red player so someone dropping an early Collective Voyage seems like a dream come true haha! Just my opinion!
Good to have a better knowledge of the deck philosophy.
I'm sure you've considered them, but may I ask where Mercurial Pretender, Sakashima the Impostor, Vesuvan Shapeshifter, and Vizier of Many Faces are? They all seem better than Clone at the very least, able to bounce themselves(repeated ETB effects) or in the case of Vesuvan Shapeshifter, get out before the creature you want to copy, allowing you more utility and better timing.
Mirage Mirror will be great and was probably my best suggestion, looking back haha!
Etali, Primal Storm steals cards, not amazing but more of a "fun card" suggestion.
Now, I won't give suggestions on this quite yet, but your deck is seriously lacking some instant speed interaction. To really make this work in multiplayer(especially on Game Knights, where a lot of crazy stuff happens and there's a lot of interaction), you'll need some removal and/or counterspells I think. you'll have to sacrifice some theme for some consistency.
You might also like more recursion, as this is a creature based deck, you'll probably like to get them back from time to time.
Load more