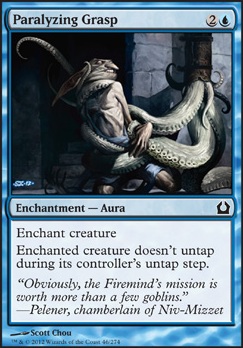 Legality
| | |
| --- | --- |
| Format | Legality |
| Tiny Leaders | Legal |
| Noble | Legal |
| Leviathan | Legal |
| Custom | Legal |
| Magic Duels | Legal |
| Canadian Highlander | Legal |
| Vintage | Legal |
| Modern | Legal |
| Penny Dreadful | Legal |
| Casual | Legal |
| Pauper EDH | Legal |
| Vanguard | Legal |
| Legacy | Legal |
| Archenemy | Legal |
| Planechase | Legal |
| 1v1 Commander | Legal |
| Duel Commander | Legal |
| Oathbreaker | Legal |
| Unformat | Legal |
| Pauper | Legal |
| Commander / EDH | Legal |
Paralyzing Grasp
Enchantment — Aura
Enchant creature
Enchanted creature doesn't untap during its controller's untap step.
Paralyzing Grasp Discussion
2 years ago
So due to being less than thrilled with my Bant Token deck, I was thinking about rejigging it to be a voltron deck since my commander; Ishai, Ojutai Dragonspeaker is pretty good at powering themselves up since I often play multiple opponents in my local magic group, and was considering of changing it to a new theme.
Cards I own
I For control and disruption I have plenty of control cards like Convolute, Counterspell, Simic Charm, Spell Rupture, etc... Disruption includes Divine Reckoning, Pacifism, Diminish, Paralyzing Grasp, Rapid Hybridization, Defang, Cage of Hands As well as stuff that trashes enchantments and Artifacts.
For powering up my commander my Artifact pool is less than ideal, had to work with what I got. They include Trailblazer's Boots, Fireshrieker, Skyblinder Staff, Ring of Evos Isle, Grafted Exoskeleton, and Livewire Lash.
Enchantments and effects for protecting my commander and/or giving them evasion include: Infiltrator's Magemark, Holy Mantle, Guildscorn Ward, Alpha Authority, Ghostform, Sheltering Word, Survive the Night, Haze of Pollen, Shielded Passage, Rogue's Passage etc...
Mana Ramp: Assume all of my mana rocks in the bant deck are going to be cannibalized.
Creatures: I don't have the good stuff to do a true one man voltron, but I can use walls like Angelic Wall, Fog Bank, Wall of Frost for protecting myself and the effects of creatures like Fan Bearer, Mistmeadow Witch, New Prahv Guildmage, to aid my commander so they can swing in for lethal damage.
Cards I'm Scouting to Buy
New commander to pair with Ishai: Reyhan, Last of the Abzan
The cards I'm looking to get for this build would be things like the WUBRG Wards and the dual color protection like Shield of Duty and Reason, and Spectra Ward. Mask of Avacyn, Swiftfoot Boots, Aqueous Form, Steel of the Godhead, Indestructibility, and Battle Mastery
Others: Ring of Thune (and the variants in the other colors),
Sword of Vengeance, Whispersilk Cloak, Inquisitor's Flail, Grappling Hook, Mask of Riddles, Sigil of Distinction,
Think this is something that I can/should pull off? Any Budget recommendations?
No data for this card yet.