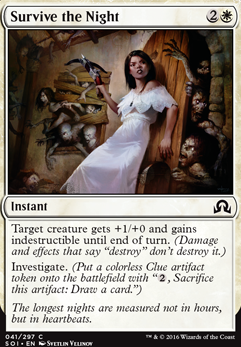 Legality
| | |
| --- | --- |
| Format | Legality |
| Tiny Leaders | Legal |
| 1v1 Commander | Legal |
| Magic Duels | Legal |
| Heirloom | Legal |
| Canadian Highlander | Legal |
| Vintage | Legal |
| Modern | Legal |
| Penny Dreadful | Legal |
| Block Constructed | Legal |
| Casual | Legal |
| Pauper EDH | Legal |
| Leviathan | Legal |
| Legacy | Legal |
| Frontier | Legal |
| Duel Commander | Legal |
| Oathbreaker | Legal |
| Unformat | Legal |
| Pauper | Legal |
| Commander / EDH | Legal |
Tokens
Survive the Night
Instant
Target creature gets +1/+0 and gains indestructible until end of turn. (Damage and effects that say "destroy" don't destroy it.)
Investigate. (Put a colurless Clue artifact token onto the battlefield with ", Sacrifice this artifact: Draw a card.")
Survive the Night Discussion
11 months ago
Let's say, for the sake of argument, that I have enough money to produce a low-budget movie.
And, let's say my lawyers have told me that as long as it's made "as a parody," and I don't try to make money off of it, I can violate any copyright I want.
Now....for this thread, we try to pitch the best low-budget MTG movie we can.
I'll start:
Imagine a Survival/Horror movie that takes place on Innistrad the night before Emrakul is summoned. Some group of random people are just trying to
Survive the Night
against the eldritch horrors...
Pitch me something better. Maybe with some characters and some character growth?
1 year ago
White has a pretty strong hold on indestructible too see recent cards like Make a Stand, Survive the Night, Built to Last and any version of Gideon. I don't recall many indestructible artifacts that aren't made of darksteel.
Maybe what you want from artifacts are things that are niche towards certain archetypes. Like Throne of the God-Pharaoh is good for token/swarm decks, so elves, goblins, most white-green decks. So making it an artifact makes it good for all of them but still fits a niche. Same with some we've seen in Ixalan, things like Vanquisher's Banner that are good for tribal decks of any color, and Primal Amulet Flip is good for any type of spell slinger build. Maybe that kind of utility is where artifacts should remain, though that doesn't really solve what to do with artifact heavy sets....
1 year ago
Ok...here's a few more ideas...if you go full 4 of Ongoing Investigation, then add in 4 Whirler Rogue. He comes with 2 extra bodies, potentially 3 Clue tokens each attack eventually guaranteed clue tokens by making things unblockable. Also, to consider Lodestone Myr, and Broodstar or Qumulox.
Then, I remembered Precursor Golem, who copies a spell for each golem, and could quickly get a lot of clue tokens with Confront the Unknown or Jace's Scrutiny. This can go bonkers when paired with Mechanized Production, because the way its worded, it doesn't even need to be attached to the artifact that causes you to win. So, put it on a Precursor Golem, upkeep makes a second Precursor Golem, then cast something like Survive the Night, copy it twice for each Golem, a total of 12 Clue tokens; win on upkeep because of Clues.
I know a whole bunch of Clue tokens with Ghirapur AEther Grid could take over a game. When thinking of other things clue tokens can do, I thought Throne of Geth is one of the more unique effects that sacrifices artifacts, and having lots of proliferation of poison/loyalty/energy counters would make it interesting. But, I realized this is likely too slow.
I also thought of Clock of Omens, but I don't know what artifact you'd want to be untapping repeatedly in a turn.
Anyway...I'm just brainstorming.
1 year ago
So due to being less than thrilled with my Bant Token deck, I was thinking about rejigging it to be a voltron deck since my commander; Ishai, Ojutai Dragonspeaker is pretty good at powering themselves up since I often play multiple opponents in my local magic group, and was considering of changing it to a new theme.
Cards I own
I For control and disruption I have plenty of control cards like Convolute, Counterspell, Simic Charm, Spell Rupture, etc... Disruption includes Divine Reckoning, Pacifism, Diminish, Paralyzing Grasp, Rapid Hybridization, Defang, Cage of Hands As well as stuff that trashes enchantments and Artifacts.
For powering up my commander my Artifact pool is less than ideal, had to work with what I got. They include Trailblazer's Boots, Fireshrieker, Skyblinder Staff, Ring of Evos Isle, Grafted Exoskeleton, and Livewire Lash.
Enchantments and effects for protecting my commander and/or giving them evasion include: Infiltrator's Magemark, Holy Mantle, Guildscorn Ward, Alpha Authority, Ghostform, Sheltering Word, Survive the Night, Haze of Pollen, Shielded Passage, Rogue's Passage etc...
Mana Ramp: Assume all of my mana rocks in the bant deck are going to be cannibalized.
Creatures: I don't have the good stuff to do a true one man voltron, but I can use walls like Angelic Wall, Fog Bank, Wall of Frost for protecting myself and the effects of creatures like Fan Bearer, Mistmeadow Witch, New Prahv Guildmage, to aid my commander so they can swing in for lethal damage.
Cards I'm Scouting to Buy
New commander to pair with Ishai: Reyhan, Last of the Abzan
The cards I'm looking to get for this build would be things like the WUBRG Wards and the dual color protection like Shield of Duty and Reason, and Spectra Ward. Mask of Avacyn, Swiftfoot Boots, Aqueous Form, Steel of the Godhead, Indestructibility, and Battle Mastery
Others: Ring of Thune (and the variants in the other colors),
Sword of Vengeance, Whispersilk Cloak, Inquisitor's Flail, Grappling Hook, Mask of Riddles, Sigil of Distinction,
Think this is something that I can/should pull off? Any Budget recommendations?
1 year ago
To make the deck faster, you could add another 2-drop (e.g. Hamlet Captain or if you can afford it Duskwatch Recruiter Flip ) and some more combat tricks or removal (e.g. Blessed Alliance, Aim High, Repel the Abominable, Strength of Arms, Survive the Night, Prey Upon)
Note that you can cast Survive the Night pre combat to give all your creatures indestructible until end of turn IF Odric, Lunarch Marshal is out.
I suggest to cut Ulvenwald Mysteries, which only hekps in very long, grindy games and Neglected Heirloom Flip despite its synergy with Avacynian Missionaries Flip. Save it for the werewolf tribe, they have no trouble flipping it.
Load more
No data for this card yet.