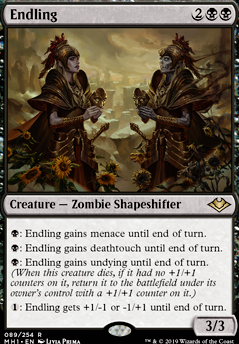 Legality
| | |
| --- | --- |
| Format | Legality |
| Tiny Leaders | Legal |
| 1v1 Commander | Legal |
| Magic Duels | Legal |
| Canadian Highlander | Legal |
| Vintage | Legal |
| Modern | Legal |
| Penny Dreadful | Legal |
| Custom | Legal |
| Leviathan | Legal |
| Legacy | Legal |
| Duel Commander | Legal |
| Oathbreaker | Legal |
| Unformat | Legal |
| Casual | Legal |
| Commander / EDH | Legal |
Endling
Creature — Zombie Shapeshifter
: Endling gains menace until end of turn.
: Endling gains deathtouch until end of turn.
: Endlings gains undying until end of turn. (When this creature is put into the graveyard from the battlefield, if it had no +1/+1 counters on it, return it to the battlefield under its owner's control with a +1/+1 counter on it.)
: Endlings gets +1/-1 or -1/+1 until end of turn.
Endling Discussion
3 weeks ago
Greetings! I've got a brick of cards to sell!
BINDER IS OUT OF DATE: CARDS LISTED HERE ARE THE CARDS I HAVE AVAILABLE FOR SALE

CARD KINGDOM SETS FULL PRICE AT $829.29. YOU CAN HAVE THE ENTIRE BRICK FOR $630 - A SAVINGS OF $200!!
I am doing this, not because I need the cash immediately, but because I really don't want to ship out a ton of packages and wait forever. I just want to unload so I can fund different hobbies :3
I have chat open and available to all :) Send me a message if you are interested!
1 month ago
Do you think Endling is really worth it been thinking on that..? Thoughts?
1 month ago
Cards to consider from modern Horizons and M20:
Mox Tantalite
Arcum's Astrolabe
Cabal Therapist
Elvish Reclaimer
Giver of Runes
Hexdrinker
Icehide Golem
Nimble Mongoose
On Thin Ice
Scheming Symmetry
Unearth
Knight of the Ebon Legion (1/2 Vampire Bro)
Collector Ouphe
Corpse Knight
Cordial Vampire
Cunning Evasion
Eladamri's Call
Legion's End
Lesser Masticore
Marauding Raptor
Marit Lage's Slumber
Mother Bear
Regrowth
Saddled Rimestag
Scour All Possibilities
Season of Growth
Starfield Mystic
Unsettled Mariner
Voracious Hydra
Wrenn and Six
Winds of Abandon
Angel of Vitality
Archmage's Charm
Aria of Flame
Ayula's Influence
Bogardan Dragonheart
Dead of Winter
Etchings of the Chosen
Force of Negation
Generous Gift
Good-Fortune Unicorn
Kaya's Guile
Lightning Skelemental
Mu Yanling, Sky Dancer (new blue walker)
Rotting Regisaur
Shatter Assumptions
Seasoned Pyromancer
Sword of Sinew and Steel
Sword of Truth and Justice
Soulherder
Splicer's Skill
Vesperlark
Ajani, Strength of the Pride
Drawn from Dreams
Endling
Force of Virtue
Kykar, Wind's Fury
Omnath, Locus of the Roil
Ravenous Giant
Sling-Gang Lieutenant
Serra the Benevolent
Urza, Lord High Artificer
Yawgmoth, Thran Physician
Blizzard Strix
Cavalier of Flame
Golos, Tireless Pilgrim
Rienne, Angel of Rebirth
Yarok, the Desecrated
Atemsis, All-Seeing
Echo of Eons


this is a lot of cards, and more are sure to come out that I want to include. I'm considering making a modern cube in addition to my legacy cube, or maybe expanding the cube altogether. I really don't want to go to 720, and honestly I would prefer 360 with a regular rotation of cards, but I don't play the cube often enough to justify that so for now it sticks to 720.
2 months ago
All Other cards I can sum up: It really doesnt make something better as the existing cards so you can try but I wouldnt test too much. I mean, some effects are really nice, but they are too dependend on special situations.
2 months ago
Riftling
Creature - Shapeshifter
: Riftling phases out. When Riftling phases in, draw a card.
: Riftling phases out. When Riftling phases in, target creature phases out.
: Put a +1/+1 counter on Riftling.
: Riftling gets +1/-1 until end of turn.
: Riftling gets -1/+1 until end of turn.
4/4
---
Morphling , Torchling , Thornling , AEtherling , and now Endling . Create a -ling.
2 months ago
Now is the time of Endling :D
2 months ago
Below I have listed cards from Most to least likely to get added to the deck. It all depends if I can find room for them, but I thought they were at least worth considering. Let me know what you think! What should I cut?
No data for this card yet.