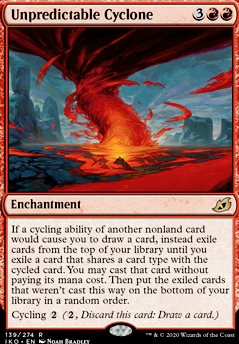 Unpredictable Cyclone
Enchantment
If a cycling ability of another nonland card would cause you to draw a card, instead exile cards from the top of your library until you exile a card that shares a card type with the cycled card. You may cast that card without paying its mana cost. Then put the exiled cards that weren't cast this way on the bottom of your library in a random order.
Cycling (, Discard this card: Draw a card.)
Latest Decks as Commander
Unpredictable Cyclone Discussion
4 weeks ago
I think I would more or less do the same with the commanders you have laid out so I don't have much to offer there. Instead here are some deck ideas I have planned/currently working on:
Adamaro, First to Desire: Mono-Red group hug
Barrin, Master Wizard: Modular-control deck (Arcbound Ravager)
Firesong and Sunspeaker: Angel Spellslinging
Daughter of Autumn: Damage Redirection Deck (Pariah/Vigor)
General Jarkeld: Block everything! (Hundred-Handed One)
Kentaro, the Smiling Cat: No plains in the deck, maybe cat tribal
Baru, Fist of Krosa | Korlash, Heir to Blackblade: Utilize grandeur
Korvold, Fae-Cursed King: Food token and Stuffy Doll with Gyome, Master Chef and Asmoranomardicadaistinaculdacar as the secret commanders.
Kogla, the Titan Ape: King Kong theme (2005 Peter Jackson)
Yidaro, Wandering Monster: Battle Cruiser (Unpredictable Cyclone/Sneak Attack)
Any tribal deck because tribal is my favorite
2 months ago
I quite like this. I'd consider Dream Devourer and . Dream devourer helps cheat on the cost of larger spells, while also setting up any colourless creatures as a wincon - its really sweet here.
On a pure jank level, I can reccomend my favourite card; Ignorant Bliss. It sets you up post-wildfire and counters thoughtsieze. In a similar vein, effects like You Find Some Prisoners or Light Up the Stage that exile cards from the top of libraries and let you cast them can set up a post-wildfire state in a pinch.
Wild Evocation or Unpredictable Cyclone is a cute way to set up worldfire, Aetherworks Marvel plays nice with garagodon, and mana rocks are good. Especially alongside devourer.
Best of luck - Jank brews like this are a lot of fun.
4 months ago
I was looking around for a deck to build that uses Shark Typhoon because I keep finding them in the packs I buy. I came across yours and I like the idea of using Unpredictable Cyclone in conjunction with it. It allows you to cheat out more expensive spells pretty effectively, while still creating a shark army. On that note, I would completely revamp the spells you have chosen, aside from Neutralize and Boon of the Wish-Giver , because they need to have cycling to trigger this awesome effect. I do really like Narset of the Ancient Way for this deck. I would remove Teferi, Time Raveler unless you decide to use more sorceries, like Essence Fracture .
In any case, I love the basic concept and enjoyed trying to think about some synergy for it.
7 months ago
Tutors make deckbuilding easier, as you basically add additional copies of important cards. That's a useful thing on one hand, but it also is very powerful and very boring.
Power Level concerns aside, WotC wants to add splashy effects to the game, and that is a good thing I think (I'm talking splashy, not op). Adding a card to tutor for Instants, sorceries and enchantments ticks many hooks for WotC to not print it: Veeery powerful? Check. Very boring? Check.
They sure could, but I'm pretty sure they won't, and I think this is a good thing.
---
With regards to Elsha: Have you considered Unpredictable Cyclone with only some very specific enchantments?
Load more