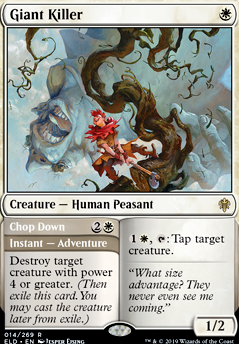 Legality
Giant Killer
Creature — Human Peasant
, : Tap target creature.
(You may cast Giant Killer from exile if you sent it on an adventure.)
---
Chop Down
Instant — Adventure
Destroy target creature with power 4 or greater.
(Then send this card on an Adventure in exile. You may cast the creature portion from exile.)
*(You may cast Chop Down for from anywhere that you have the permission to cast this, then exile it on an adventure instead of putting it into your graveyard. When you have not chosen to cast Chop Down, this card is treated only as Giant Killer in whatever zone it is in.
(When not exiled on an adventure, Adventure cards function identically to modal double faced cards when regarding to the interactions of cards that look at them or attempt to cast them.)