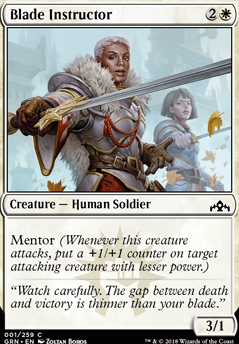 Blade Instructor
Creature — Human Soldier
Mentor (Whenever this creature attacks, put a +1/+1 counter on target attacking creature with lesser power.)
Browse Alters
View at Gatherer
Legality
| | |
| --- | --- |
| Format | Legality |
| Limited | Legal |
| Highlander | Legal |
| Tiny Leaders | Legal |
| Casual | Legal |
| Pioneer | Legal |
| 2019-10-04 | Legal |
| Oathbreaker | Legal |
| Arena | Legal |
| 1v1 Commander | Legal |
| Leviathan | Legal |
| Modern | Legal |
| Canadian Highlander | Legal |
| Duel Commander | Legal |
| Historic | Legal |
| Commander / EDH | Legal |
| Pauper | Legal |
| Block Constructed | Legal |
| Legacy | Legal |
| Vintage | Legal |
| Pauper EDH | Legal |
| Unformat | Legal |
Latest Decks as Commander
Blade Instructor Discussion
1 year ago
You could probably drop 2x Goblin Gathering , Radiating Lightning , Sandblast , Mad Prophet , Magmatic Chasm , 1x Blade Instructor and Divine Verdict for 4x Lightning Bolt and 4x Oblivion Ring .
Now, I'm about to explain something really weird to you.
Back it the day, you couldn't actually target planeswalkers with things that dealt damage. Instead whenever a player would be dealt damage by a source other than a creature dealing combat damage, that source's controller could choose to redirect it to a planeswalker that player controls instead.
Other than just not being very intuitive, this made for some really weird interactions.
Vexing Devil or Browbeat for example, could be used to kill planeswalkers which definately wasn't what they were intended to do, and if a player had hexproof, their planeswalkers could no longer be damaged by things like Shock , due to technically needing to target the player for that to happen.
So they changed the rules so that Planeswalker had to be targeted like they would be by a removal spell such as Hero's Downfall , opting to errata every old card that used to say "damage to target creature or player" to say any target, so that they would still work the way they were intended.
So Lightning Bolt is the exact same card as Shock it just deals an extra damage, it's just too old to have the opdated text printed on the card.