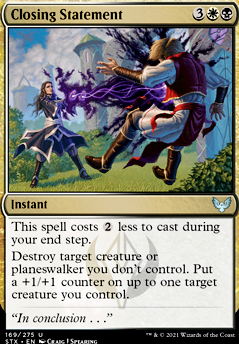 Legality
2 years ago
Wow, this deck has gotten some good suggestions before I even come in!
With DanMcSharp's (good) suggestion about Elite Spellbinder taken, you now have 5 copies of it between your main board and your sideboard. It's not really a sideboard card, so you may as well take it out of there entirely. Kunoros also isn't great for a sideboard (although he is a good pupper). If you want graveyard hate, put Cling to Dust or Weathered Runestone . Kunoros is easily removed from the battlefield, especially as many graveyard-based decks will be running black, the color of amazing removal.
Since this is a low average CMC deck, you don't really want tapped lands most of the time. I'd recommend removing the temples for more basics or for some of the new Snarls, if you have them/don't mind crafting them.
Shadrix Silverquill is not a good card imo. Let's think about some possible scenarios:
You don't use his ability. He's now a 2/5 flying double strike. At that point, just play Baneslayer Angel . Even with the counters in the deck, it's better.

You give your opponent a 2/1 flying. That blocks your biggest flier, which may be Shadrix. So that ability basically blanks his attack for the turn.

You give your opponent a card for a life. Easily his best mode, but now you've given your opponent card advantage. You can't really afford that in a deck that already lacks a lot of card advantage methods.

Your opponent's creatures get larger. Situationally the best. However, your opponent either isn't a creature-based deck (and so has removal for Shadrix or is already losing badly), or will be racing you with their ground creatures, in which case the counters really help. Sure, you'll be getting some benefit from Shadrix too, but the floor of the card is very low. I don't think it's competitively viable.
Your only real creature to sacrifice to Village Rites is Eyetwitch . I'm not sure that's enough to justify having it in the deck, but use your experience and judgement to decide if you're getting good use from the card or if it's just better to find something else. Same thing with Eyetwitch itself, actually. It's your only learn-related card right now. I think you should either find more learn cards or ditch the mechanic altogether. Only having three copies of something that learns is not worth having that many lessons in the sideboard.
Closing Statement feels... Okay. Your own end step is possibly the worst time possible to remove a creature, and five mana for a Murder that hits planeswalkers and a +1/+1 counter is not a good rate. I'd recommend Bloodchief's Thirst instead, or more Heartless Act s.
Blot Out the Sky is a possible finisher if you find you struggle to close out games or need a mana sink late in the game. At X=3 it's pulling a decent rate, and past that you're just getting value.
Those are my initial thoughts on the deck. I still feel like it's missing a big insta-win card to make the deck great, but for a homebrew, it's not a bad list. +1 from me.