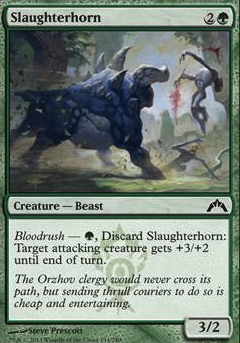 Slaughterhorn
Creature — Beast
Bloodrush G, Discard Slaughterhorn: Target attacking creature gets +3/+2 until end of turn.
Slaughterhorn Discussion
5 days ago
@Me2021, no, there's only four. I know it looks that way, but it is just because I used custom category listing, and Slaughterhorn is in two of the categories.
;)
1 week ago
Firstly, I love this deck because, as I mentioned in the Life from the Loam post I made, which you responded to in very generous detail (much appreciated!), I'm slowly getting into modern. Money isn't really the issue given some time but I'm not looking to be spending Goyf-level dollars, here - more that I'm planning a wedding and that's really, horrifically expensive...plus I don't want the lady to know I'm spending more on magic haha. So my questions are coming from a perspective of someone who's looking to make some upgrades to this deck given less stringent budget constraints, say, the $100-150 range total. I'd love to have a second modern deck to just toss around in testing with my friends (and one less skill-intensive than Loam Pox for those times I don't want to think as hard and just enjoy a game of magic).
So, my questions are as follows:
I think I've sufficiently inundated you with questions here. Thanks in advance!
3 weeks ago
I'd get rid of black and just go full aggro, your power is very strong and any mana wasted on removal would be a shame. Let's let your trample monsters and combat tricks become your removal. I feel with the hard punches and combat tricks, you will not miss black. Also black is asking too much in this aggro deck right now.
Xenagos, God of Revels adds immense power, +1
+4Burning-Tree Emissary will help you ramp up and smack em before they could answer
+4Ghor-Clan Rampager so much value +4+4 and TRAMPLE?! when they least expect it, and it cannot be countered! only stifled.
+4Madcap Skills My all time favorite card in gatecrash, just too powerful. hmmm Burning tree into madcap skills? so good. or burning tree into whatever.
+2Slaughterhorn (could be used as a giant growth or creature when you need a body) or just replace with Giant Growth, will save the life of your mana dork to spend future mana or just go in for damage.
1 month ago
I would recommend throwing in Wild Defiance which could make your porection spells double as buff spells. I would also replace Llanowar Augur with an infect creature but thats just me; my reasoning is you have 12 creatures with infect, 24 buff spells + 4 more creatures that are gonna pretend to be a buff spell. Yes its a buff spell that cant be countered, but I honestly just think you'd be better off more infect creatures, 16 creatures is a good ammount to have but they should all be usable with infect. It might be more worth it to sideboard Llanowar Augur over Slaughterhorn since they both fit more or less the same purpose but Slaughterhorn is less versatile
2 months ago
It can be quite hard to find the most efficient cards to use for a pump these card won't quite pump your creatures as much as beserk but can give you other handy effects
Also a lot of the cards in this list can be used
http://bit.ly/1MmpH8F
4 months ago
I'll continue the suggested push towards Lightning Bolt. You really need this card if you play red in modern.
Beyond that, try to slowly increase consistency by trading/buying playsets of the best cards in your budget... Possibly heavy green splash red for more consistency. For a beast deck I would recommend you try to acquire
Then cut all the spells you can and go full Gruul with 2x RURIC THAR!!!! it's a very fun card to play.
Round out the deck with a few garruk planeswalkers (your choice) and 24 lands and you are good to go bro.
Lastly, you should spend your money (whatever you can afford) to get Stomping grounds. Lands are very important in modern, and these will help more than anything else IMHO. They are also very cheap compared to a while ago, and are probably at their lowest point now.
4 months ago
Move more into aggro for game 1, but have more midrange options from the SB for resilience. For example, I would move 2 dungrove, 2 nylea and 2 mistcutter to the board while adding 4 Aspect of Hydra and 2 Slaughterhorn to move into more aggro territory. I would also main Nettle Sentinel instead of that gorgeous Terese Nielsen art of Dryad Militant - the toughness and pseudo vigilance is a real advantage.
| | |
| --- | --- |
| Power / Toughness | 3/2 |
| Color(s) | Green |
| Cost | 2G |
| Converted cost | 3 |
| Avg. draft pick | 3.65 |
| Avg. cube pick | 4.04 |
Legality
| | |
| --- | --- |
| Format | Legality |
| Legacy | Legal |
| Vintage | Legal |
| Commander / EDH | Legal |
| Modern | Legal |
| Duel Commander | Legal |
Related Questions