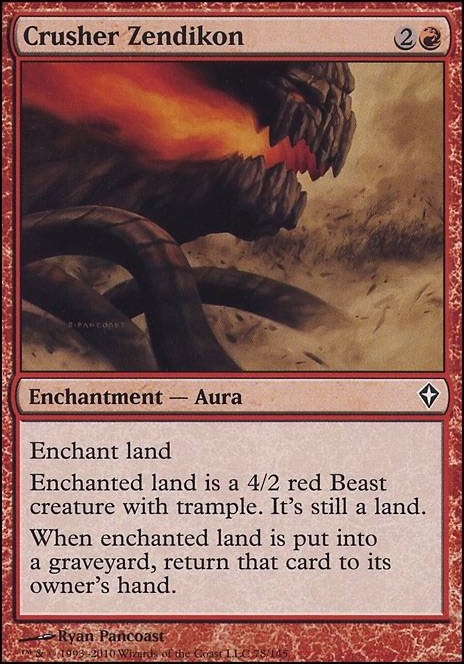 Crusher Zendikon
Enchantment — Aura
Enchant land
Enchanted land is a 4/2 red Beast creature with trample. It's still a land.
When enchanted land is put into a graveyard, return that card to its owner's hand.
Browse Alters
View at Gatherer
Legality
| | |
| --- | --- |
| Format | Legality |
| Tiny Leaders | Legal |
| Noble | Legal |
| Leviathan | Legal |
| Magic Duels | Legal |
| Canadian Highlander | Legal |
| Vintage | Legal |
| Modern | Legal |
| Block Constructed | Legal |
| Casual | Legal |
| Pauper EDH | Legal |
| Vanguard | Legal |
| Legacy | Legal |
| Archenemy | Legal |
| Planechase | Legal |
| 1v1 Commander | Legal |
| Duel Commander | Legal |
| Oathbreaker | Legal |
| Unformat | Legal |
| Pauper | Legal |
| Commander / EDH | Legal |
Crusher Zendikon Discussion
1 year ago
lance4224130 Nice to hear it is working out! Maybe you could consider playing ore more land as your version is a bit more controlish than midrange, but it's something you have to decide after quite a few games I think. Anyway, I also recommend you Scroll Rack if you're running Land Tax. They synergize beautifully together.
For lands, good additions (as you play all the good fetchlands) would be Mistveil Plains for a plain (amazing card with the Sunforger here) and Madblind Mountain for a mountain. As they etb tapped, I don't know if it will slow too much your deck playing both of them, but it seems good. In my midrangy Boros EDH, also playing the Sunforger, I decided only to run the Mistveil, but in your version I kinda like the Madblind as well.Another crazy land for your deck strategy, a land that you will always love to have, is the Forbidden Orchard. It literally does insane things alongside your commander.
About the cards you changed now >> I wasn't a fan of all your enchantment removals, I think it's a bit too situational to run so many, the decklist feels a lot better in the actual statement. The infinite loop with the copy of the doll, the doll itself and the repercussion is quite crazy. I would have laughed so much. x)I think Repercussion is still a great card for this deck, I will keep it on the mainboard.
Some cards you could cut (that I personally don't like) are the Charmbreaker Devils (you pay 6 mana for a bad body with no immediate impact... meh, it's just too slow if you want to stay active >> I understand the argument that it could be good just after a board-clear when your opponents resources are diminishing, but it makes it just too situational and even in those rare situations he's far from being game-breaker), the Banefire (it only target one player - even if you duplicate it with the Mirari or something else, it's still meh.), the Incendiary Command (versatile but weak and slow, feels just bad), the Warleader's Helix (yeh, it can be good with the Sunforger, but otherwise it's a card I won't appreciate to see in my hand), the Mirari (it's slow and you already seem to have enough duplicating spells... not that I dislike it, it's a good card, but I think it's a bit overkill there seeing the rest of your decklist) and the Deflecting Palm (too situationnal in my opinion).
Here are a few suggestions :
2 years ago
Since you're interested on cards that make full use of lands, may I suggest Genju of the Cedars. A little slow, but great recursion. Red options: Genju of the Spires & Crusher Zendikon. Natural Affinity is great for late game. Other cards to consider: Crop Sigil, Fork in the Road, Grapple with the Past, Groundskeeper, Ramunap Excavator, Hostile Desert, Restore, Splendid Reclamation, Terravore, Traverse the Ulvenwald, Vessel of Nascency, Anthousa, Setessan Hero, Krosan Restorer. Great cheap greenies: Kalonian Tusker, Garruk's Companion, Leatherback Baloth