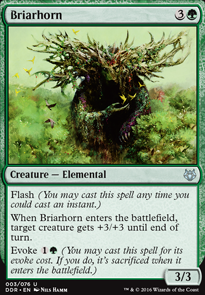 Briarhorn
Creature — Elemental
Flash
When Briarhorn enters the battlefield, target creature gets +3/+3 until end of turn.
Evoke (You may cast this spell for its evoke cost. If you do, it's sacrificed when it enters the battlefield.)
Browse Alters
View at Gatherer
Legality
| | |
| --- | --- |
| Format | Legality |
| Tiny Leaders | Legal |
| Noble | Legal |
| Leviathan | Legal |
| Magic Duels | Legal |
| Canadian Highlander | Legal |
| Vintage | Legal |
| Modern | Legal |
| Penny Dreadful | Legal |
| Block Constructed | Legal |
| Casual | Legal |
| Pauper EDH | Legal |
| Vanguard | Legal |
| Legacy | Legal |
| Archenemy | Legal |
| Planechase | Legal |
| 1v1 Commander | Legal |
| Duel Commander | Legal |
| Oathbreaker | Legal |
| Unformat | Legal |
| Pauper | Legal |
| Commander / EDH | Legal |
Rules Q&A
Briarhorn Discussion
1 month ago
Yeah, thanks for the upvote :)
I've had a lot of fun with the deck so far. I haven't managed to get much out of the Wild Pair package. Since there are no actual tutors in the deck for getting out enchantments that's been a bit difficult.
I'm actually considering Gamble and Long-Term Plans as 'soft' tutors purely for the Wild Pair and once I've got that for cards such as Vicious Shadows and Warstorm Surge .

The deck is still pretty new, and I'm still fine-tuning it. I've now only played it four times since I've been busy with other stuff lately:

Game 1: Won through getting value out of an early Momir Vig, Simic Visionary , keeping it safe with the counter creatures and smashing face with Forgotten Ancient and Master Biomancer making my team bigger.
Game 2: It was a five-player game where the first one to knock the two opponents directly to the left and right of you wins: Kept board-control and ramp up with Yasova Dragonclaw and Perilous Forays . Almost died to a ridiculous Arixmethes-huge-stompy-creatures deck, but turned it around with the Reins of Power I was sitting on (such an over-performer). And later shared my victory as our shared opponent got knocked out by the other player.
Game 3: regrettably had to spend most of my time and resources on an Orzhov player that kept recurring the Elesh Norn, Grand Cenobite that rendered the rest of my cards mostly useless. Later everyone got kicked out by a combo player going off
Game 4: Didn't win, didn't get quite the engines going that I wanted to. But the game (5-player FFA) was crazy enough as it is.
I would say that for now the deck is good enough at battlefield control (particularly creatures), but as I mentioned I want to look into options that make the
Wild Pair
actually work (in none of the games I drew it so far).
I've since added
Warstorm Surge
, because that card can do stupid things once you get something like
Glen Elendra Pranksters
or other bounce and some ramp or control creatures. I've added
Ambush Viper
to go along with that. Swapped those for
Llanowar Elves
(in our meta often not dependable ramp since it's too fragile) and
Briarhorn
, since it having flash mattered less for the creatures it could look up and Yasova can usually steal enough interesting creatures with just 4 power.
Apart from the tutors I'm considering adding
Purphoros, God of the Forge
, since the incremental damage can quickly add up and the +1/+0 is actually really nice for Yasova, but I only have one copy of Purph and it's a key part of my
Wort, the Raidmother
deck.
9 months ago
Well i didn't see problems with going full on hatebears on my sideboard.
The benefit of getting your cards when you need them is hard to overstate, a reliable turn 2 scooze can be very hard to beat for storm - and its far better, than 1x relic, 1x surgical, and 1x damping sphere. Of course you can add stuff like Anafenza, the Foremost , Samurai of the Pale Curtain or Dryad Militant if you feel like needing more hate on the yard.
Ditch Linvalla!
If you go with card draw instead of poor old Fauna Shaman , you will be able to recover from boardwipes much more easily.
Probably the most obvious option to compliment them are the various bloodrush (and some evoke) cards, that can be cheaply spent to empty your hand, synergize well with an aggressive gameplan and are doing something if the game goes longer. Fauna Shaman is bad because, it gets killed by all the removal (other than Gut Shot ), and also gets eaten by counterspells - while instant/sorcery based card draw can only be caught with counterspell, which are rarely played at the moment.
Lead the Stampede is likely better choice for your deck, since your doesn't really benefit from ramping into high mana counts, as much as mine, and your creature base is less centered around creating added value on being sacrificed.
Cards like Slaughterhorn , Rubblebelt Maaka can help a LOT in finishing games in a timely manner, not to mention the keywords on Ghor-Clan Rampager & Viashino Shanktail
Evoke creatures can be even better as they often offer very unique benefits like Briarhorn 's flash, as it allows you to use the card to protect against damage based removal, and evolving them onto the field still gets all the value u could wish for, as you will get both the discount body, and the effect, the rest of the best are probably Glarewielder , Spitebellows (could be a sideboard allstar) & Faultgrinder to increase the effectiveness of Magus of the Moon
1 year ago
To make this deck work you need a high density of creatures in your graveyard, to that end I'd suggest you have a look at cards like Shinen of Life's Roar, Shinen of Flight's Wings, Mulldrifter, Briarhorn Wasteland Viper and Slaughterhorn. Essentially you play these creatures like spells, but they have the added bonus of putting more bodies in your graveyard.
Your payoff cards; Splinterfright and Boneyard Wurm are ok, but with the available graveyard hate in modern they could easily end up 0/0 creatures, that was always one of the big powers of Tarmogoyf being at least 0/1 no mater the graveyard state. To that end I'd suggest a backup plan of Scavenging Ooze, Cloudfin Raptor, Renegade Krasis and maybe Fathom Mage or Simic Manipulator. I'd also suggest Magus of the Bazaar over Merfolk Looter.
Hope this is of some help, have fun brewing your deck.
1 year ago
Bonkers deck. Have you considered anything from the evoke cycle? Seems to pair perfectly with PC. Maybe Briarhorn or Spitebellows, or Ingot Chewer in the sideboard?
1 year ago
I'd suggest removing these cards:
Brambleweft Behemoth - It's a 6/6 for 6 with trample, yes it's an elemental but there are far better ones, especially for 6 mana.
Drove of Elves for 4 mana, you'd want something stronger than this, it's not an elemental, and the only real upside is that it has hexproof.
Nissa's Encouragement It's not really worth to have, considering that the cards it gets you aren't that great.
Nissa, Genesis Mage there are better nissa walkers out there
I'd suggest these cards:
Ashling the Pilgrim you can build up a boardwipe, and with omnath triggers, you could easily kill everyone.
Briarhorn gives you either a 3/3 blocker with +3/+3 on target creature for a combat trick, or you can evoke it, get the +3/+3 anyways and then you get to deal damage with Omnath.
Brighthearth Banneret makes your ele's cheaper
Fertilid 2 land for 3 + 4 mana instant speed fetch too.
Flamekin Harbinger topdeck Eletutor for 1 mana. Really recommend this card, plus elemental decks are the only decks which can really run this.
Greenwarden of Murasa It's effectively a big, double eternal witness.
Incandescent Soulstroke lets you cheat out an elemental which then gets sacrificed later.
Multani, Yavimaya's Avatar gives you ways to return lands to your hand for more landfall triggers.
Skullmulcher gives some card draw.
Soul of the Harvest I know it doesn't work with all the tokens you make, buuuut it does give draw.
Undergrowth Champion gives you a nigh indestructible blocker so you can go wild with your attacks.
Walker of the Grove gives you a 4/4 ele when it leaves the battlefield.
Akoum Stonewaker gives you a 3 mana Spark Elemental on landfall.
Budoka Gardener gives you extra land draws/elemental generation
Rakka Mar makes Spark Elemental tokens
Chandra, Flamecaller gives you two Spark Elemental per +1 plus gives you a wheel effect with 0 ability.
Flamekin Village gives a creature trample, and is an ele land
Primal Beyond is also an elemental land.
Raging Ravine is also an elemental land
Nissa, Vastwood Seer

Flip fetches a land, plus the walker is nice for landfall.
Skarrg Guildmage makes a land 4/4 for 3 mana
Waker of the Wilds does the same thing.
Cinder Glade, Sheltered Thicket, Stomping Ground are all mountain forests and can be fetched.
Vivien Reid gives some nice card draw.
Animist's Awakening with the amount of ramp you have, you could easily have a massive awakening.
Chord of Calling is a pretty good tutor in green.
Khalni Heart Expedition Gives you moooooore ramp, but more importantly, double landfall triggers at instant speed.
Crop Rotation is an instant speed landfall.
Harrow more instant speed landfall.
Perilous Forays Sacrifice your free landfall elementals for 1 misc, get a tapped basic, and another elemental.
Sakura-Tribe Elder for more instant speed landfall.
Scapeshift gives so many landfall triggers its a fantastic card in this deck. Extra props if it's paired with The Mending of Dominaria
Tireless Tracker gives you 2 mana card draw for landfall.
Maybeboard:
Embodiment of Fury + Embodiment of Insight if you want to go down an awaken line, this card may be interesting.
You could also go down the land destruction line with Faultgrinder Ember Swallower
Forgotten Ancient can be a real all star when buffing up your board.
Grave Sifter could be a nice include to let you replay elementals, but considering that people are bringing tribal decks, maybe not.
Elemental Mastery makes 1/1 tokens, but to get the real bang for its buck, you'll need to sacrifice the tokens to Ashnod's Altar
If you went down the burn route, Hostility would be a fun card.
Rite of the Raging Storm is a pretty fun card in multiplayer.
Sylvan Awakening is okay, and pretty funny to kill someone with 2/2 lands.
Eternity Vessel Can make you live forever
Indomitable Creativity you can destroy your own elementals to get other creatures.
Kamahl's Druidic Vow upside is that you can get heaps of lands, downside is that you don't have /that/ many legendary permanents.
Constant Mists will protect you from damage all the damn time.
If you wanna be super mean, Tectonic Break to destroy everyone's lands, except that you'd have way more lands out than anyone else. Boom // Bust Destructive Force Devastating Dreams From the Ashes Thoughts of Ruin Tremble Wildfire
1 year ago
Really like the deck idea. From testing, you have too many Forests, and you probably need more card draw to storm off. Cut some of the Forests for 1-mana Elves, since those can accelerate the deck while also putting a +1/+1 counter on Marwyn. They would also give you the option of using Skullclamp for card draw. Adding a Traverse the Outlands should also thin the deck a lot. Grothama, All-Devouring lets you draw lots of cards by attacking with Marwyn, as long as you have something to untap her. Greater Good also works well if you can float mana first. Temur Sabertooth is great as well especially with Paradox Engine.
Swiftfoot Boots is a great way to protect Marwyn and give her haste so you can recast her, though you do need enablers like Greater Good or Temur Sabertooth. Concordant Crossroads is another great haste enabler if you only play it when you want to storm off. Akroma's Memorial is worth a shot.
You could try Primeval Bounty as a way to pump Marwyn even more. Also, creatures that pump on ETB, like Wolfir Silverheart, Verdurous Gearhulk, Yeva's Forcemage, and Briarhorn. With enough creatures, Soul of the Harvest, Primordial Sage, and Regal Force can also provide card draw.
Load more