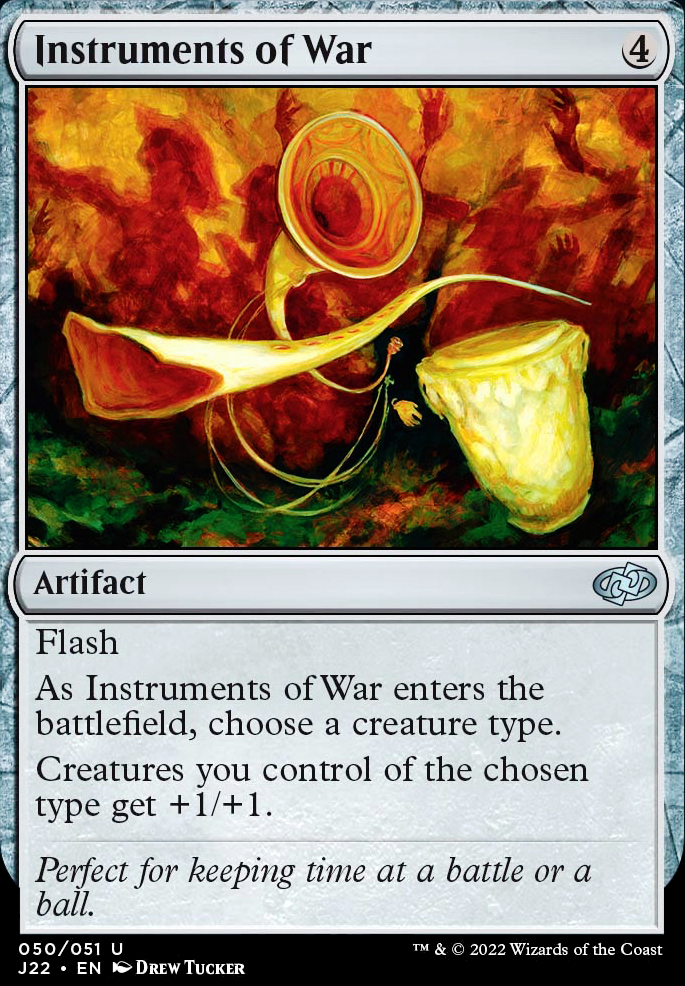 Legality
2 months ago
Hey, well done so far, but I think you overestimate needing so many buffs (anthems).
All the artifacts for anthem effects is overkill, you have tutors that can get the better anthem. Adding more repeatable draw sources can do more for gameplay than anthems because more reliable draw helps to draw the better anthems. Coat of Arms, Eldrazi Monument and The Immortal Sun are much better than the other artifact anthems here.
In my opinion anthem effects to be worth playing need to also have card quality for the mana cost. Instruments of War and Hall of Triumph are bad cards, only providing a small anthem effect nothing else for their mana cost isn't good enough to take deck spots. Obelisk of Urd is subpar, but at least it can be mana cost reduced even to 0 with Zombies. Bad Moon is only 2 mana, but there's greater two drops that have much better card quality. Heraldic Banner can be a mana rock, but even so you can do better for a three drop.
Adaptive Automaton is a creature who Gisa can sac and who can be a Zombie lord (anthem), but it's a bad card compared to all other Zombie lords who provide another good repeatable effect. Icon of Ancestry and Vanquisher's Banner aren't worth it since there's too many nonZombie creatures here. You can get more reliable repeatable draw from other sources.
You have Crypt Ghast, Cabal Coffers and tutors to get them, you don't need Caged Sun and Gauntlet of Power mana effects. These cards are better in mono white, red or blue because these colors can really use the mana ramp. Liliana's Mastery is a very low budget five drop for Zombies, not needed here.
---
There's several cards in the maybeboard to consider adding main deck if you have them. Areas to focus on improving with cards from the maybeboard are early game ramp, repeatable draw for only you, reanimation and more Zombie evasion.
Other cards to consider adding from the maybeboard.
Some cards to consider cutting:
Good luck with your deck.