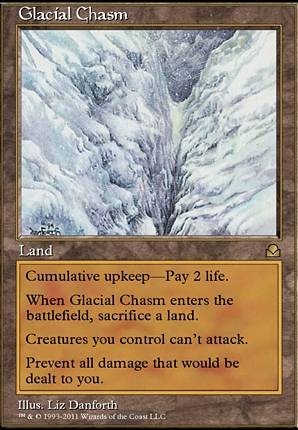 Glacial Chasm
Land
Cumulative upkeep-Pay 2 life. (At the beginning of your upkeep, put an age counter on this permanent, then sacrifice it unless you pay its upkeep cost for each age counter on it.)
When Glacial Chasm enters the battlefield, sacrifice a land.
Creatures you control can't attack.
Prevent all damage that would be dealt to you.
Browse Alters
View at Gatherer
Trade
Legality
| | |
| --- | --- |
| Format | Legality |
| Tiny Leaders | Legal |
| Noble | Legal |
| Leviathan | Legal |
| Magic Duels | Legal |
| Canadian Highlander | Legal |
| Vintage | Legal |
| Vanguard | Legal |
| Legacy | Legal |
| Archenemy | Legal |
| Planechase | Legal |
| 1v1 Commander | Legal |
| Duel Commander | Legal |
| Oathbreaker | Legal |
| Unformat | Legal |
| Casual | Legal |
| Commander / EDH | Legal |
Glacial Chasm occurrence in decks from the last year
Commander / EDH:
All decks: 0.03%
Golgari: 0.09%
Glacial Chasm Discussion
4 days ago
For myself and others, how to optimally pilot the deck
Philosophy behind the deck, ideally should be played with 2+ other players.
You are a hard to kill end game boss, blue is boring busted and broken and is also expensive. Try to go for cards that will keep your hand healthy since we are not running blue so think how much you can squeeze out of one card for maximum value.
2 weeks ago
Om3gaOm3n If Glacial Chasm is an issue, I would recommend a single strip mine or wasteland in the list. With infinite turns, you have infinite draws, so you will find it without wasting a spell slot. They can also pull some weight with Back to Basics in other scenarios, so definitely a good call in the right meta.
2 weeks ago
You're absolutely right! This deck does not need shortcuts ... It is a combo killer... and cards that retard the opponent's victory are unnecessary. I have a very similar deck and I added Glacial Chasm to, in extreme cases, help me to survive one, two turns .. Enough for the victory .... And still give me a draw trigger and use urborg, Tomb of Yawgmoth to be able to use it like Swamp ... And Crop Rotation is a good friend!
2 weeks ago
When I ran Glacial Chasm in my Sultai deck, I didn't tend to run it back out turn after turn. I ran it more like a fog on demand if I needed to tap out with either mana or creatures and left it in the graveyard for a turn or two if I didn't think I would need the effect this turn around the table.
When I posted, I had forgotten that I also had multiple ways to put extra lands into play each turn Wayward Swordtooth, etc. so I did have the option of keeping up or getting ahead on lands. Its definitely a YMMV kind of card in the first place and you may not have the deck space to add in some of the support it kind of needs to really shine.
2 weeks ago
xaarvaxus I love the idea of expanding on my land choices. What was your thought with Glacial Chasm if I'm reading that right it also locks down my board?
2 weeks ago
If you have access to Disallow, I would definitely sub it in for Dismiss, stifling triggers will come in very handy in a lot of cases.
While your commander can recycle lands, without enough outlets to get them into your graveyard, ones like Dismal Backwater are pretty subpar. Fetid Pools is probably a better dual for Muldrotha and Bad River could go fetch it if needed and be a target itself to recur.
Seal of Primordium is more removal on a stick that is a different card type to be recurred each turn so you could conceivably fire off Caterpillar and Seal each turn and really keep the field clear of opposing artifacts and enchantments.
Some more lands that can recur for effect may be good too; Blast Zone, Ghost Quarter or Glacial Chasm could provide extra value.
Load more