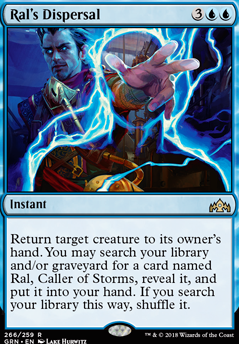 Legality
| | |
| --- | --- |
| Format | Legality |
| Pre-release | Legal |
| Tiny Leaders | Legal |
| Custom | Legal |
| Magic Duels | Legal |
| Canadian Highlander | Legal |
| Vintage | Legal |
| Modern | Legal |
| Arena | Legal |
| Standard | Legal |
| Leviathan | Legal |
| Legacy | Legal |
| Brawl | Legal |
| 1v1 Commander | Legal |
| Duel Commander | Legal |
| Oathbreaker | Legal |
| Unformat | Legal |
| Casual | Legal |
| Commander / EDH | Legal |
Ral's Dispersal
Instant
Return target creature to its owner's hand. You may search your library and/or graveyard for a card named Ral, Caller of Storms, reveal it, and put it into your hand. If you search your library this way, shuffle it.
Ral's Dispersal Discussion
10 months ago
I have made some changes to the deck, as I have been able to get hold of a few more cards I wanted:
Removed: Chemister's Insight, Command the Storm, Electrickery, Electrolyze, Izzet Charm, Lightning Strike, Ral's Dispersal, Stonefury Beacon Bolt, Divination, Invoke the Firemind, Precision Bolt, Roast, Windfall Nevinyrral's Disk Firemind's Research
Added: Mystical Tutor, Reiterate, Turnabout, Clockspinning, Shattering Pulse, Capsize, Gamble, Preordain, Vandalblast, Merchant Scroll, Mystic Retrieval, Past in Flames, High Tide, Hidden Strings, Misdirection, Young Pyromancer
This should give me a little more control, and has added some much needed combos in. Still not where I want to be with the deck overall yet, but all I could afford to put in for now. Will make some more changes after Christmas is out of the way, and once I have played with it a bit more to see what exactly needs doing.
10 months ago
Melek, Izzet Paragon, Goblin Electromancer, Galvanoth and Djinn Illuminatus are some creatures. Also, at the point that this deck is over $1000, i think you can afford to pay $3 for any form of Niv- Mizzet - namely, Niv-Mizzet, Parun, Niv-Mizzet, the Firemind, or Niv-Mizzet, Dracogenius. Boomerang and Vapor Snag are some return cards. Another return is Ral's Dispersal, which is only good with Ral, Caller of Storms. Tandem Lookout, Ophidian Eye, and Curiosity all go with Niv- Mizzet. For the same reason as Goblin Electromancer, i think Jace's Sanctum and Baral, Chief of Compliance are good.
No data for this card yet.