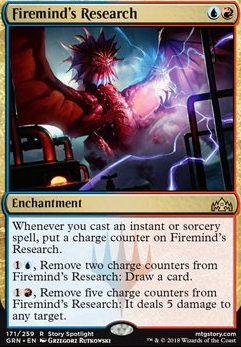 Legality
| | |
| --- | --- |
| Format | Legality |
| Pre-release | Legal |
| Tiny Leaders | Legal |
| Magic Duels | Legal |
| Canadian Highlander | Legal |
| Vintage | Legal |
| Modern | Legal |
| Arena | Legal |
| Penny Dreadful | Legal |
| Standard | Legal |
| Leviathan | Legal |
| Legacy | Legal |
| Brawl | Legal |
| 1v1 Commander | Legal |
| Duel Commander | Legal |
| Oathbreaker | Legal |
| Unformat | Legal |
| Casual | Legal |
| Commander / EDH | Legal |
Firemind's Research
Enchantment
Whenever you cast an instant or sorcery spell, put a charge counter on Firemind's Research.
, Remove two charge counters from Firemind's Research: Draw a card.
, Remove five charge counters from Firemind's Research: It deals 5 damage to target creature, player or planeswalker.
Firemind's Research Discussion
7 hours ago
Hey man!
Before we get into this, I just want to say that if I sound like a know-it-all and a dick, it's toatally unintentional and I apologize for it. Also, I have never played Jeskai in EDH, so please take my suggestions with a grain of salt.
It's kind of hard to find a good Jeskai Commander that is based around creatures, so I think you have two options:
Of course, you could have both in your deck, and switch them around as the meta/playgroup changes, but it's best to choose one now. I'll provide options for both.
---
The ramp and land package wil be roughly the same, so I'll start with that. I use TCC's manabase template, but feel free to change it.
Ramp
Lands
TCC's template for a manabase is this, but feel free to change it to fit your budget etc.
3 OG Duals (Can be replaced by Check, Scry or Man lands)

3 Shock

3 Zend-Onslought Fetch (Can be replaced by Panoramas)

15 total basics and utility (9/6 split)

3 Filter Lands

3 Pain Lands

4 Any Colour Lands

1 Tri Land

3 Other Lands(more utility, duals, Lairs, etc)
---
Here's a deck that I drafted if you want Shu Yun, Silent Tempest as your commander. I left three slots for the cards already in your deck
---
Here's the draft deck if you want Ishai, Ojutai Dragonspeaker and Bruse Tarl, Boorish Herder as your commanders
---
That ends my very long post. Feel free the change anything you want about the decks I made, as they are only a first draft.
Good Luck,
Hex
1 month ago
Since your deck revolves around winning with drakes, i suggest adding proctection to keep your drakes alive, more draw to find drakes and make em big, and a 4th creature so you don't lose to 2x ixalan's binding or alot of creature removal :)
protection = Dive Down / Counterspells ( Negate or Spell Pierce
more draw = Tormenting Voice , Radical Idea , Discovery / Dispersal
4th Creature = Either Pteramander or Arclight Phoenix
Firemind's Research is too slow for this deck, i suggest more draw
Ral, Izzet Viceroy is hard to defend in this deck should really be a sideboard card, and even then i think Niv-Mizzet, Parun tops it.
Once people see Risk Factor , they'll always take the damage considering your finishers (drakes)) will kill them off anyways, i suggest replacing with more draw or a 4th creature
3 months ago
I threw mirrorpool out there as another copy effect. If you want to run enter the infinite + lab man that kind of defeats the purpose of being a storm deck and not just a generic izzet lab man deck since Melek doesn't interact with any of that (just one opinion). But it all depends on what level of play you are up against. If you are going against CEDH style decks, you need to bring back your counter magic, if you are playing against just regular tuned decks, you might want to consider some defensive spells since you don't have very many options defending your life total. Long-Term Plans is another tutor option you can add to find your combo and Firemind's Research is a really solid card draw outlet for spell slinging and removal in a pinch.
4 months ago
I have made some changes to the deck, as I have been able to get hold of a few more cards I wanted:
Removed: Chemister's Insight, Command the Storm, Electrickery, Electrolyze, Izzet Charm, Lightning Strike, Ral's Dispersal, Stonefury Beacon Bolt, Divination, Invoke the Firemind, Precision Bolt, Roast, Windfall Nevinyrral's Disk Firemind's Research
Added: Mystical Tutor, Reiterate, Turnabout, Clockspinning, Shattering Pulse, Capsize, Gamble, Preordain, Vandalblast, Merchant Scroll, Mystic Retrieval, Past in Flames, High Tide, Hidden Strings, Misdirection, Young Pyromancer
This should give me a little more control, and has added some much needed combos in. Still not where I want to be with the deck overall yet, but all I could afford to put in for now. Will make some more changes after Christmas is out of the way, and once I have played with it a bit more to see what exactly needs doing.
4 months ago
CrimsonKing so I did have 2 Settle the Wreckage in the sideboard, but found that there was almost no matchup that I want to bring them in. My original thought was that it would be good against Izzet Pheonix, but between Seal Away, Vraska's Contempt, Profane Procession Flip and even Thaumatic Compass Flip, the only problem that I have against them are their sideboard cards (Niv-Mizzet, Parun, Firemind's Research, Ral, Izzet Viceroy and sometimes Sarkhan, Fireblood) and I usually leave Settle in the sideboard. Even against aggro decks I tend to not need Settle with all the maindeck removal/sweepers. I haven't played against a Carnage Tyrant deck yet and I will definitely try to find room for 2 Cleansing Nova in the sideboard, but right now my worst matchup that I absolutely need to improve is Jeskai.
4 months ago
Niv-Mizzet, Parun, Djinn Illuminatus, Melek, Izzet Paragon, Galvanoth, and Crackling Drake are some creatures. Curiosity, Ophidian Eye, and Tandem Lookout go well with Niv-Mizzet, Parun, and as does Enter the Infinite. I've always thought that Crackleburr is fun. Stitch in Time/Ral Zarek and Krark's Thumb go together, and some good instants and sorceries are Risk Factor, Epic Experiment, Blast of Genius, Prophetic Bolt and Opt. My favorite Izzet enchantments are Firemind's Research, Future Sight, Counterbalance, and Telepathy.
Load more
Firemind's Research occurrence in decks from the last year
Commander / EDH:
All decks: 0.01%