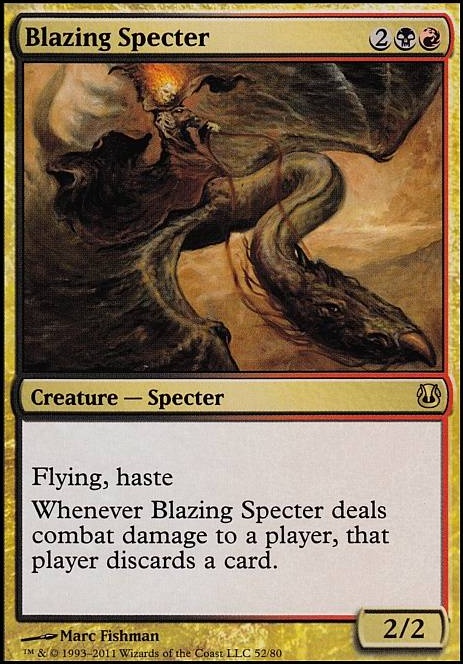 Legality
| | |
| --- | --- |
| Format | Legality |
| Noble | Legal |
| Leviathan | Legal |
| Magic Duels | Legal |
| Canadian Highlander | Legal |
| Vintage | Legal |
| Penny Dreadful | Legal |
| MTGO | Legal |
| Vanguard | Legal |
| Legacy | Legal |
| Archenemy | Legal |
| Planechase | Legal |
| Duel Commander | Legal |
| Unformat | Legal |
| Casual | Legal |
| Commander / EDH | Legal |
Blazing Specter
Creature — Specter
Flying, haste
Whenever Blazing Specter deals combat damage to a player, that player discards a card.
Blazing Specter Discussion
3 months ago
Hi there, i'll share all the knowledge i've gathered after playing discard decks for more than 5 years (i've built monoblack creatureless discard, monoblack creature discard, UB discard, RB discard, Grixis discard, specter discard, etc.).
The first i see here is that you don't have anything to deal with the board, so you'll more than probably die to anything that hits the board, even a simple 3/1 two-drop. Your deck relies too much on damaging your opponent through giving him many cards and forcing him to discard not that many; the only card in your deck that punishes him this way is Liliana's Caress and that's it, it's not reliable. You also run two copies of Painful Quandary which it's ideal mechanics are to punish your opponent for having no hand, but since you are forcing him to draw so many cards, he'll always have the option to discard while playing a spell (only taking 2 damage from Liliana's Caress and only if you have the enchant on the battlefield).
You have many cards that allow you or your opponent to draw and discard cards, but you only have Alms of the Vein to exploit this mechanic, so get rid of those or stick in more madness cards.
The description says "the goal of this deck is to get your opponent as low as possible", but you can't do that quickly by relying only on 4 copies of Liliana's Caress while you'll be recieving lot's of threats and hits. Master of the Feast will for sure get destroyed by any of the thousands removal spells you'll force your opponent to draw, so it won't be dealing too much damage if any.
---
Suggestions
Let's work on the solution. First of all, you need your deck to have more consistant way to deal damage and you also need to get rid of your opponent's threats until you've reached mid-late game and you can develop your winning mechanics.
---
Which ones and how many
Pick the ones you like the most according to their mana costs and their price. Also consider the ammount of black mana symbols in their cost, because you'll be playing a two colors deck.

Try to keep it as balanced as you can in terms of cards functions. Maybe 30% draw/discard engine - 30% draw/discard punishment - 20% massive discard - 10% 1drops quality discard - 10% board whipe. You'll have to test and adjust the numbers.

I know most of those cards are black, but you can keep it UB if you want to. Best version I've made of this strategy was using Grixis (Blue Black and Red) because there's a lot of red cards that force both players to discard and draw like Burning Inquiry and Reforge the Soul for example. Grixis also enables the use of Nekusar, the Mindrazer , Blightning , Sedraxis Specter , Blazing Specter and Dack Fayden.
---
I hope it's helpful! Best wishes!
1 year ago
http://tappedout.net/mtg-decks/starting-life-total-40-lets-see-about-that/
I made this a little while ago around the same principle. It's a little bit more aggressive about lifeloss than you might be comfortable with.
If I had to make a cutlist for your deck I'd say that these ones come to mind immediately.
There's a lot of disparate elements here that I don't think combine very well. So for instance there's a whole equipment suite/subtheme but a low creature count with mostly high cmcs. Also there are a token cards like Vicious Shadows that don't exactly go with the creature cards you have because they are again, mostly high costed beaters in their own right.
If I had to advise you on a direction for this deck. I'd go lighter in creatures, drop the equipment, and go heavier on instants/sorceries/enchantments.
with the aforementioned damage doublers it should be fairly easy to knock huge chunks off of your opponents.
1 year ago
Mana Dork Arbor Elf, Joraga Treespeaker
Token makers Imperious Perfect, Wren's Run Packmaster, Sacred Mesa, Assemble the Legion, Call of the Herd, Shrine of Loyal Legions, Rootborn Defenses, Raise the Alarm, Midnight Haunting, From Under the Floorboards, Decree of Justice, Growing Ranks, Scion of Vitu-Ghazi, Cloudgoat Ranger, Emeria Angel, Geist-Honored Monk, Call the Scions, Selesnya Charm
Removal: Murder, Sudden Death, Immolating Glare, Selesnya Charm, Nekrataal, Shriekmaw, Skinrender, Wrecking Ball, Chained to the Rocks
Card Draw: Jace's Ingenuity
Hate: Lifebane Zombie, Brain Maggot, Liliana's Specter, Blazing Specter, Sire Of Insanity
Finishers: AEtherling, Meloku the Clouded Mirror, Rise from the Tides
Burn: Stoke the Flames, Incinerate, Staggershock, Jeskai Charm
Other/value/Build-around cards: Elvish Visionary, Phyrexian Rager, Murderous Redcap, Catacomb Sifter, Painful Quandary, Guttersnipe, Satyr Firedancer, Shrine of Burning Rage, Vampire Nighthawk, Dungeon Geists, Flametongue Kavu, Bituminous Blast, Endless Ranks of the Dead, Qasali Ambusher, Mother of Runes, Sunforger, Open the Armory, Glare of Subdual, Gray Merchant of Asphodel, Savage Knuckleblade, Woodland Wanderer, Serendib Efreet, Void Grafter
Etc.
In case you wanted to add more things to your list.
1 year ago
Of course reliquary is better. I had forgot that. I liked Geier Reach Sanitarium, fevered visions is good but paired with spiteful and nekusar, gives too much to oponentes. How about Megrim, Blazing Specter and Barbed Shocker, I played barbed shocker a lot, with megrim, spitefull and nicol bolas.