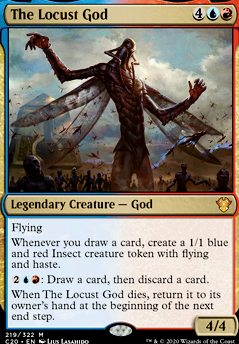 The Locust God
Legendary Creature — God
Flying
Whenever you draw a card, create a 1/1 blue and red Insect creature token with flying and haste.
: Draw a card, then discard a card.
When The Locust God dies (is put into the graveyard from the battlefield), return it to its owner's hand at the beginning of the next end step.
Start Commander Deck
Browse Alters
Trade
Tokens
Legality
| | |
| --- | --- |
| Format | Legality |
| 1v1 Commander | Legal |
| Arena | Legal |
| Block Constructed | Legal |
| Canadian Highlander | Legal |
| Commander / EDH | Legal |
| Duel Commander | Legal |
| Gladiator | Legal |
| Highlander | Legal |
| Historic | Legal |
| Legacy | Legal |
| Leviathan | Legal |
| Limited | Legal |
| Modern | Legal |
| Oathbreaker | Legal |
| Pioneer | Legal |
| Unformat | Legal |
| Vintage | Legal |
| Casual | Legal |
| Custom | Legal |
| Quest Magic | Legal |
Latest Decks as Commander
The Locust God Discussion