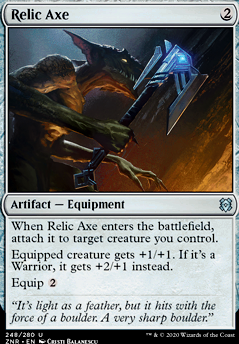 Relic Axe
Artifact — Equipment
When Relic Axe enters the battlefield, attach it to target creature you control.
Equipped creature gets +1/+1. If it's a Warrior, it gets +2/+1 instead.
Equip
Browse Alters
Legality
| | |
| --- | --- |
| Format | Legality |
| 1v1 Commander | Legal |
| Arena | Legal |
| Block Constructed | Legal |
| Brawl | Legal |
| Canadian Highlander | Legal |
| Casual | Legal |
| Commander / EDH | Legal |
| Custom | Legal |
| Duel Commander | Legal |
| Gladiator | Legal |
| Highlander | Legal |
| Historic | Legal |
| Legacy | Legal |
| Leviathan | Legal |
| Limited | Legal |
| Modern | Legal |
| Oathbreaker | Legal |
| Pioneer | Legal |
| Pre-release | Legal |
| Standard | Legal |
| Tiny Leaders | Legal |
| Unformat | Legal |
| Vintage | Legal |
| Standard | Legal |
Latest Decks as Commander
Relic Axe Discussion
3 months ago
Before worrying about sideboarding, I'd focus on getting the main down to 60 cards. The closer you are to the minimum deck size, the more likely it is you'll draw the best cards in your deck. In this case, it looks like you want to build a party deck with Haktos the Unscarred as one of the bombs. The first thing I'd do is identify which cards are actively working towards that end or are particularly efficient. If something doesn't fit those descriptions, cut it. If it does, try to acquire multiple copies of it. For example, Gore Swine isn't doing anything here that a party member couldn't do better, so I'd remove it. Compare that to Expedition Champion who has more stats for the same cost and actively synergizes with the warrior theme, so having 4 of him wouldn't be bad. You can apply that logic to the entire deck. Practiced Tacticsis better than Sandblast. Suspension Field is more cost effective than Skybind. And so on.
After thinning the deck to its strongest options, then I'd focus on upgrades. Seek out other decks with similar goals and see what they're running. You can then endeavor to purchase the best cards you see in such examples, budget permitting. I don't know much about Boros party, but a quick search revealed Archpriest of Iona, Grotag Bug-Catcher, Stonework Packbeast, Squad Commander, Journey to Oblivion, Kargan Intimidator, Luminarch Aspirant, Relic Axe, Goma Fada Vanguard, Robber of the Rich, Tazri, Beacon of Unity, Fissure Wizard, and Seasoned Hallowblade, and that's only looking at standard. Modern brings even more options, particularly for Boros warriors. Arashin Foremost, Boros Reckoner, Mardu Woe-Reaper, Alesha, Who Smiles at Death, Obsidian Battle-Axe, Grim Lavamancer, Jeering Instigator, Fire-Belly Changeling, Grand Abolisher, Mirror Entity, Bygone Bishop, and Selfless Spirit all come to mind.
6 months ago
I really like the deck but i feel Relic Axe is way to slow.