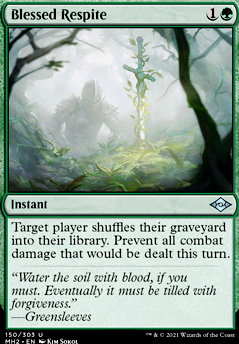 Blessed Respite
Instant
Target player shuffles their graveyard into their library. Prevent all combat damage that would be dealt this turn.
Latest Decks as Commander
Blessed Respite Discussion
3 months ago
TL;DR: I want to make Turbo Fog better, but I'm not sure how.
I like the philosophy of Turbo Fog, and I've had some success with it in FNMs and casual tournaments. I'm trying to push it up into at least low-tier competitive, but I think it's gotten left pretty far behind. It hasn't really gotten any new toys recently to get it above casual tables.
Basically, Turbo Fog is a control deck that tries to avoid taking any damage by neutralizing the opponent's attacking creatures and avoiding or removing harmful spells. It's a similar line of thought to Lantern Control or prison decks.
Starting with the Fog part, there are a few ways to go. Spore Frog and Kami of False Hope are cheap creatures that are easily searched and recycled, but there aren't many other creature options. The old-school method is instants like Darkness and Ethereal Haze, but while they have more options, they don't have as many ways to search or recur them, with Isochron Scepter and Snapcaster Mage probably being the best. Finally, there are the enchantments and artifacts. Leyline of Sanctity takes care of a lot of the non-damaging effects, Ghostly Prison is good but offers a workaround, and Ensnaring Bridge needs a little too much dedicated support, in my experience. Turbo Fog isn't big on emptying its hand.
Next up is the Turbo. The traditional draw engines are Howling Mine and Phyrexian Arena, and Stormfist Crusader is a mixture of those two. The Royal Scions and Jace Beleren provide some Planeswalker support. Teferi, Hero of Dominaria does pretty much everything a Turbo Fog deck wants.
For removal, I generally look at all-purpose stuff, like Abrupt Decay, Assassin's Trophy, and Counterspell. The Fog effects provide pseudo-removal against attackers, so it's the utility creatures and other effects that pose problems. All the same, a good Supreme Verdict is always welcome. Engineered Explosives and Nevinyrral's Disk are other mass removal options.
Finally, and most importantly, the win condition. The three main approaches I've seen and/or tried are draw damage, semi-passive mill, and simply attacking with a big creature. For the draw damage, there's cards like Fevered Visions, Runeflare Trap, Fate Unraveler, basically anything that might see use in a Wheels EDH deck. Semi-passive mill comes from symmetrical drawing, while recycling cards through Blessed Respite or Elixir of Immortality. For big creatures, my headliners are Kefnet the Mindful and Sigarda, Host of Herons--5 power, evasive, and hard to kill. Honorable mention goes to Nexus of Fate, just to completely lock out the opponent.
I've poked through a lot of cards and tried a lot of variations, but I'm still not sure I'm not overlooking something. It's very color-heavy, but every color offers a unique option that's hard to replace in at least one category. I'm currently leaning toward or . Of course, it may just be unable to compete at a higher level with the tools it has now. What does Turbo Fog need to get into the competitive boards?