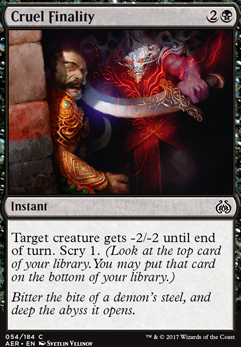 Legality
| | |
| --- | --- |
| Format | Legality |
| Modern | Legal |
| Legacy | Legal |
| Vintage | Legal |
| Commander / EDH | Legal |
| Duel Commander | Legal |
| Tiny Leaders | Legal |
| Standard | Legal |
| Frontier | Legal |
| Pauper | Legal |
Cruel Finality
Instant
Target creature gets -2/-2 until end of turn. Scry 1. (Look at the top card of your library. You may put that card on the bottom of your library.)
Cruel Finality Discussion
4 months ago
I like the idea of an aetherborn/artifact deck! The deck looks like a lot of fun to play, but it needs some slight adjustments in my opinion. First of all your land base. Instead of running cards like Evolving Wilds and Spire of Industry, you should run Choked Estuary and Sunken Hollow. Second I would replace Cruel Finality with something like Murder. Also why are you running 3x Ornithopter? Not sure what the idea behind that was. Other than that intresting deck to say the least!
4 months ago
I went 3-1 at my prerelease with a sweet grixis control deck. I had 10 removal spells, not counting the Fireforger's Puzzleknot, 2x Take into Custody, Fourth Bridge Prowler, Dark Intimations, Cruel Finality, ad Leave in the Dust in the sideboard. Foil promo Gonti's Aether Heart.
1x Shock
1x Die Young
1x Gonti's Aether Heart

8x Swamp
4x Mountain
4x Island
1x Island

By far the best card in this deck is Multiform Wonder. When combined with any other energy producing card, like Gonti's Aether Heart, Aethertide Whale, or even Mechanized Production on it, it's an evasive 10-point life swing each turn.
I also had the most epic win ever. I was at 3 life, then played Mechanized Production on my Pacification Array, which let me tap out his board each turn and i got up to 8 Pacification Arrays once I was at 1 life.