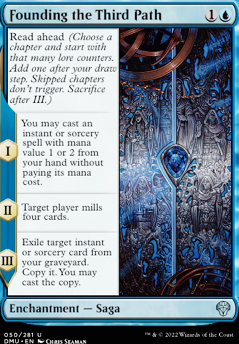 Legality
Founding the Third Path
Enchantment — Saga
Read ahead (As this Saga enters the battlefield, choose a chapter and start with that many lore counters. Add one after your draw step. Activate and/or enable the ability of tied to the required number of counters. Sacrifice it after you put a third lore counter on it.)
You may cast an instant or sorcery spell with converted mana cost/mana value 1 or 2 from your hand without paying its mana cost.
Target player mills four cards (To mill a card, put the top card of your library into your graveyard.)
Exile target instant or sorcery card from your graveyard. Copy it. You may cast the copy.