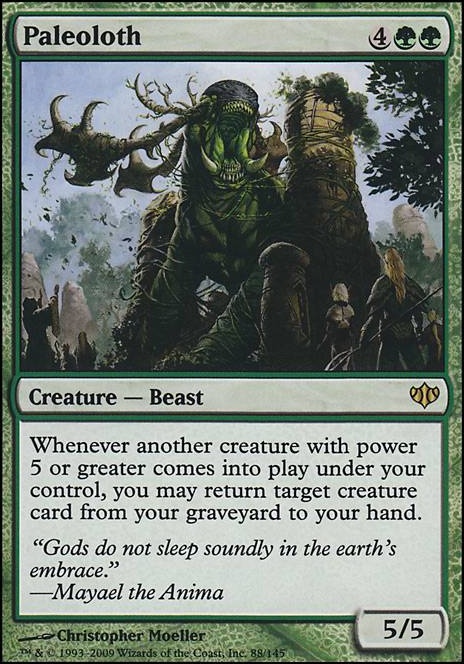 Legality
| | |
| --- | --- |
| Format | Legality |
| Pre-release | Legal |
| Noble | Legal |
| Leviathan | Legal |
| Magic Duels | Legal |
| Vintage | Legal |
| Modern | Legal |
| Penny Dreadful | Legal |
| Vanguard | Legal |
| Legacy | Legal |
| Archenemy | Legal |
| Planechase | Legal |
| 1v1 Commander | Legal |
| Duel Commander | Legal |
| Unformat | Legal |
| Commander / EDH | Legal |
Paleoloth
Creature — Beast
Whenever another creature with power 5 or greater enters the battlefield under your control, you may return target creature card from your graveyard to your hand.
Paleoloth Discussion
3 days ago
I used to have a Mayael deck, and I love the Wurm Tribal concept. I've got some suggestions for you, these will be just some of the stuff I'm thinking of, if you want more suggestions, just ask.
2 months ago
Upgrading the quality of the deck a bit!
Removing:
Adding:
3 months ago
I have a prototype Mayael the Anima deck, Mayael the Poinsettia (Concept), if you want to check it out.
Some cards from that deck that you might consider are Skyshroud Elf, Opal Palace, Rith's Grove, Temple of the False God, Chandra's Ignition, Nissa's Revelation, No Quarter, Warstorm Surge, Crystal Ball, Explorer's Scope, Swiftfoot Boots, Arashin Sovereign, Dromoka, the Eternal, Drumhunter, Gruul Ragebeast, Knotvine Mystic, Mwonvuli Beast Tracker, Paleoloth, Ruric Thar, the Unbowed, Regal Behemoth, Terastodon, Vagrant Plowbeasts, and Woolly Thoctar.
3 months ago
Keeping it under $15 should be really interesting, You should be fine with creatures but spells might cost you more.. I'm curious as to how functional it will become.
Here are a couple suggestions off the top of my head that should fit:
Naturalize, Naya Charm, Keeper of Progenitus, Terastodon, Fires of Yavimaya, Swiftfoot Boots, Drumhunter, Knotvine Mystic, Hull Breach, Garruk's Packleader, Gruul Ragebeast, Garruk's Companion, Behemoth Sledge, Hunted Dragon, Kazuul, Tyrant of the Cliffs, Dauntless Escort, Paleoloth, Baloth Woodcrasher, Destructive Revelry, Stalking Vengeance.
4 months ago
Ramp: Karametra's Acolyte. Yeah. also Gyre Sage can ramp pretty efficiently, as can Somberwald Sage. And she's expensive, but Selvala, Heart of the Wilds is insane. Seeker of Skybreak can get you a second activation of any of them. Land search can be accomplished with Frontier Guide, Journeyer's Kite, Sword of the Animist, or Burnished Hart. Or Nissa's Renewal, Cultivate, Kodama's Reach and the like.
Card draw: Besides Selvala, you can also get Garruk's Packleader, Soul of the Harvest, Primordial Sage & Elemental Bond.
For big creatures, I'm partial to Hydra Broodmaster. Heroes' Bane can also get out of hand quickly. For giggles, I also play Mossbridge Troll, Spearbreaker Behemoth, Paleoloth, & Archetype of Endurance. Craterhoof Behemoth is really good - and pricey.
Mass buff: Dragon Throne of Tarkir. Beastmaster Ascension. Also, possibly Fangren Firstborn. And Triumph of the Hordes if your group doesn't mind the infect.
I like Quest for Renewal / Awakening in mono-green for shenanigans on other peoples' turns. Yeva, Nature's Herald gives your creatures flash. And don't forget about fliers - you probably want Spidersilk Armor and maybe Destructor Dragon. Champion of Lambholt can get your damage through, especially if you've got something to produce tokens (nuts with Animation Module). If you have a lot of +1/+1 counters, like in a Hydra build, I've been using Longshot Squad and Tuskguard Captain to add to the fun. Bow of Nylea also has a lot of utility, and Hardened Scales is a must in a counter-heavy build.
Hope that gives you some ideas!
Load more