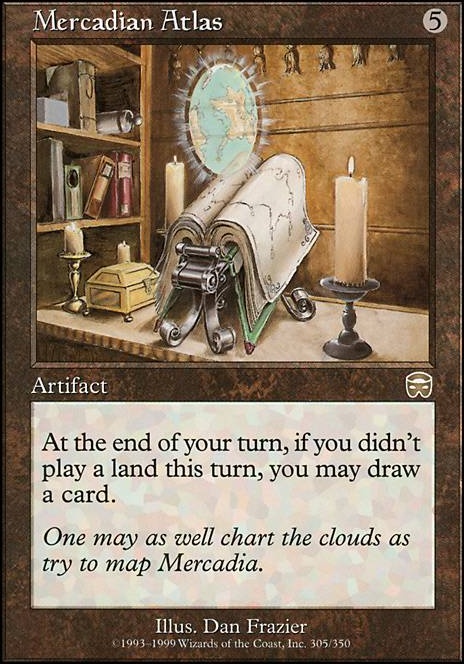 Legality
| | |
| --- | --- |
| Format | Legality |
| Noble | Legal |
| 1v1 Commander | Legal |
| Vintage | Legal |
| Casual | Legal |
| Vanguard | Legal |
| Legacy | Legal |
| Archenemy | Legal |
| Planechase | Legal |
| Duel Commander | Legal |
| Unformat | Legal |
| Pauper | Legal |
| Commander / EDH | Legal |
Mercadian Atlas
Artifact
At the end of your turn, if you didn't play a land this turn, you may draw a card.
Mercadian Atlas Discussion
4 days ago
I love the flavor of this deck. +1! For some more card draw, although higher on the CMC, Urza's Blueprints would help, once you've paid the echo. Mercadian Atlas is a bit situational, but still could be helpful. Both are easy on the budget.
1 year ago
looks like a cool deck. i have not made a volrath deck but i think he holds a lot of potential.
first, black has some of the best card draw! i am skeptical about Mercadian Atlas, Well of Discovery, and Gravestorm when you could have Necropotence, Greed, Bloodgift Demon, Erebos, God of the Dead, Necrologia, Promise of Power.
could you use more reanimation? Living Death, Animate Dead, Reanimate, Stitch Together, or get them back to your hand for another round of discard Phyrexian Reclamation? and Whip of Erebos has the added benefit of giving your commander lifelink.
also maybe Crypt Ghast if more mana is helpful